MTI Freestanding Tub - Soaking & Air Tubs
MTI Freestanding Tubs are distinguished by generous amounts of interior space, selection of styles and spectrum of designs to complement and distinguish any setting - Now on Sale.
Free standing baths have become extremely popular within the last several years. Some people are looking for that "old world charm", while others gravitate toward free standing baths to position them as works of art. Free standing baths by their very nature draw attention to themselves, thereby easily becoming the focal point of the bathroom.
MTI Free Standing Air and Soaking Bathtubs
Click on Tub Picture for More Information & Sale Prices - Free Shipping
5' Freestanding Bathtubs
5 ½' Freestanding Bathtubs
6' Freestanding Bathtubs
Features and Construction of MTI Freestanding Acrylic Baths:
• MTI acrylic tub shells are thermoformed in Lucite cast acrylic, which is extremely scratch- and stain-resistant.
• The color of this material is consistent throughout its thickness, making its finish renewal for long-term durability and beauty.
• This non-porous surface also makes cleaning and sanitizing faster and more effective.
• The acrylic shell is then reinforced with a thick layer of fiberglass/resin/titanium backing for structural integrity. This thick backing also helps retain bath water warmth longer.
• MTI acrylic free standing bath tubs include a second, important element, and that is the incorporation of a unique two-piece design in their construction. The interior "bowl" of the tub with the thick backing actually fits within a second, outer shell, which has the same thick backing.
This unique two-piece construction has significant benefits:
- Structural integrity and strength are maximized.
- The shape and contours of the bathing well can be designed differently from those of the outer shell, creating great design flexibility. For instance, the outside of the tub could be symmetrical but the inside asymmetrical.
- The void between the outer and inner shells also provides space for equipping MTI free standing bath tubs with an air bath system, thereby allowing the combination of one of the latest, most popular technologies with the charm of free standing baths
Acrylic Freestanding Tub Options
These options are available on most of the MTI freestanding acrylic tubs. See tub's technical for availability
• Bathtub Colors
Colors shown are for reference purposes only. Exact matches are not possible.
MTI Standard Colors
White & Biscuit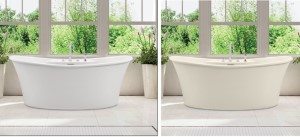 • Drains and Overflows
More Information →

Toe-Tap Rectangle
Push down on drain to open
or close
PVC or Solid Brass
(Offered on Select Baths)

Slim-Line Overflow
& Toe Tap
Toe-tap Drain with Linear
Overflow
PVC or Solid Brass
(Offered on Select Baths)
• Floor-Mounted High-Flow Tub Filler
Ideal for freestanding tubs. Features high-flow design (15 gallons per minute at 45 psi) and faucet body and hand-held shower. Swivel filler spout has a 10" reach. Modern or traditional designs complement most faucet manufacturers' lavatory and shower faucets.
- More Information →
• LED Lighting
Underwater lighting is provided by 2 digitally controlled LEDs (unless otherwise specified). A control button allows selection of constant color or preset programs to achieve the desired lighting effects.
Different colors affect humans differently. Red energizes and activates blood flow, while yellow stimulates nerve functions and may aid the digestive process. Orange is a mix of red and yellow and carries greater therapeutic characteristics than both of these colors used separately, including the soothing of muscle and joint pain. Green, as the intermediate color of the light spectrum, fosters harmony and has a calming, restorative effect on the mind and body. Blue, a cooler color, is comprised of light rays that are very fine, which allow them to penetrate deep within to promote mental and physical calmness. Purple is an extremely powerful color and has many virtues. Traditionally, purple is known for its power to inspire creativity as well as relieve irritability and reestablish a peaceful state.
• Electrical requirements: 1 amp, 110 VAC.
More Information →
• Radiance Bath Surface Heating System (2 Zones)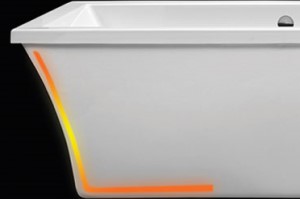 Option on Air & Soaking Tubs (Not Available on Whirlpool Tubs)
Important Notes:
• Radiance placed on floor locations will affect placement of air jets
• Spa Mode is not available on tubs equipped tubs Radiance.
Radiance heat system is a bathing amenity that applies radiant heat technology to warm the interior surface of the tub. Radiance permeates the bath surface with heat, creating a supreme haven for relaxation. Not only does Radiance eliminate the shock of a cold tub for shoulders, neck, back or bottom, but you will continue to feel its soothing warmth throughout your bathing experience. You can experience warmth above the waterline, as well as below. Or, even without the water.
Radiance is controlled by a simple ON / OFF switch that also allows selection of area(s) to be heated. It utilizes electric heating grids to provide radiant heat for the bath surface. It operates on 28 volts and plugs into a 110-volt, 15 amp GFCI outlet. Since Radiance uses only about as much energy as a standard light bulb, leaving it on will ensure a warm bath shell whenever the user chooses to bathe.
More Information →
• Virtual Spout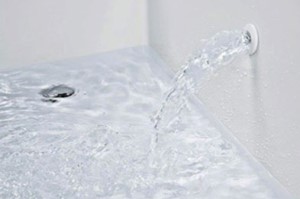 Clean, unobtrusive filler spout that is factory-installed on the inside wall of the tub. The High-Flow Virtual Spout offers a very discreet alternative to the traditional freestanding faucet. It is factory-installed on an inside wall of the tub and is "stubbed-out" under the tub with copper pipe so a plumber can tie the incoming water to the port. Hot & Cold mixing valves are need to control the water flow.
More Information →
• Comfort Pillows
More Information →

Soft Rectangle Pillow
12" x 6.5" x 2"
Soft vinyl provides neck support
Suction Cup
White or Black
• Teak Tub Tray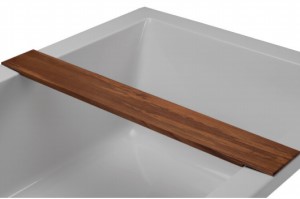 The smooth, durable teak combines beauty with practicality. Teak has the natural ability to ward off fungi, mold and mildew. The MTI teak tub tray is an ideal surface for holding a book or beverage or bath accessories. Available in two styles (slatted and smooth) for tubs up to 48" wide
More Information →
• Towel Bar
(Acrylic Bathtubs Only)
Heavy-duty towel bar is both decorative and functional. Manufactured of high-quality stainless steel for strength and durability. Available on specified freestanding tubs.
-
More Information →
• Textured Bottom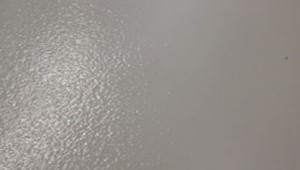 Textured bottom meets ASTM F-462-1994 for slip resistance.
More Information →
• Stereo H2O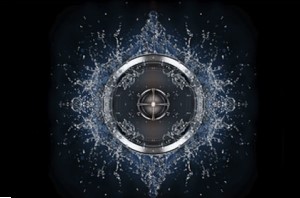 Whether the objective is therapy or simple listening enjoyment, MTI baths offer the possibility of an integrated audio system. Both the technology and the components are absolute state-of-the art. The "speakers" are actually high-performance acoustic transducers engineered with the most advanced level of technology and materials. The acoustic transducer system is applied to the bath shell's exterior surface near the waterline and integrated in the tub structure. This effectively transforms the bath shell into a sounding board, which evenly distributes the sound within the entire tub environment, surrounding the bather with invigorating or relaxing sounds of choice. These acoustic transducers not only generate full spectrum sound, but also enhance this experience further by introducing bass frequencies into the water, bringing new life and richness never offered previously. In fact, Stereo H2O actually lets you feel the music through your body as it travels through the bath water.
Stereo H2O® | 4 transducers. Pre-wired leads compatible with stereo receiver/amplifier of choice, or a product such as those available from Sonos, Inc.
Stereo H2O® with Bluetooth | 2 transducers. Installed with ready-to-use Bluetooth amp and on/off button
More Information →
MTI Links
www.mtibaths.com
Freestanding Tub Installation
MTI Shower Base
Warranty
MTI Baths
(Main Page)
Helpful Bathtub Links
•
How to Choose a Freestanding Tub
•
Freestanding Bath
- List of all Freestanding Tubs
•
Air Tub
- Find out how Air Systems Vary
•
Tubz.com
- Contact us, we are here to help