MTI Freestanding Tubs
MTI freestanding tubs are distinguished by generous amounts of interior space, selection of styles and spectrum of designs to complement and distinguish any setting.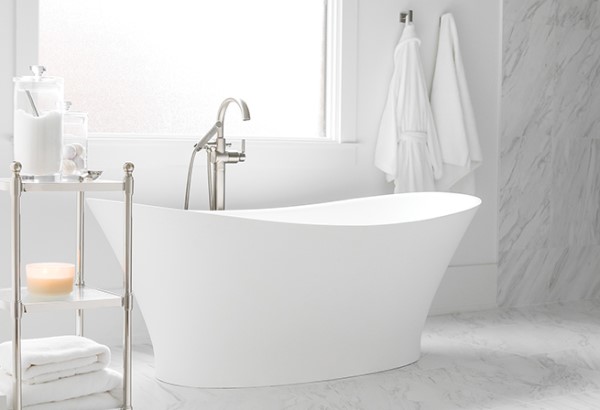 Relax, unwind, and rejuvenate yourself with luxury freestanding tubs from MTI Baths. Discover the beautiful advantages of our soaking tubs, and air tubs, handcrafted from the finest materials. Freestanding baths have become extremely popular within the last several years. Some people are looking for that "old world charm", while others gravitate toward contemporary styling. Freestanding baths by their very nature draw attention to themselves, thereby easily becoming the focal point of the bathroom.
Shop MTI Freestanding Air and Soaking Bathtubs
Find a large selection of tub styles, sizes & materials
MTI offers many styles of freestanding baths in acrylic, solid surface, mineral composite and DoloMatte. Find baths with room for deck mounted faucets, traditional styling or an ultra modern work of art! From 52" to 73", you can find the perfect one for your bathroom.
Acrylic | Designer Series
- Acrylic shell is reinforced with a thick layer of fiberglass/resin/titanium
DoloMatte | Designer Series
- A thermoformable solid-surface product with matte finish
Mineral Composite | Cosmopolitan Series
- A high-quality mineral composite mixture of ground natural elements and high-grade binding agents
Solid Surface | Boutique Collection
- Highest grade of pure mineral composite natural stone available + resin
Tubs are listed by size: first by length, then by width, then by height - smallest to largest
5' Freestanding Bathtubs
5 ½' Freestanding Bathtubs
6' Freestanding Bathtubs
See MTI Boutique Tubs for Solid Surface Features & Options→
See MTI Cosmopolitan Tubs for Mineral Composite Features & Options→
Designer Series Surfaces
Designer Series Freestanding Tub Options
These options are available on most of the MTI freestanding Designer tubs. See tub's technical for availability
MTI Links
www.mtibaths.com
Freestanding Tub Installation
MTI Shower Base
MTI Baths
(Main Page)
Helpful Bathtub Links
•
Freestanding Tub Buying Guide
•
Freestanding Bathtub
- Shop all Freestanding Tubs
•
What is an Air Tub?
•
Tubz.com
- Contact us, we are here to help