MTI Freestanding Tub - Soaking & Air Tubs
MTI Freestanding Tubs are distinguished by generous amounts of interior space, selection of styles and spectrum of designs to complement and distinguish any setting - Now on Sale.



Free standing baths have become extremely popular within the last several years. Some people are looking for that "old world charm", while others gravitate toward free standing baths to position them as works of art. Free standing baths by their very nature draw attention to themselves, thereby easily becoming the focal point of the bathroom.
MTI Free Standing Air and Soaking Bathtubs
Click on Tub Picture for More Information & Sale Prices - Free Shipping
5' Freestanding Bathtubs
5 ½' Freestanding Bathtubs
6' Freestanding Bathtubs
Features and construction of free standing acrylic baths:
• MTI acrylic tub shells are thermoformed in Lucite cast acrylic, which is extremely scratch- and stain-resistant.
• The color of this material is consistent throughout its thickness, making its finish renewal for long-term durability and beauty.
• This non-porous surface also makes cleaning and sanitizing faster and more effective.
• The acrylic shell is then reinforced with a thick layer of fiberglass/resin/titanium backing for structural integrity. This thick backing also helps retain bath water warmth longer.
• MTI acrylic free standing bath tubs include a second, important element, and that is the incorporation of a unique two-piece design in their construction. The interior "bowl" of the tub with the thick backing actually fits within a second, outer shell, which has the same thick backing.
This unique two-piece construction has significant benefits:
- Structural integrity and strength are maximized.
- The shape and contours of the bathing well can be designed differently from those of the outer shell, creating great design flexibility. For instance, the outside of the tub could be symmetrical but the inside asymmetrical.
- The void between the outer and inner shells also provides space for equipping MTI free standing bath tubs with an air bath system, thereby allowing the combination of one of the latest, most popular technologies with the charm of free standing baths

Freestanding Tub Options
Blower Boxes


Designed to conceal the air blower when a freestanding air bath is installed in the middle of a room. Available in several hard woods.
- More Information →

Floor-Mounted High-Flow Tub Filler
- Ideal for freestanding tubs. Features high-flow design (15 gallons per minute at 45 psi) and faucet body and hand-held shower. Swivel filler spout has a 10" reach.
- More Information →

LED Lighting


Underwater lighting is provided by 2 digitally controlled LEDs (unless otherwise specified). A control button allows selection of constant color or preset programs to achieve the desired lighting effects
• Electrical requirements: 1 amp, 110 VAC.


Radiance Bath Surface Heating System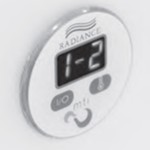 Radiance is a bathing innovation from MTI that applies radiant heat technology to tubs. It warms the interior surface of the bath for neck, shoulders, back and bottom. It provides an even distribution of warmth to eliminate the shock of a cold tub and increases relaxation during the bath. Radiance will also help keep the bath water from losing its warmth as quickly. You can experience warmth above the waterline, as well as below. Or, even without the water. Note Spa Mode is not available on tubs equipped tubs Radiance.
- More Information →
Teak Tub Tray
The MTI teak tub tray is an ideal surface for holding a book or beverage or bath accessories. Available in two styles (slatted and smooth) for tubs up to 48" wide
More Information →

Smooth Teak Tray

Slotted Teak Tray
Towel Bars


Heavy-duty towel bar is both decorative and functional. Manufactured of high-quality stainless steel for strength and durability. Available on specified freestanding tubs.
- More Information →

Textured Bottom


Textured bottom meets ASTM F-462-1994 for slip resistance.

Virtual Spout


Clean, unobtrusive filler spout that is factory-installed on the inside wall of the tub. The High-Flow Virtual Spout offers a very discreet alternative to the traditional filler spout. It is factory-installed on an inside wall of the tub and is "stubbed-out" under the tub with copper pipe so a plumber can tie the incoming water to the port. Hot & Cold mixing valves are need to control the water flow.
More Information →
MTI Links
www.mtibaths.com

Freestanding Tub Installation

MTI Shower Base

Warranty

MTI Baths (Main Page)

Helpful Bathtub Links

• How to Choose a Freestanding Tub

• Air Tub - Find out how Air Systems Vary

• Tubz.com - Contact us, we are here to help