Above Floor Rough-in Bathtub
AFR | Above Floor Drain Connection for Slab & Remodel Installation
Tubs for remodeling applications and installations on slabs when the drain can't be easily moved
The standard tub needs a large cut out of the floor to connect the overflow pipe to the drain pipe. This works great for most remodels and new construction. But what if the drain is being moved for a remodel and there isn't an area for a cut out? Putting a tub on a slab can be difficult unless you can trench the slab or create a false floor. Not easy options.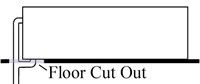 The drawing above shows a typical tub installation. A large cut out is needed for the overflow and drain pipe. When a tub is designed for an above floor drain connection there is space under the tub to run the drain pipes (above the floor). A much smaller cut out in the slab or floor is needed, just for the down pipe (pictured below). This make installation on a slab much easier.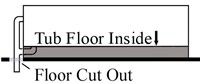 Our drawings above show an alcove style with a front skirt. But most of our tubs listed are for the popular freestanding style. This drawing from MTI will show a cut away of a freestanding tub skirt. This picture also shows a Quick Connect to make the installation easier.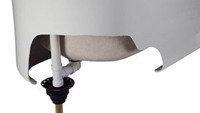 Shop AFR Tubs by Style
Save Now with Factory Direct Sale!
We carry quality bathtubs with strong warranties. Our tubs come to you factory direct and we pass those savings on to you, giving you high quality at reasonable prices with Free Shipping. Click on the picture for more information.
Freestanding Above Floor Installation Tubs
Alcove Above Floor Installation Tubs
Corner (2 Sided Skirt) Above Floor Installation Tubs
Drop-in Above Floor Installation Tubs
Helpful Bathtub Links
•
How To Choose A Bathtub
- Features to Consider when Purchasing a Bathtub
•
Tubz.com
- Contact us, we are here to help