Neptune Zurich Bathtub
Zurich offers a 60" x 32" rectangle corner tub that is perfect for a tub and shower. The flat rim can accommodate a glass door and or wall. There are two versions: L2L & R2R, Right or Left drain. The drain and back side have a tile flange, so the tub can be placed against the wall in the corner. The back rest and front side have a modern flat panel skirt (apron). This above floor rough-in bath (ARF) features a larger space underneath the tub which eases installation especially for remodeling applications and installations on slabs. Choose a soaking tub or one of two air systems. Find your Neptune Zurich bath on sale with free shipping at Tubz.com, the bathtub experts!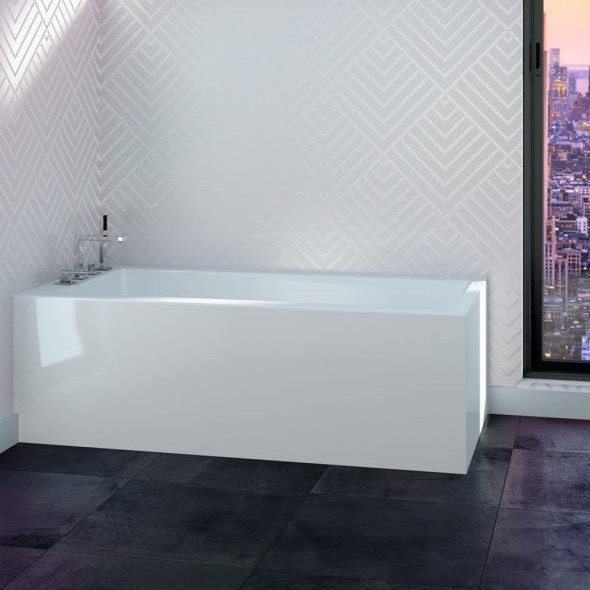 Zurich 3260 Rectangle Bath with 2 Sided Skirt
Tub Size: 59 3/4" x 32 1/2" x 21 5/8"
Water Capacity: 64 Gallons
Water Depth: 14 1/6"
Bathtub Weight: 117#
End Drain
Right or Left Drain Option
Chrome Linear Overflow & Pop-up Drain
Bathtub Material: White Acrylic
Installation: 1-Piece Freestanding
Tub Filler: Floor, Deck or Wall Mount
(Faucet pictured not included with tub)
Smooth Tub Floor
Blower for Air System Must be Remote Mounted
Above-the-floor rough (AFR)
Buy Your Neptune Tub on Sale from Bathtub Experts!
At Tubz.com we are not just order takers in a call center. We are a small team that takes pride in our personal customer service and the expert knowledge we have accumulated in our 20+ years of experience. Give us a call, we are here to help & offer great sale prices!
Authorized Neptune Dealer
Zurich 3260 Corner Soaking & Air Bathtubs
Soaking Tub
ZUR3260R2R | Right Drain
ZUR3260L2L | Left Drain
Tub Only | No Jets

MSRP: $1600.00


Sale Price: $1430.00


Call Now to Place Your Order: 866-380-0303 | Free Shipping*
Mass-air Air Bath
ZUR3260R2RM | Right Drain
ZUR3260L2LM | Left Drain
6 air streams per jet

MSRP: $3950.00


12 Mass-air injectors
1 ½ h.p. Optima blower with 300W heating element
72" Hose Extension
Remote Control
Rouge-air Air Bath
ZUR3260R2RA | Right Drain
ZUR3260L2LA | Left Drain
1 air stream per jet

MSRP: $3950.00


12 micro-jets
1 ½ h.p. Optima blower with 300W heating element
72" Hose Extension
Remote Control
Rouge Tub Features
Chrome Overflow & Toe Tap Drain
Every Rouge bathtub includes a modern, slotted overflow. At the bottom of the tub is a toe-tap drain. Step on it once to lock it shut. Step on it again to release the drain. Chrome is Standard. White, Matte Black or Brushed Nickel Upcharge Option.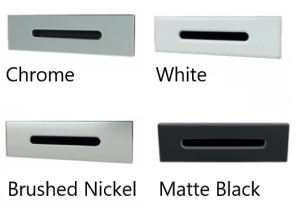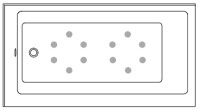 Perfectly Hygienic Air Systems
Thanks to non-return valves in each injector, no water enters the approved tubing. This prevents the formation of bacteria in the system. Twenty minutes after the massage, a drying cycle activates to clean and dry all conduits. Superior-quality tubing and jets that meet the highest standards and guarantees complete peace of mind.
• Mass-air System | A full body pillow of soothing bubbles
A gentle, relaxing massage. Customize your experience by adjusting the intensity. Mass-air system propels air into the water through injectors located on the bottom of the bathtub. Multiple outlets in each injector create the sensation of an embracing pillow of water.

• Rouge-air System | Small massaging bubbles
Each injector (also located on the bottom of the tub) produces a single stream of small bubbles. Rouge-air has just a pinpoint hole, no metallic trim
• Free Standing Air Bath Remote Control
Included with air system bathtubs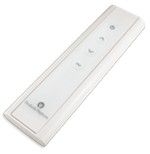 Watertight with easy start-up.
Zurich Tub Options
• Drain & Overflow: White, Matte Black or Brushed Nickel (List Price $135.00)
• Drain Adapter ($299.00 List Price)
- Drop-in Drain Installation kit for freestanding tubs
• Gel Black Neck Pillow (List Price $95.00)
Neptune Links
www.produitsneptune.com
Neptune Tubs
(Main Page)
Helpful Bathtub Links
•
Freestanding Tub Buying Guide
•
Freestanding Bathtub
- Shop all Freestanding Tubs
•
What is an Air Tub?
•
Tubz.com
- Contact us, we are here to help