Amba Towel Warmers
Heated Towel Racks That Fit Your Style & Budget
Shop a large selection of Amba towel warmers. Stylish, affordable high-end heated towel racks made of the highest quality stainless steel in a variety of finishes. Find ultra modern styling with the Vega series or more old world styling in the Traditional series. 10 towel warmer series with each series offering multiple sizes. This gives you a large selection and Tubz.com offers great prices, so you are sure to find the perfect towel warmer that fits your style and budget.
Keep your towels dry and fresh 24/7 with an energy efficient towel warmer
A heated towel rack is not just something that keeps your towels from being crumpled on the floor - they offer many benefits to your bathroom! Italian-designed Amba Towel Warmers combine visual appeal with cutting-edge functionality to offer the consumer an aesthetically pleasing, energy efficient and affordable way to dry towels and keep bathrooms warm and mildew free.
How to choose a towel warmer →
Authorized Amba Dealer
Shop Amba Towel Warmers By Series
Bring a touch of luxury and warmth to your bathroom with a heated towel rack
– your towel will thank you!
How to Choose Your Amba Towel Warmer
Not all heated towel racks are created equal. There are a few factors which dictate how well a particular one will perform. Most notably the output of its element and the surface area. Some models may be effective at drying towels but, may not act as a heat source. To understand the effectiveness of an Amba model, they put them in 3 categories:
Drying Rack
These models offer a stylish place to hang towels and keep them dry. They have lower output heating elements or fewer bars. This means they are not as effective at heating the towels as other models
Swivel Collection | Jeeves H, I, J & F
Heated Towel Racks
These are considered the 'standard' models if one is looking to both dry and warm towels. Individual heating output will depend on the output and the surface area. But most units will keep towels comfortably warm
Antus | Jeeves | Mid-sized Quadro | Solo | Traditional | Radiant
Dual Function Racks
These models contain high output heating capacity and are usually much larger than the standard towel warmer. At these output levels it is common to find digital controllers with higher settings that can provide small spaces with a source of heat.
Large Quadro | Elory | Sirio | Vega
Shop Amba By Size →
Amba Towel Racks
Energy Efficient
As for energy conservation, Amba's products are front and center. Their heated towel rack collections provide efficient heat and yet, they use minimal energy to operate. Depending on the unit and its location, Amba heated towel racks consume approximately the same amount of energy as a few light bulbs. And accessories such as timers and digital heat controllers make it easy to maximize energy savings.
Safe
Safety is always top of mind for Amba. Their heated towel racks meet stringent safety standards for the U.S. and Canada, and are perfectly safe to use indoors when correctly installed. Some collections come with an additional feature that enables the units to shut off automatically for optimal safety.
Affordable
Affordability continues to be as much of a priority for Amba as design and excellence. That's why they go to great lengths to keep their products competitive. Whatever the budget, Amba has a top-notch product to match it. Since 2004, Amba Towel Warmers have been made of long-lasting 100% stainless steel. Stainless steel does not readily corrode, rust or stain with water as ordinary steel does, making it the perfect material to help keep your towels nice and dry!
What is the best way to place a towel on a towel warmer?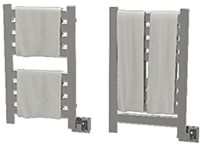 Amba recommends folding your towel in half or thirds, depending on how large your towel is, and drape it over the top bar, so that the towel hangs down evenly on either side. This allows you to maximize the surface area contact between the towel and bars. They do not recommend weaving the towel through the bars because this only utilizes half of the surface area of the bars.
Amba Links
www.ambatowelwarmers.com