Amba Antus Towel Warmers
The beautifully crafted Antus collection, made in Italy, exemplifies the classic design with round bars. This versatile collection is perfect for drying towels and warming living spaces. Made of high quality 304 stainless steel, the Antus collection is offered in brushed and polished stainless steel. This dual-purpose, hardwired collection includes a Digital Heat Controller giving you control with 9 temperature levels to choose from. Antus uses a Dry-Element System: also known as "cable-heated" system, these heated towel racks have resistance wires inside each towel bar that heat up. They transfer warmth into the bars and across the whole unit. They heat up quickly (10 to 20 minutes) and evenly.
A2056 & A2856 Heated Towel Rack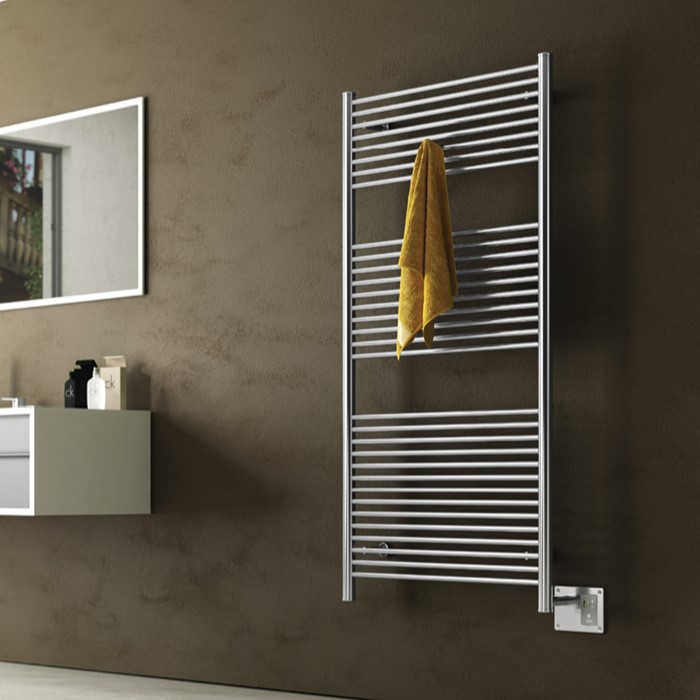 Antus Features:
Dry Element System
Digital Heat Controller
304-Grade Stainless Steel
Average Temperature: 131 -167° F
Warm-up Time 10 - 20 minutes
3 Finish Choices
Unit is hardwired
Energy efficient design
UL-certified for use in the USA
Suitable for 2-4 full-size towels (folded)
3-Year Warranty Amba Products Now On Sale!
Free Shipping - 48 Contiguous States
Authorized Amba Dealer
Antus A2056

Towel Warmer
23 5/8" W x 58 3/8" H

Polished (A2056P)
Brushed (A2056B)

List Price: $2480.00

Technical Sheet
Cross Bars: 32
Depth: 4 5/16"
Watts: 400
Amps: 3.5
Volts: 115
BTUs: 1364
Average Temperature: 131 -167° F
Net Weight 29#
Gross Weight 31#

Antus A2856

Towel Warmer
31 1/2" W x 58 3/8" H

Polished (A2856P)
Brushed (A2856B)

List Price: $2730.00

Technical Sheet
Cross Bars: 32
Depth: 4 5/16"
Watts: 530
Amps: 4.6
Volts: 115
BTUs: 1807
Average Temperature: 131 -167° F
Net Weight 37#
Gross Weight 39#
Amba Antus Towel Warmer Options
Finishes

Antus Bathrobe Hanger

List Price $95.00
Polished (AA-BHP)
Brushed (AA-BHB)
Remotely Wired Digital Heat Control

List Price $320.00
Polished (ATW-DHCR-P) | Brushed (ATW-DHCR-B)
Replaces the existing Digital Heat Controller. It allows the control panel to be wired somewhere other than directly behind the heated towel rack. A single gang-box panel replaces the existing hardwired point.
More information →
Antus Towel Warmer Series
Amba Antus towel warmers are made from the finest 304-grade stainless steel. This high quality metal is more resistant to corrosion. Perfect for the moisture-filled conditions in bathrooms. If cleaned and maintained properly, Amba towel warmers can remain pristine for many years. UL-certified for use in the USA and Canada, the Antus units are approved for installation around water sources and above bathtubs.
Digital Heat Controller has 9 different settings. Also operates as a standard On/Off switch. Can be used in conjunction with the hardwired programmable timer.
Amba Links
ambaproducts.com
Amba Towel Warmers
(Main Page)