Heated Bathtub | Soaking Tubs with Heater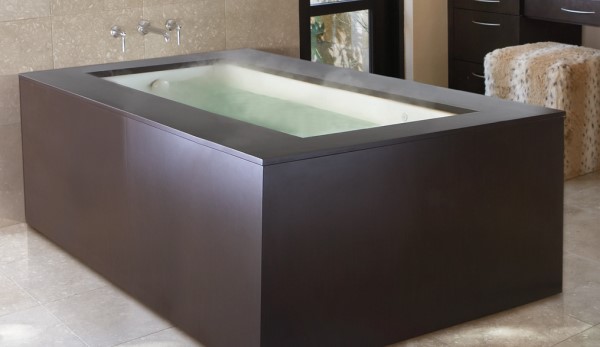 There are two types of heated bathtubs. Heated soaking tubs will keep the water warm. Heated surface will warm the tub surface.
Heated Soaking Tubs
Soaking Tubs with Heaters to Keep Water Warm for Luxurious Long Baths
A heated soaking bath re-circulates water, like a whirlpool but, instead of white water rapid speed, more like a slow running creek. As the water is taken from the bath it runs through an in-line heater, then once heated, back into the bath. This heater will keep the temperature of the water within 1 to 2 degrees of what the bath water was poured at, for as long as the bath is on. There are two suction covers - one to pull water out of the bath - the other to put the water back in. Click here to see the in-line heater system for
Hydro Systems Fusion
Shop Heated Soaking Tubs
When shopping through our tubs by size or style, you will see the tub systems listed in the description. Look for
• "Heated Soaking"
to find bathtubs with maintenance pump & heater option.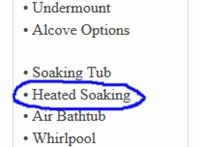 Heated Soakers by Manufacturer:
---
Heated Surface
Warm Surface Soaking Bathtub to Warm the Body
Heat panels are integrated into the structure of the bath to warm the bath much like the heated seats in a car. Heated surface systems will not maintain the temperature like a heated soaking tub but, they add luxury. Three of our tub manufacturers offer a heated surface option.
Shop Freestanding Tubs with Heated Surface
When shopping through our freestanding tubs by size, you will see the tub systems listed in the description. Look for
"Heated Surface"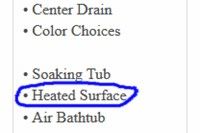 Heated Surface Tubs by Manufacturer:
Hydro Systems →
Hydro Blanket wraps you in a world of warmth and relaxation. Multi-zone heat allows you to pick from 2 to 5 heat zones on the sides or bottom of the bath. Turn on the thermostat and set the dial to a maximum setting of 110°
Neptune →
Heated back support specifically designed for total relaxation. Integrated into the tub, the electronic control allows you to choose between two heat settings 104° & 110°. This system takes about 90 seconds to warm the bath.
MTI →
Radiance surface heating system provides an even distribution of warmth to eliminate the shock of a cold tub and increases relaxation during the bath. This system includes electronic heating grids for 2 zones. Tub surface can vary from 85 -100°.
Helpful Bathtub Links
•
How To Choose A Bathtub
- Features to Consider when Purchasing a Bathtub
•
Spa Tubs
- Bring the Spa Treatment Home | Which System is Best?
•
Tubz.com
- Contact us, we are here to help