55" - 60" Freestanding Tubs with Faucet Deck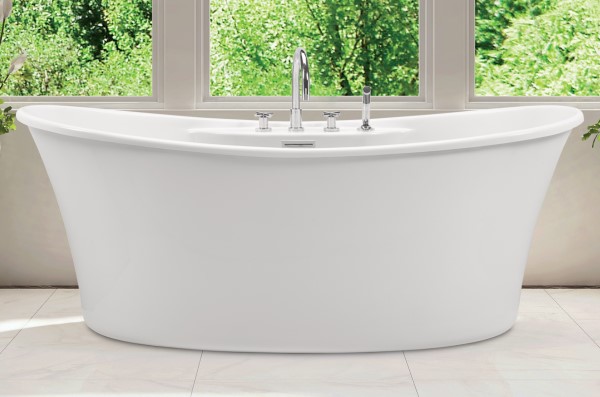 5 Foot Freestanding Baths with Deck Mount Faucet Option
Shop 5 Foot Freestanding Tubs with Faucet Deck, Find Soaking & Air Tubs on Sale at Tubz.com, the Bathtub Experts!
Freestanding tub fillers have their place, but sometimes a more compact and budget friendly option is needed. This brings us to deck mount tub fillers, a tub faucet designed to install on the rim of a tub. They are the norm for drop-in or undermount bathtubs. But on freestanding tubs with a thin rim, impossible. Some tub manufactures have designed baths with a wider rim on one side making room for the possibility of drilling holes along the rim. Others have created a faucet deck, a bump out on the rim to house the faucet. The manufacturer does not drill the holes (or provide the faucet). But your contractor can drill the holes and install your faucets on the tub rim.
Learn more about freestanding tubs →
Freestanding Tubs with Faucet Deck by Size:
More Freestanding Bathtubs:
5' Freestanding Tub with Deck Faucet Option (55" - 61")
Tubs are listed by size: first by length, then by width, then by height - smallest to largest
The description will list all the systems offered (soaking, air or whirlpool jets).
Bathtub Systems →
Large Tub Selection Backed with Customer Service
We have a large selection of quality tubs listed on our site which can feel overwhelming as you shop through them. Just call us: we have been doing this for so long we have become tub experts. We work closely with our manufacturers and pride ourselves on our product knowledge. Our experts are here to answer all questions and guide you through your tub selection.
We also know that buying such a large item online can be scary. Rest assured we only carry tubs that we would feel comfortable putting in our own mother's house. And we have done just that! Our bathtubs are the best in the industry, and we have years of experience with the manufacturers. Issues are very rare, and if they do arise, they are quickly resolved. We are here to answer questions and keep you informed on the creation and delivery of your bathtub. We will still be here for questions even after your new bathroom is finished.
Helpful Bathtub Links
•
Freestanding Tub Buying Guide
•
Tubz.com
- Contact us, we are here to help