Japanese Soaking Tub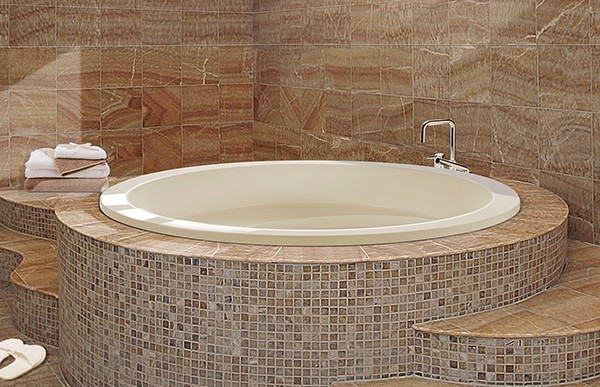 Japanese Bathtub | Ofuro Soaking & Jetted Tubs
What is a Japanese soaking tub?
This term refers to a group of small, deep bathtubs designed with a seat. You sit in the tub instead of lying and stretching your legs out like a traditional tub. This seat allows the tubs to be designed to fit into a smaller footprint. This style of bathtub is also referred to as an Ofuro, the Japanese word for bathing. Most of these soaking tubs listed below are for drop-in or undermount installation but, you will find a few that are freestanding. More information on
Japanese Soaking Baths →
Find Quality Bathtubs on Sale with Free Shipping at Tubz.com, the Bathtub Experts!
At Tubz.com we are not just order takers in a call center. We are a small team that takes pride in our personal customer service and the expert knowledge we have accumulated in our 20+ years of experience. Give us a call, we are here to help & offer great sale prices!
Shop Japanese Soaking Bath by Size
Traditionally Japanese Bathtubs are Soaking Only Tubs
all the Japanese style tubs we offer are available as soaking tubs. For those that want more massage options; some of the tubs are also offered as a whirlpool, air bath or combination of both. The whirlpool will provide a deep tissue massage with water jets. A soft tissue massage is provided by an air bath. And a heater soaker will maintain the water temperature. The bathtub description will indicate what systems are offered.
Bathtubs are listed by size: first by length, then by width, then by height - smallest to largest
Click on picture for more information.
40" - 49" Bathtubs
52" - 62" Baths
Sitting in a Japanese style bathtub is like sitting on a chair.
The backrest slants back slightly for comfort. Since your legs aren't stretched out, this style of bath is shorter than a traditional tub. This compact size makes it perfect for the smaller bathroom. But it is taller than most tubs (28" - 36"). When choosing a Japanese bath, make sure you'll be able to get the tub sideways through doorways. The standard door width is 34", but not all doors are standard so be sure to double-check.
Traditionally water is kept warm in a Japanese soaking tub, and it is used for soaking, not meant for cleaning. A bather doesn't get into the bath until after they have washed. Water is shared amongst family members, so clean water was very important. The tubs we have listed are designed to be emptied after each use. There is not a system to keep the water warm for extended periods of time.
Helpful Bathtub Links
•
Bathtub
- Features to Consider when Purchasing a Bathtub
•
Spa Tub
- Choose Tub System - Whirlpool, Air or Soaking Tub?
•
Tubz.com
- Contact us, we are here to help