Aquatica True Ofuro Duo Japanese Style Bath
Providing the luxury of an intimate bathing experience for 2, the Aquatica True Ofuro Duo is a hard to find Japanese style freestanding soaking bath for couples. It is a very deep and luxurious tub that was designed specifically for a relaxing full body soaking experience. This 62" x 49" traditional ofuro style bathtub with a modern twist is a perfect choice for those who take great pleasure in the benefits of soaking in hot water. Featuring a sculptured built-in headrest and design that provides you with deep, aromatic and luxurious comfort. Made of light-weight state of the art DurateX™ glass-carbon composite, this freestanding bath is offered in glossy white. Find your Aquatica True Ofuro Duo on sale with free shipping at Tubz.com, the bathtub experts!
Authorized Aquatica Dealer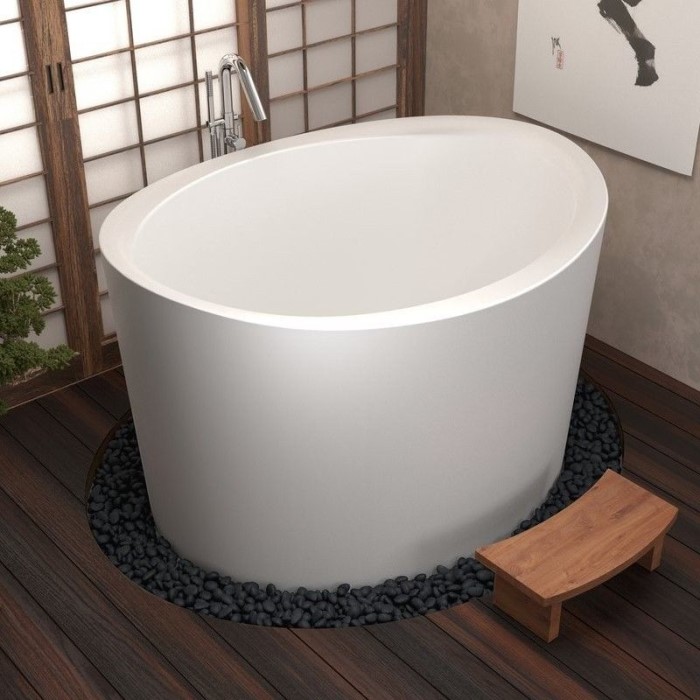 True Ofuro Duo Solid Surface Soaking or Air Tub
Bathtub Size: 61.5" x 49.25" x 37.25"
Water Depth: 27.75"
Water Capacity: 155 Gallons
Solid Surface Composite
Glossy Finish

Drain Not Included (see options)
Adjustable height legs
25-Year Limited Warranty
Country of Origin: Italy
Faucets pictured not included with tub

Buy Your Aquatica True Ofuro Duo on Sale from Bathtub Experts!
At Tubz.com we are not just order takers in a call center. We are a small team that takes pride in our personal customer service and the expert knowledge we have accumulated in our 20+ years of experience. Give us a call, we are here to help & offer great sale prices!

True Ofuro Duo Freestanding Tub for 2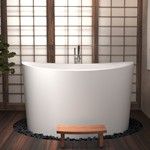 True Ofuro Duo-Wht
White Soaking Tub
MSRP:
$13310.00
*Sales Tax Charged for: CA, CO, FL, OK, WA & WI
Aquatica True Ofuro Duo Offers:
• Very deep bathtub designed for full body immersion of 2 adults
• Modern interpretation of traditional Japanese Ofuro bathtub
• Freestanding construction
• Integrated slot overflow
• Solid, one-piece construction for safety and durability
• Ergonomic design forms to the body's shape for ultimate comfort
• Quick and easy installation
• Concealed overflow
Made for Seated Soaking

There is nothing else quite like our True Ofuro Duo. This unique, modern take on the traditional Japanese-style bathtub is made for seated soaking of two bathers. So the design incorporates two built-in seats and the depth of the tub has been extended to 27.75" to ensure full body immersion for even 6ft plus bathers.
Constructed of DurateX™
Made of light-weight state of the art DurateX™ glass-carbon composite. Made in Europe using genuine European and American composite materials.
- Relatively light - only around 300lbs, which is low for the massive dimensions
- Non-porous, marine-grade, UV-stable surface for indoor-outdoor use, easy cleaning and sanitizing
- Color is consistent throughout in thickness – will not fade or lose its brilliance over time
- 25-Year Limited Warranty
True Ofuro Duo Options
Save More! 10% off the following accessories when ordered with your bathtub
Therapy Systems:
Tranquility Heat System | Heated Soaking Bath
The Tranquility Package provides a cozy soak, featuring an effective water recirculation system with heating. Equipped with ozone disinfection, ensuring the water is clean.
• Max Temperature: 104°
• 20-minute Safety Timer
• 110V/60Hz Standard
• 220V/60Hz Option (No Charge)
Added system power enables a more powerful heater, which means that the tub is able to heat the water substantially faster.


List Price: $2999.00


Tranquility 110V Installation
Tranquility 220V Installation

More Information →
Air Massage Bathtubs | Relax & Relax Pro Series
Aquatica's Air Relax bathtubs gently deliver thousands of warm air bubbles, with mood enhancing LED chromotherapy lighting, providing a relaxing home spa experience.
Relax Air List Price: $2499.00
Relax 110V Installation

Relax Pro includes Ozone & Heater
• 110V/60Hz Standard
• 220V/60Hz Option (No Charge)


Relax Pro List Price: $4999.00


Relax Pro 110V Installation
Relax Pro 220V Installation

Stainless Steel Nozzles & Jets Standard


Aged Gold Air Jets List Price: $1399.00



More Information →
Bluetooth Audio
Can be added with Tranquility or Air system.
Aquatica's Integrated Bluetooth Audio is a world-​class waterproof audio system, featuring powerful Class D amplifier technology.


List Price: $875.00



More Information →
Bathtub Accessories:
Euroclicker 3

Euroclicker-BLU-xx
(tap drain to open or close)
Polished Chrome


List Price: $220.00


Matte Black, Brushed Nickel, Aged Gold, Polished Gold, Antique Brass or Matte White


List Price: $265.00

Colonna-135 Tub Filler

Tall tub filler designed especially for a tall freestanding tub. Constructed using quality solid brass, with a chrome finish.


List Price: $2840.00



Colonna-135 Tub Faucet→
Freestanding Bath Installer

This kit includes all the equipment required to install an Aquatica freestanding bathtub within minutes. Designed to be installed with an 8" joist space or in a concrete floor.
Technical Sheet


List Price: $199.00

Wetroom Add-on

The Aquatica Wetroom Add-On enhances any of our Tranquility series heated bathtub packages by making them compatible with wet room electrical installation requirements.


List Price:

$990.00



More Information →
SuperGrip

The SuperGrip Mounting System For Yachts safely secures Aquatica's Freestanding Solid Surface Bathtubs to the floor. Specifically designed for yachts, this special system provides extra grip, making sure the freestanding bathtub remains in place.


List Price:

$1499.00



More Information →
True Ofuro Bathtub Cover

Designed for Aquatica's class-leading True Ofuro series Japanese soaking tubs, their matching tub covers are fashionable, classy, and stand apart when it comes to low-maintenance and durability.
Blackout, Chocolate, Greyhound, Propeller or Sailboat


List Price:

$1300.00



More Information →
Surface Finish - Matte
Choose a high-end matte finish for an elegant appeal. This refined matte surface provides tubs with a premium silky smooth texture, which is soft and warm to touch.


List Price:

$200.00

Nordic Insulation

The Aquatica Bathtub Nordic Insulation System is a complete bathtub insulation system. Designed to insulate and air seal all the bathtub inner surfaces. Helps prevents heat loss, insulates & sound-proofs.


List Price: $399.00


Not available with a system tub
Waterproof Step

For deep-soaking tubs, this waterproof and sturdy safety stepping stool is essential for not only aesthetics but, for the security of its users of all ages and backgrounds.


List Price:


American Walnut

$740.00


Teak

$1235.00


Iroko

$740.00



Vanilla Headrest

Black or White Gel Pillow
Made with an ultramodern polyurethane gel, giving the headrest its 'shape memory'. & adhere perfectly to all stone and acrylic bathtubs.



List Price: $165.00
True Ofuro is Offered in More Sizes:

True Ofuro Mini
43" x 43" x 37"
Solid Surface
- Color Options
• Soaking
• Heated Soaking
• Air Bath

True Ofuro Nano
49" x 31" x 37"
Solid Surface
- Color Options
• Soaking
• Heated Soaking
• Air Bath

True Ofuro
52" x 36" x 34"
Solid Surface
- Color Options
• Soaking
• Heated Soaking
Aquatica Bath Link
www.aquaticausa.com
Helpful Bathtub Links
•
Japanese Soaking Tub
•
Freestanding Tub Buying Guide
•
Freestanding Bathtub
- Shop all Freestanding Tubs
•
Tubz.com
- Contact us, we are here to help