Corner Tub | Soaking, Whirlpool & Air Bathtubs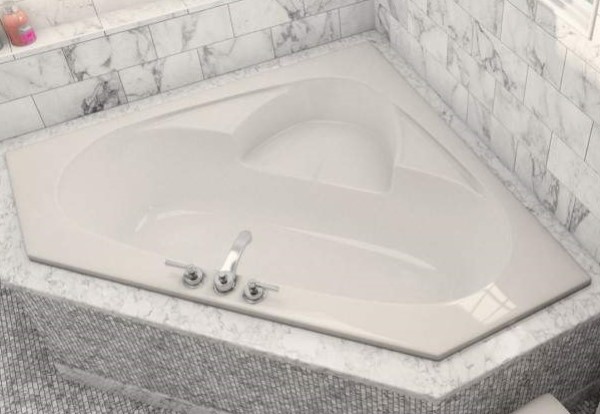 Shop Corner Jetted & Corner Soaking Tubs
Most corner tubs are triangular, but the inside of the tub can be very different. The bathing area can be an oval with a seat, cloverleaf in shape, or also be a triangle. Look below for corner rectangle tubs, unique and space-saving!
Corner bathtubs have become very popular for master baths since they can provide room for two bathers in a compact area. For instance, the
Neptune Ariane
(pictured above) has been a popular bathtub through the years. This 60" triangle bathtub has two bathing wells. One a little over 53" long, the second almost 43" long. Plenty of room for two bathers to sit side-by-side. In fact, most rectangle 60" tubs have a floor length under 43".
These tubs are available as soaking tubs or jetted. More on Corner Tubs →
Shop Corner Bathtubs by Size
Unique Corner Bathtubs
Rectangle Corner Tubs
42" & 48" Small Corner Bathtub

MTI
Deborah 2
42" x 42" x 19"
Corner Bathtub
• Undermount
• Drop-in

• Soaking Bathtub
• Heated Soaking
• Micro Bubble
• Air Bathtub
• Whirlpool
• Combination

MTI
Deborah 1
48" x 48" x 20"
Corner Bathtub
• Undermount
• Drop-in

• Soaking Bathtub
• Heated Soaking
• Micro Bubble
• Air Bathtub
• Whirlpool
• Combination
Corner Tub Features: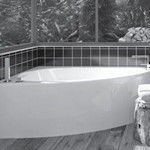 • Room for 2?
Many corner bathtubs have a triangle bathing area with up to 3 backrests. 2 bathers can sit face to face or side-by-side. But not all corner tubs are designed for 2 bathers. Pictured above is the
Neptune Wind
. It has an oval bathing well and an end drain, this bath was designed for one bather. As you shop our corner tubs you will see the top view, so you can see how the inside is designed. The tub's technical sheet will give you the interior measurements.
• Comfortable Tub?
There are many factors to consider when selecting a bath: bathing room, back slant and water depth. We have more information on tub size here:
Bathtub →
Soaking, Whirlpool or Air?
There are a lot of bath systems offered. With a soaking tub there isn't a system or jets. You can add a recirculating pump and heater to a soaking tub for a tub that will not lose water temperature for as long as it is on. You can have air jets for a light skin caress or water jets that provide a deep tissue massage. Or have a combination tub that uses both. We have included in the descriptions above if the tub is offered in any of these systems: Soaking Tub, Heated Soaking, Air Bathtub & Whirlpool Combination. But there are more possibilities. And micro bubble tubs that provide skin conditioning. Find out more about all the possibilities see:
Spa Tubs →
Large Tub Selection Backed with Customer Service
We have a large selection of quality tubs listed on our site which can feel overwhelming as you shop through them. Just call us: we have been doing this for so long we have become tub experts. We work closely with our manufacturers and pride ourselves on our product knowledge. Our experts are here to answer all questions and guide you through your tub selection.
We also know that buying such a large item online can be scary. Rest assured we only carry tubs that we would feel comfortable putting in our own mother's house. And we have done just that! Our bathtubs are the best in the industry, and we have years of experience with the manufacturers. Issues are very rare, and if they do arise, they are quickly resolved. We are here to answer questions and keep you informed on the creation and delivery of your bathtub. We will still be here for questions even after your new bathroom is finished.
Helpful Bathtub Links
•
How To Choose A Bathtub
- Features to Consider when Purchasing a Bathtub
•
Tubz.com
- Contact us, we are here to help