Freestanding Whirlpool & Heated Tubs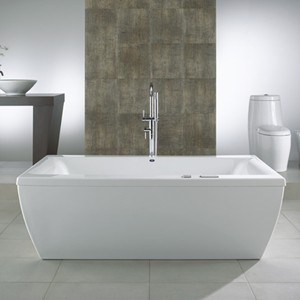 Freestanding Tubs with Whirlpool Jets or Soaking Tub with Heater
This is not an easy tub to find. There are plenty of freestanding air and soaking tubs. But whirlpools & heated soaker tubs require piping that goes around the sides of the tub making it hard to fit a skirt. The motor needs to fit within the skirt and access to this motor is need. But there are a few lovely, hard working freestanding tubs with jets.
Heated Soaking, Whirlpool Jet and Combination Tubs:
We are going to list 4 styles of freestanding bathtubs on this page. There are also freestanding soaking tub or ones with an air system. See
freestanding tubs
to view these. On this page we are going to concentrate on the hard to find freestanding tubs:
• Heated Soaking
This freestanding tub will maintain the water temperature with in a few degrees of what the water was poured at for as long as you will like. A recirculating pump slowly pulls the water from the tub, puts it though the heater and then back into the tub.
• Water Jet Whirlpool
Water jets push a massaging stream of water. These strong jets provide a deep tissue massage. In-line heater options to maintain water temperature.
• Combination Jet Tub
Water & Air Jets. Run the air system for a soft tissue massage, turn on the water jets for more intense massage, or run both systems at the same time.
Freestanding System Tubs by Size
We carry quality bathtubs with thick acrylic and strong warranties. Our tubs come to you factory direct and we pass those savings on to you, giving you high quality at reasonable prices. Click on the tub picture below to find out more.
Freestanding tubs are listed by size: first by length, then by width, then by height - smallest to largest
Small Heated Freestanding Tub
65" - 69" Freestanding Whirlpool & Heated Tub
70" - 72" Freestanding Jetted Tub
Freestanding Tub Motor Access
Motor access is important to any system tub. Warranty issues are very rare. But if they do happen and the motor can't be reached, then it can't be fixed. The freestanding whirlpools and heated soaking tubs have been designed to provide access in one of two ways:
1) Two piece construction allows for the tub to be dis-assembled proving full access to the motor.
2) Removable access panel is attached to the tub.
When you go to the tub detail page, it will let you know how access is achieved.
Helpful Bathtub Links
•
How to Choose a Freestanding Tub
•
Spa Tubs
- Bring the Spa Treatment Home | Which System is Best?
•
Tubz.com
- Contact us, we are here to help