Neptune Saphyr Freestanding Tub
Saphyr Whirlpool, Air Tub or Soaking Bathtub
Freestanding Tub | 72 x 38 Whirlpool, Air or Soaking Tub | Modern Tub for 2 with Center Drain
Neptune designed an original freestanding contour skirt with charm. A rectangular freestanding bathtub with a design softened by sumptuous curves. The Saphyr, as a soaker or equipped with any Neptune system, will be a jewel to make any bathroom sparkle. Center drain and two reclining backrest give the option of two bathers. Choose from a soaking, whirlpool, air or combination tub.
Buy Your Neptune Saphyr on Sale from Bathtub Experts!
At Tubz.com we are not just order takers in a call center. We are a small team that takes pride in our customer service and the product knowledge we have accumulated in our 20+ years of experience. Give us a call, we are here to help! We will offer you a great sale price with free shipping (48 contiguous states).
Authorized Neptune Dealer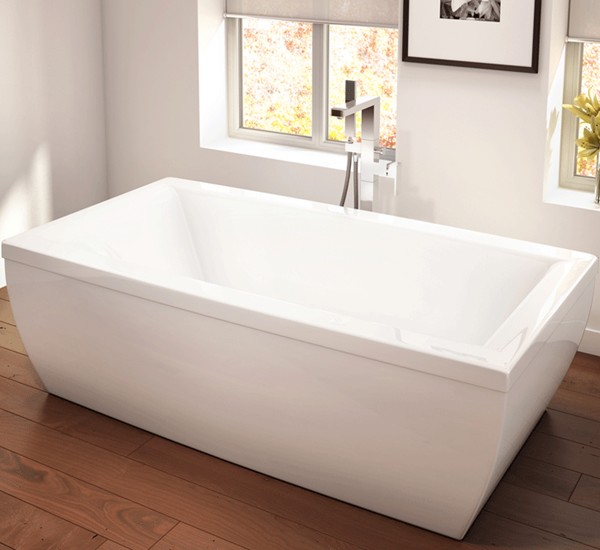 Tub Size: 71 7/8" x 38" x 22 3/4"
Water Capacity: 102 Gallons
Bathtub Weight: 114#
Water Depth: 15 5/8"

Bathtub Material: Acrylic
Standard Neptune Color: White
Smooth Tub Floor
Tub Installation: Freestanding 2 Piece
Back jets can only be installed on left backrest.
Pump on right side only.
The whirlpool pump and in-line heater can all fit within the skirt
Plug in cord is located on the bottom between the skirt and bath (Below the motor)
Sale Price Not Listed? Call
866-380-0303
or Click "Send Me a Quote"
Welcome to tubz.com virtual showroom
Prices listed are MSRP. Sale prices are much lower! Since we are don't have a cart, give us a call, or use quote button (email) for price quotes.
Learn more →
Saphyr Freestanding Soaking Bathtub
Saphyr Options →
Soaking Tub
SY3872
Tub Only | No Jets

MSRP: $3525.00

Saphyr Freestanding Air & Whirlpool Tubs
Saphyr Options →
Whirlpool Tub
SY3872T
Water Jets

MSRP: $5860.00


6 Turbo jets
5 Micro-rotating back jets
13 A pump
Diverter valve
Electronic control

Mass-air Air Bath
SY3872M
Bottom Air Jets

MSRP: $6060.00


17 Mass-air injectors
1 ½ h.p. Optima blower with 300W heating element
Electronic control

Activ-air Air Bath
SY3872A
Side Air Jets

MSRP: $6305.00


52 Activ-air micro jets
1 ½ h.p. Optima blower with 300W heating element
Electronic control

Saphyr Combination Tub
Mass-air & Whirlpool
SY3872C
Bottom Air Jets & Water Jets

MSRP: $7895.00


6 Turbo jets
5 Micro-rotating back jets
13 A pump
Diverter valve
11 Mass-air injectors
1 ½ h.p. Optima blower with 300W heating element
Electronic control

Active-air & Whirlpool
SY3872CA
Side Air Jets & Water Jets

MSRP: $8075.00


6 Turbo jets
5 Micro-rotating back jets
13 A Pump
36 Active-air micro jets
1 ½ h.p. Optima blower with 300W heating element
Electronic control

Active-air & Mass-air
SY3872CMA
Bottom & Side Air Jets

MSRP: $8530.00


52 Activ-air micro jets
11 Mass-air injectors
2 - 1 ½ h.p. Optima blowers with 300W heating element
Electronic control

Active-air, Mass-air & Whirlpool
SY3872TAM
Both Air & Water Jets

MSRP: $10135.00


6 Turbo jets
5 Micro-rotating back jets
13 A pump
Diverter valve
36 Activ-air micro jets
11 Mass-air injectors
2 - 1 ½ h.p. Optima blowers with 300W heating element
Electronic control

Saphyr Options:
Model Specific Options
• Nuance Colors ($395.00 List Price)
- Green, Red, Black & Purple
• Handle ($110.00 Each List Price)
- White, Bone, Biscuit or Chrome (Max.4)
• Drain Adapter ($299.00 List Price)
All Neptune Options and Features →
Neptune Links
www.produitsneptune.com
Neptune Tubs
(Main Page)
Helpful Bathtub Links
•
How To Choose A Bathtub
- Features to Consider when Purchasing a Bathtub
•
Air Tub
- Find out how Air Systems Vary
•
How to Choose a Freestanding Tub
•
Tubz.com
- Contact us, we are here to help