60 Inch (5 Foot) Alcove Whirlpool, Air & Soaking Tubs
5 Foot 3 Wall Bathtubs with Front Skirts & Tile Flange
These bathtubs are meant to be tucked into a 3 wall alcove. They come with an integral tile flange so the walls can be tiled for a shower. Most have an integral front skirt others only have the flange so a custom skirt can be created. The notes below will indicate if it is a tile flange only.
See Alcove Tubs → for more information on skirts, flanges and other alcove features to consider.
Whirlpool, Air or Soaking Bathtub?
There are a lot of bath systems offered. With a soaking tub there isn't a system or jets. You can add a recirculating pump and heater to a soaking tub for a tub that will not lose water temperature for as long as it is on. You can have air jets for a light skin caress or water jets that provide a deep tissue massage. Or have a combination tub that uses both. We have included in the descriptions above if the tub is offered in any of these systems: Soaking Tub, Heated Soaking, Air Bathtub & Whirlpool Combination.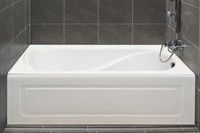 Find Great Tubs with Factory Direct Sale Prices
We carry quality bathtubs with thick acrylic and strong warranties. Our tubs come to you factory direct and we pass those savings on to you, giving you high quality at reasonable prices.
Tubs are listed by size: first by length, then by width, then by height - smallest to largest
60" x 30" Alcove
60" x 32" Alcove Bathtub
60" x 34" Alcove Tub
60" x 36" Alcove
60" x 42" Alcove Bathtub
More 60" Alcove Tubs:
Shop 60" Rectangle Drop-in Bathtubs →
Many drop-in tubs have the option of a skirt &/or flange. Look for "Alcove Options" in the description. This means a tile flange and front skirt are possibilities.
• Call us - 866-380-0303 - We will help you find the perfect alcove tub
Helpful Bathtub Links
•
Alcove Tub
- Features & Options
•
How To Choose A Bathtub
- Features to Consider when Purchasing a Bathtub
•
Spa Tubs
- Bring the Spa Treatment Home | Which System is Best?
•
Tubz.com
- Contact us, we are here to help