Clawfoot Tub | Soaking Bathtub
Find a large selection of vintage cast iron, acrylic and copper soaking tubs with claw feet. Shop by style or size to find the perfect freestanding soaking tub for your bathroom.
Clawfoot Roll Top & Slipper Freestanding Bathtubs
We carry quality bathtubs with strong warranties. Our tubs come to you factory direct, and we pass those savings on to you, giving you high quality at reasonable prices. You don't have to wait for specials, search for a coupon, or cross your fingers and hope for a good deal. Our freestanding bathtubs are always on sale. We will ship our tubs anywhere in the contiguous US free of charge. Tubz.com has a large selection of clawfoot bathtubs. For easier shopping choose size or style below. Click on the tub picture to find out more about sale prices.
32" - 59" Clawfoot Soaking Bathtub
5 Foot Clawfoot Tubs | 60" - 63"
4 Styles of a Clawfoot Tub: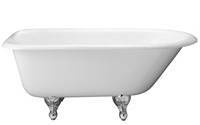 Roll Top
This clawfoot is designed for one bather. The drain end is flat and the backrest rounded - elongated "D" shape. Traditionally called a roll top since in most cases the rim of the tub is curved - rolls from the inside of the tub to the outside. We have included some more modern styles that have a flat rim.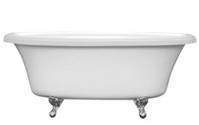 Double Roll Top
Designed for two, this bath is designed with a center drain and two slanting backrests. The rim is most likely to be round with a flat area above the drain for the tub filler. We have also included some flat rim designs.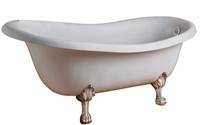 Slipper
A raise backrest elegantly slopes for comfort while soaking. The drain rim sits lower often with the possibility of clawfoot faucets installed above the drain.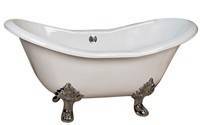 Double Slipper
A double slipper bath offers the most elegant profile with two raised backrests. Designed for 2, these clawfoot tubs are designed with a center drain.
A Clawfoot Bathtub paired with a Vintage Tub Faucet Offers Timeless Beauty
Back in time a tub was elevated on feet to help to keep the floor dry, reducing the occurrence of rot and mold. From this simple, practical idea a new form of tub was created. A bathtub that evokes thoughts of timeless beauty - the clawfoot. What a wonderfully focal point to any bathroom whether traditionally designed or leaning more to the transitional - somewhere between old and new.
The clawfoot tub was considered a luxury item in the late 19th century. Originally made from cast iron and lined with porcelain, these tubs are now offered in acrylic and copper too. Modern technology has also changed the luxury price tag to be an affordable option while keeping their luxurious feel. We have included in this section any tub that is raised from the floor by feet - whether a traditional claw style, contemporary feet and even the transitional bun feet.
Helpful Bathtub Links
•
Freestanding Tub Buying Guide
•
Tubz.com
Contact us, we are here to help
- Email
or 866-380-0303