Barclay Dawson 61" Clawfoot Bathtub
Double Roll Top Bath
Elegant lion paw feet add grace to this small double roll top tub. The Dawson bathtub features a center drain and a traditional rolled rim. The claw feet are available painted in white, black or biscuit. For metallic feet choose from chrome, brushed nickel, polished brass or oil rubbed bronze. Find suggestions for faucets so you can find everything your need.
Authorized Barclay Dealer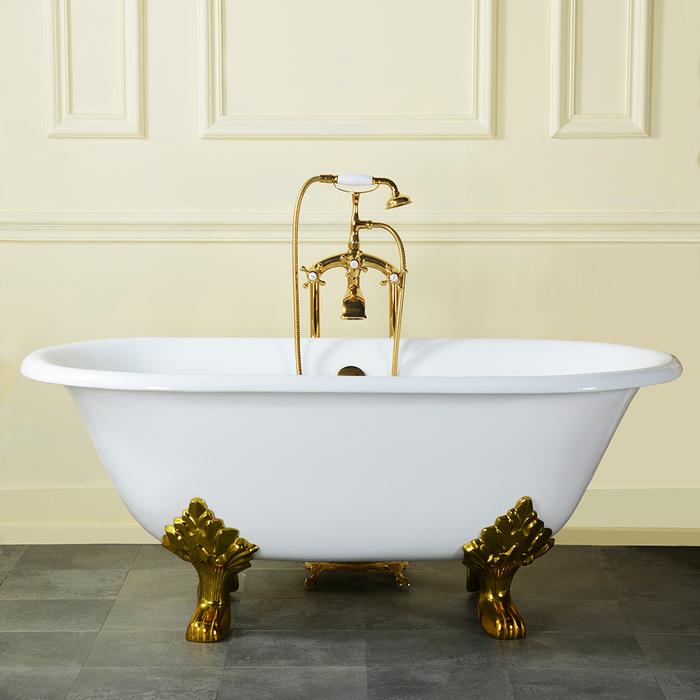 Dawson Freestanding Cast Iron Soaking Tub
Barclay CDRN61LP-WH
60 3/4" x 30 3/8" x 23 7/8"
Gallon Capacity: 30
Shipping Weight: 450#
Filled Weight: 521# | Empty Weight: 270#
Cast Iron
Continuous Rolled Rim
Inside Finish: White Enamel
Bathtub Exterior: White Epoxy
Shipped with feet attached and leveled
Center-Side Drain Bathtub
Recommended Tub Drain #5599E
Buy Your Barclay Dawson Tub on Sale from Bathtub Experts!
At Tubz.com we are not just order takers in a call center. We are a small team that takes pride in our customer service and the product knowledge we have accumulated in our 20+ years of experience. Give us a call, we are here to help!
The Barclay Guarantee
"We are proud of the brand and products we sell, and we stand behind them 100%. We are committed to offering the right design elements, required performance specs, competitive pricing and unsurpassed customer service."

Call Now to Place Your Order! | 866-380-0303
Barclay Dawson CDRN61LP-WH
White Tub | Choose Claw Foot Color:
Painted White Feet
CDRN61LP-WH-WH

List Price: $3285.00


Sale Price: $2371.00

Painted Black Feet
CDRN61LP-WH-BL

List Price: $3285.00


Sale Price: $2371.00

Painted Bisque Feet
CDRN61LP-WH-BQ

List Price: $3017.00


Sale Price: $2210.00

Polished Brass Feet
CDRN61LP-WH-PB

List Price: $3285.00


Sale Price: $2371.00

Polished Chrome Feet
CDRN61LP-WH-CP

List Price: $3237.00


Sale Price: $2342.00

Brushed Nickel Feet
CDRN61LP-WH-SN

List Price: $3285.00


Sale Price: $2371.00

Oil Rubbed Bronze Feet
CDRN61-WH-ORB

List Price: $3285.00


Sale Price: $2371.00
Recommended Faucets for CDRN61LP:
Caring for Your Barclay Cast Iron Bath
Our cast iron tubs are produced from solid quality cast iron billets to an average thickness of 3/8". They are covered with a ground coat, followed by 3 layers of Class AA High Grade covercoat enamel. Each coat is fired at 900ºC, resulting in a luster that should remain unfaded for at least 10 years. Tub exteriors are finished with 2 coats of paint over a layer of anti-rust primer. You can expect 50 years of service from your cast iron tub with proper care. To maintain the luster of your cast iron tub, we recommend using a mild, non-abrasive
cleanser for regular cleaning. The porcelain interior should be towel dried after each use. Bon Ami® or Zud® are more powerful non-abrasive cleansers that may be used for tougher cleaning, such as soap scum, minor rust stains or hard water deposits. To prevent the accumulation of standing water under your tub base be sure to seal between the base and floor with a bead of silicone.
Barclay Links
•
barclayproducts.com
•
Barclay Tubs
•
Barclay Tub Faucets
Helpful Bathtub Links
•
How to Choose a Free Standing Tub
•
Freestanding Bathtub
- Shop all Freestanding Tubs
•
Tubz.com
- Contact us, we are here to help