Shop Freestanding Tubs
Find a Large Selection of Stand-Alone Bathtubs
Shop Freestanding Tubs, Find a Wide Selection of Small to Large Soaking & Air Tubs on Sale at Tubz.com, the Bathtub Experts!
The rising popularity of a freestanding bathtub has changed thoughts on bathroom design. In the past the tub was surrounded by tile work to create a focal point (to take the attention away from the tub). A freestanding tub is meant to be the focal point, their beauty and presence commands it. Yet they provide all the comfort and functionality of a drop-in tub.
Learn more about freestanding tubs →
Freestanding Tubs by Size:
Shop Specialty Freestanding Bathtubs:
Small Freestanding Tub 42" - 58" (Inch)
Tubs are listed by size: first by length, then by width, then by height - smallest to largest
The description will list all the systems offered (soaking, air or whirlpool jets).
Bathtub Systems →
How to Choose a Freestanding Tub
There are things to consider before choosing a freestanding tub like size, style, faucets and drains. Is the tub made from acrylic, solid surface or is it a cast-iron bathtub? Is there room for two with a center-side drain? We have created a guide to help you:
How to Choose a Stand-Alone Tub →
Freestanding Soaking, Air, Whirlpool or Heated Bathtub?
Soaking & Air
All freestanding tubs are offered as soaking tubs. Most also offer an air system. As you shop out tub selection (by style or by size) in the tub's description you will see descriptions that list if the tub is only available as a soaker or both air & soaking:
• Soaking
• Air
Soaking tub offers no jets, tub only. The freestanding air tubs offer a vigorous skin massage. Warm air is blown into the bathtub
Freestanding Tubs with Heated Surface
Heat panels are integrated into the structure of the bath to warm the bath much like the heated seats in a car. Heated surface systems will not maintain the temperature like a heated soaking tub but, they add luxury. When shopping through our freestanding tubs by size, you will see the tub systems listed in the description. Look for
"Heated Surface"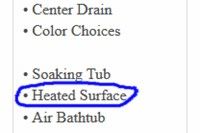 Heated Surface Tubs by Manufacturer:
Hydro Systems →
Hydro Blanket wraps you in a world of warmth and relaxation. Multi-zone heat allows you to pick from 2 to 5 heat zones on the sides or bottom of the bath. Turn on the thermostat and set the dial to a maximum setting of 110°
Neptune →
Heated back support specifically designed for total relaxation. Integrated into the tub, the electronic control allows you to choose between two heat settings 104° & 110°. This system takes about 90 seconds to warm the bath.
MTI →
Radiance surface heating system provides an even distribution of warmth to eliminate the shock of a cold tub and increases relaxation during the bath. This system includes electronic heating grids for 2 zones. Tub surface can vary from 85 -100°.
Whirlpool & Heated
Heated Soaking tub has a recirculating pump & heater to maintain water temperature. A whirlpool offers a deep tissue massage with water jets. An in-line heater to maintain the water temperature is an option. See:
Freestanding Whirlpools & Heated Soaking Tubs →
Large Tub Selection Backed with Customer Service
We have a large selection of quality tubs listed on our site which can feel overwhelming as you shop through them. Just call us: we have been doing this for so long we have become tub experts. We work closely with our manufacturers and pride ourselves on our product knowledge. Our experts are here to answer all questions and guide you through your tub selection.
We also know that buying such a large item online can be scary. Rest assured we only carry tubs that we would feel comfortable putting in our own mother's house. And we have done just that! Our bathtubs are the best in the industry, and we have years of experience with the manufacturers. Issues are very rare, and if they do arise, they are quickly resolved. We are here to answer questions and keep you informed on the creation and delivery of your bathtub. We will still be here for questions even after your new bathroom is finished.
Helpful Bathtub Links
•
Freestanding Tub Buying Guide
•
Tubz.com
- Contact us, we are here to help