Aquatica True Ofuro Bathtub
True Ofuro Japanese Style Freestanding Soaking or Heated Tub
Inspired by ancient Japanese traditions of soaking in Ofuro tubs, the True Ofuro Japanese style bathtub is a 'sit and soak', solid surface bathtub, featuring a deep design for a full-body immersion. Aquatica True Ofuro bathtub features wide rim, designed to ease the process of getting in and out of the bathtub. The wide and rounded rim allows for shorter, older and physically less fit people to sit or lean safely on the bath rim while getting in and out of the Ofuro bathtub. This Japanese style bath has a built-seat and ergonomically shaped backrest – designed for relaxing. Discretely integrated and concealed overflow channel further adds to this modern Ofuro bathtub's charm. Choose Soaking or Heated Bathtub. Crafted in Italy, this immaculately sculpted tub has the option of being a soaking tub or a heated soaker. Optional inline water heater and digital control panel with temperature display, which will reduce water consumption and provide for a prolonged soaking experience at very comfortable temperatures.
Buy Your Aquatica True Ofuro on Sale from Bathtub Experts!
At Tubz.com we are not just order takers in a call center. We are a small team that takes pride in our customer service and the product knowledge we have accumulated in our 20+ years of experience. Give us a call, we are here to help! We will offer you a great sale price with free shipping (48 contiguous states).
Authorized Americh Dealer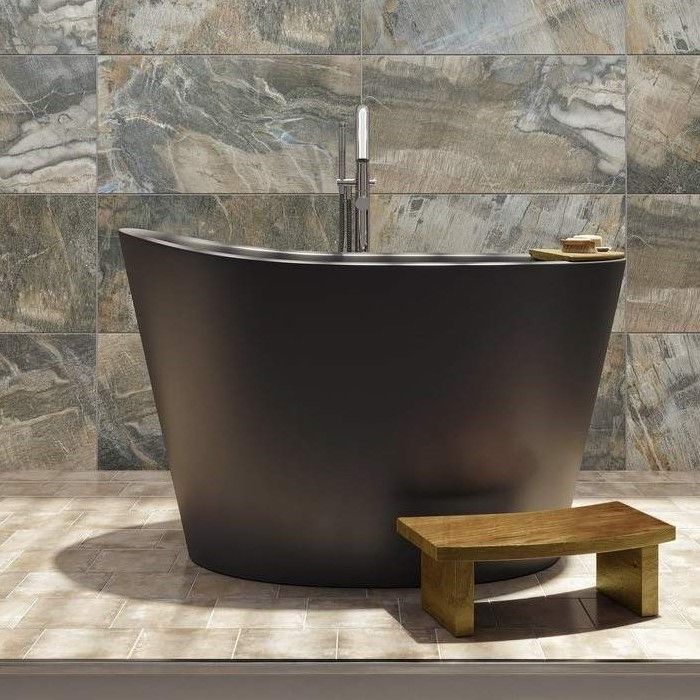 Bathtub Size: 51.5" x 36.25" x 33.75"
Water Depth: 24.25"
Water Capacity: 87 Gallons
Product Weight: 287 Pounds (Heated Bath 309#)
Shipping Weight: 483 Pounds (Heated Bath 507#)
Solid Surface Composite | Matte Finish
Includes Tub Tray

Drain Not Included (see options)
Adjustable height legs
25 Year Limited Warranty
Country of Origin: Italy
Faucets pictured not included with tub
Sale Price Not Listed? Call
866-380-0303
or Click "Send Me a Quote"
Welcome to tubz.com virtual showroom
Prices listed are MSRP. Sale prices are lower! Since we are don't have a cart, give us a call, or use quote button (email) for price quotes.
Learn more about Tubz.com →
True Ofuro Freestanding Tub
True Ofuro Options →

True Ofuro-Blck-Wht
Black & White Soaking Tub

MSRP: $8299.00


*Sales Tax Charged for: CA, CO, FL, OK, WA & WI

True Ofuro-Wht-Tranq
White Heated Soaking Tub

MSRP: $9898.00


*Sales Tax Charged for: CA, CO, FL, OK, WA & WI
Aquatica True Ofuro Offers:
• Striking upscale design
• Freestanding construction
• Solid, one-piece construction for safety and durability
• Ergonomic design forms to the body's shape for ultimate comfort
• Quick and easy installation
• Concealed overflow
• Galvanized steel frame with adjustable feet
• Quick and easy installation
• 25 Year Limited Warranty
• cUPC certified
Made for Seated Soaking
There is nothing else quite like Aquatica's True Ofuro. This unique, modern take on the traditional Japanese-style bathtub is made for seated soaking. So the design incorporates a built-in seat and the depth of the tub has been extended to 24.25" to ensure full body immersion for even 6ft plus bathers. The interior ergonomics of this bathtub is all directed to providing effortless comfort and support.
AquateX™
AquateX™ is a technologically advanced solid surface composite material, developed by Aquatica®. 60% of AquateX™ is composed of the aluminum mineral that is derived from bauxite, a deeply weathered volcanic rock. By combining a high percentage of all the best properties of natural materials; and a low percentage of state-of-the-art acrylic resins; we were able to create a desirable, high performance cast stone material that is specifically, suitable for high-end bathroom applications.
AquateX™ Video →
NeroX™
(black bath)
NeroX™ is a blend of Hematite and Boehmite minerals with state-of-the-art acrylic modified resins and high-purity carbon black pigment. Using high-speed, vacuum assisted, dispersion and mixing Aquatica was able to create a visually stunning and highly desirable, high performance black solid surface material. It is an inert, hypoallergenic, non-toxic and 100% recyclable stone composite material that combines two opposites - a warm, silky soft exterior and a tough, durable interior. It has a strong resistance to sunlight, is dense/non-porous, hygienic, durable and is pleasant to touch due to its velvety texture.
More Information →
Ergonomical headrest

The True Ofuro Japanese style bathtub features an ergonomic built-headrest for comfortable and relaxing bathing experience.
Teak Shelf

The Aquatica's True Ofuro Japanese style bathtub ships standard with a teak wood shelve – a beautiful and very useful solid teak wood accessory.
True Ofuro Tranquility Heated Bath Features
One of the most important things for those of us who like enjoying a hot bath, is the water temperature. As time passes, the water temperature in your bathtub drops down and requires you to constantly be adding hot water to maintain the temperature, which in turn requires large capacity water boilers, wasting water and electricity. The Aquatica True Ofuro Japanese style bathtub with Tranquility bath heating system is fitted with a recirculation system (just like the traditional Japanese oidaki) and ozone disinfection system. Having a heated bathtub with efficient inline water heater means that you're not only saving energy and not wasting money, but you're able to be a little more environmentally friendly.
Frequently Asked Questions: True Ofuro with Tranquility
Water Heater with Ozone Disinfection
(Photo: Light & 2 Water Ports)
• Max Water Temperature: 104°
• 20 Minute Session Safety Timer
• 1.5kW/110V/20A

Electrical Manual

Operating Manual
Electronic Controls, Bluetooth & Chromotherapy:
Bluetooth Stereo

Designed to deliver clean, crisp rich sound in the high-fidelity rendition expected by music lovers, Aquatica Audio Station features Class D amplifier technology to enhance your bathroom audio experience. Delivering 300W peak at low distortion, our audio station features high-quality audio transducers with integrated digital filter and adjustable volume.
LED Chromotherapy

Just press your True Ofuro Tranquility light key and the on-board controller will deliver an array of preprogrammed mood-setting light shows that include color washes; randomly changing colors, color cross fades, and fixed colors from one show to the next. Turn the light button OFF and then ON again in 1 second or less, to go to the next light show.
Digital Keypad with LCD

With Temperature display
True Ofuro Options
Save More! 10% off the following accessories when ordered with your bathtub
Tub Drains
•
Euroclicker 2
(tap drain to open or close)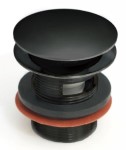 Polished Chrome
List Price: $199.00
Matte Black, Polar White, Brushed Nickel
List Price: $240.00
Freestanding Bath Installer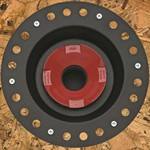 This well-rounded kit includes all the equipment required to install an Aquatica freestanding bathtub within minutes and has been specifically designed to be installed with an 8" joist space or in a concrete floor. Including 2 Brass Tailpieces (Fine Thread and Flanged), a Freestanding Bath Installer™ assembly with 1-1/2" DWV ABS tailpiece as well as a cutting template. This 18 Gauge Epoxy Coated Metal Deck Flange can also be installed with a Waterproofing Membrane.

Technical Sheet
List Price: $199.00
RAL Colors
#7021 Black grey, #7016 Anthracite grey, #8022 Black brown, #8019 Grey brown, #8017 Chocolate brown, #1021 Colza yellow, #1036 Pearl gold, #3009 Oxide red, #3011 Brown red, #5000 Violet blue, #5004 Black blue, #5010 Gentian blue, #5023 Distant blue, #6005 Moss green
List Price: $3000.00
Exterior Color | White Bath Only
AquateX™ LuX | Gloss Finish
(White Bath Only)
In addition to all the excellent characteristics of AquateX™, the AquateX™ LuX offers ultra-polished, glossy marble-like surface for even easier cleaning and maintenance. Any small signs of wear and accidental scratches can be easily removed using a common abrasive sponge, which will remove a tiny layer of the material surface, followed by surface polishing. This simple maintenance procedure will return the original gloss to the AquateX™ LuX surface.
List Price: $799.00
NanoGuard
(Standard on Black Tub)
NanoGuard™ is a nanotechnology-based liquid polymer that is applied to our bath or basin surface and creates a ceramic-like invisible protective layer. NanoGuard™ utilizes nanotechnology and tiny particles that form a very fine, thin layer completely invisible to the eye. Because these particles are so small, when applied to a surface, they seal all the surface pores making the surface hydrophobic (water-repellent), resistant to UV, minor scratches, harsh chemicals, and anti-graffiti. NanoGuard™ is completely transparent.
More Information →
List Price: $249.00
AquateX BioSan™
BioSan™ is a special antimicrobial protection for bathtubs and washbasins. With proven technology from industry leader BioCote™, the BioSan™ option is specifically designed to eliminate mold, fungi, bacteria, and viruses by up to 99.9%.is not a coating, this means it will never wear off or require any repeated application. During the manufacturing process, this antimicrobial additive is incorporated at a molecular level into the resin base. It exerts a negative effect on any contaminating microbes, forcing them to reduce. This innovative antimicrobial technology negatively affects bacteria that contaminate the surface through protein damage, cell membrane damage, oxidative damage and DNA interference.
More Information →
List Price: $399.00
Nordic Insulation
The Aquatica Bathtub Nordic Insulation System is a complete bathtub insulation system. Designed to insulate and air seal all the bathtub inner surfaces, including the bathtub bottom. This premiere insulation system creates an air chamber that prevents heat loss. It creates a perfectly insulated, sound-proof, monolithic solid stone interior while benefiting from some substantial weight savings.
List Price: $399.00
Not Available with Tranquility
Bluetooth Stereo
Enhances the experience of relaxation by adding audio playback
All components are concealed under the bath
The Bluetooth receiver plays back audio files wirelessly any Bluetooth-enabled device.
More Information →
List Price: $875.00
Waterproof Step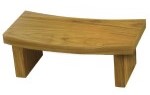 Aquatica's Bathroom Step-In Stool has been architecturally and perfectly designed to be used in any bathroom scheme. Whether you need a step to sit on while drying off after your bath, or a step to help you get in your deep soaking bathtub, this articulately designed step-in bathroom stool is perfect for your bathroom needs. Designed and crafted using a high-quality walnut wood, which contains a natural and organic oil making it naturally waterproof. This will aid in the step-in stool not becoming brittle, bent, swollen or cracked from water damage.
21.75 L x 16.25 W x 7 H
Weight: 11#
Walnut Step List Price: $670.00
Teak Step List Price: $1119.00
Vanilla Headrest
Black or White Gel Pillow
Relax in your bathtub! These headrests have been specially designed and hand-made in Italy, with an ultramodern polyurethane gel, giving the headrest its 'shape memory'. Compatible in any square bathtub, and perfect if you're looking for head support lower than on the edge of the bath. Highly durable, resistant, and elastic, these non-toxic headrests won't require an adhesive to stick and adhere perfectly to all stone and acrylic bathtubs.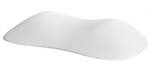 List Price: $149.00
Aquatica Bath Link
www.aquaticausa.com
Helpful Bathtub Links
•
How to Choose a Free Standing Tub
•
Freestanding Bathtub
- Shop all Freestanding Tubs
•
Tubz.com
- Contact us, we are here to help