Freestanding Bathtub Buying Guide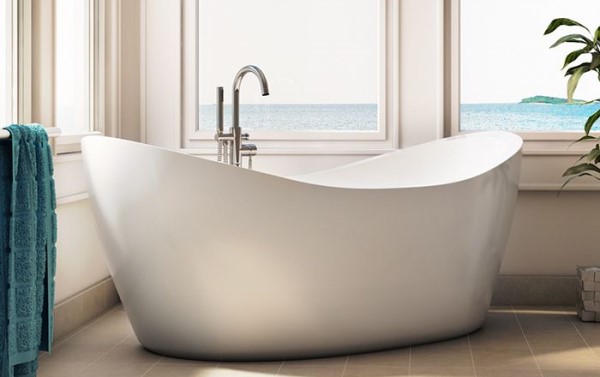 If we could choose a stand-alone bath by looks alone, the possibilities would be endless!
Beauty abounds with a freestanding bathtub, creating a focal point that says luxury. Whether you call it a freestanding, stand-alone or floor mount, it refers to the same beautiful look. There are so many factors involved when picking the perfect one for you. What size? Modern or traditional style? Solid Surface, acrylic or cast iron?
Choose the Perfect Freestanding Tub for Your Bathroom
Scroll down the page to read through all the information or use the links below to learn about size considerations, differences in style, or common options. We have developed this guide to help choose the best bath for your bathroom. We have divided the information into 3 sections:
Are you are all ready to look through our large selection of freestanding tubs? See: Freestanding Tubs →
What Size Bathtub?
When planning for a bath the first worry is the over all size of the tub. Will it fit into the space restraints? Will it fit through the bathroom door? Will it be a comfortable fit?
How will the bathtub fit in the room?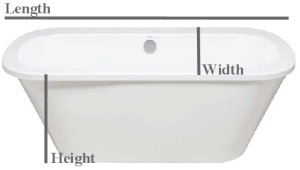 The outside dimensions will let you know if the tub will fit your space. You will want to make sure it will fit through doors and hallways (usually turned on its side so check the door width with the tub height). Also with the tub height, is it comfortable to step over to get in and out?
How large of a bathtub to bathe comfortably?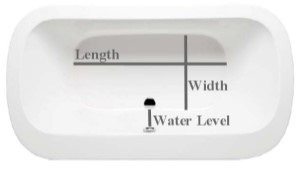 The inside measurements will help you decide comfort level. The bathing well is measured at the bottom of the bathtub - the length and width of tub floor. To see if a tub will fit for you - lean or sit against a wall and measure from the wall to your toes. Check this measurement against the tub's technical sheet for comparison. Will you be able to stretch out sufficiently? Is it wide enough to sit comfortably? Also think about how you lounge. Do you sit against the back slope or do you slouch? I slouch down into the bathtub, making the length of the bathing well not as important as the width and water depth.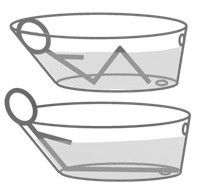 Room for 2?
If a tub has two back slants & a center drain, It is considered a 2-person bath. If it has an end drain - one side slopes but, the drain end is straight up and down, then it has been designed for one bather. Use the technical for the bath to find out the bathing well size and water height. This will let you know if two can truly fit.

Center Drain

Center-Side Drain

End Drain
---
Bathtub Styles
• Design
Some parts of design are just a matter of preference. Below are standard style categories to get you familiar with the terms often used. See notes below for things to consider.

Clawfoot
Most are traditionally styled, these baths are raised off the bathroom floor with 4 stylish feet. Some even have contemporary feet for that modern feel.

Pedestal
The bathtub sits on a pedestal base or the tubs are molded with the look of a base. Style varies from modern to traditional.

Slipper
A slipper bath has one raised backrest, a double slipper has both raised. This style of tub can also be a clawfoot or a pedestal.

None of the Above
The majority of the freestanding tubs don't fit into the above categories. The come as ovals, rectangles and even round baths.
Some notes on style:
• Since the feet raise the tub, a clawfoot tub is often shallower than other styles. Much easier to clean around though.
• Do you need a tub rim? Do you prefer a tub rim to set your glass of wine or bathing accessories? Look for a tub with a wider rim or consider a small table to set next to the tub. Tub trays can also be helpful. But make sure the rim of the tub has an even place to set it.
• We also carry some
Japanese Style Freestanding Tubs
• Tub Construction
Some free standing bathtubs are molded as one piece, others come as two: 1) skirt & 2) drop-in bathtub. Put the tub in the skirt and you have a freestanding tub.
If the tub is 2-piece and allows for deck mount faucets, the faucet installation will be easier. It also may mean the motor/blower is located within the skirt. Then an equipment access panel on the tub is not needed. Since every one is different, please check the tub's technical information.

1-Piece

Two Piece

2-Piece Construction
Tub Material
Acrylic
Acrylic sheets are heated then pulled into a mold with a vacuum system. The tub is then flipped over and reinforced with a mixture of fiberglass and compounds.
- Strong, lightweight material
- Resistant to scratches and fading
- Non-porous
If damaged it can be fixed easily. The acrylic can be buffed to remove fine scratches. An acrylic repair specialist can also fill larger scratches.
Solid Surface
The tub is molded with a mixture of ground natural minerals and binding agents. Many counter tops are created in the same way.
- Sturdy, heavy material
- Non-porous material
- Resists stains, scratches and discoloring
If damaged it can be repaired by sanding and polishing.
The rim is usually thinner than the tubs made with other materials.
Cast Iron
The tub is molded from cast iron. Then the inside is finished with a baked-on layer of enamel.
- Sturdy, heavy material
- May require extra support
- Enamel is resistant to scratches, chips and most chemicals
If the enamel is damaged, it is not easily fixed
Copper
The tub is created entirely from copper which has natural antibacterial properties. Copper is a living finish and will patina over time. Truly a unique tub material.
- Strong material
- Non-porous
Which of these keeps the tub water warm?
There is a big debate on whether an acrylic or cast iron tubs retain heat better. Some research states that the cast iron tubs needs hotter water to warm the iron, then maintains the water temperature longer. The majority of reports will say that cast iron always feels cooler. Acrylic always seems to stay at the room's temperature. All the reports I have seen state that the Solid Surface tubs do keep their heat longer. I have doubts that any do a great job. Since heat rises, most heat loss is not through the sides of the tub. A customer once shared that she has a large sheet of bubble wrap she uses to blanket the water - no heat loss at all! We do have a few freestanding tubs with an in-line heater to maintain the water temperature. You can find these here:
Freestanding Whirlpool
. Look for
"
Heated Soaking
"
Soaking or Air Bathtub?
All the stand-alone tubs we list are offered as soaking tubs. Some have the option of adding an air system or even whirlpool jets. If you add a system you will need to remote the air blower or have access to it.
These tubs have the air blower and/or the whirlpool motor in the tub.
---
Drain & Faucet
• Bathtub Drain
They may require a finished drain (will be visible). Others, it is integral to the bathtub (you will not see the piping). You will hear us state drains are universal, you can get them from your faucet company or plumber. In some cases it is better to get them together. Just ask us, and we will let you know if your tub needs a special drain.

Exposed

Integral
Where is my Drain?
We briefly discussed this above with the 1 vs 2 bather information.

Center Drain
Centered in the bathing well

Center-Side Drain
Centered on the length but, closer to one long side

End Drain
One backrest
Check the tub's technical sheet to see where the drain is located for each tub.
It is also important to know how the drain connects to the tub.

Standard Drain
Floor connection below overflow

Integral Overflow
Floor connection below drain

Above Floor Rough In
Floor connection below overflow
Drain connection above the floor
• Faucets
There are 3 styles of faucets for stand-alone baths. I will apologize ahead of time, but I must repeat - each one is different, please check the technical information on each one to see the possibilities. Only certain tubs have the option of a deck mounted tub filler. The filler on these tubs are a bit trickier to install.
Is the spout long enough to clear the tub rim but, doesn't extend too far into the tub?
Are there armrests that the water might hit and splash?
Is the spout and controls going to be taller than the tub rim?
And when you place your tub faucet (any style) make sure you can comfortably control the water; reach the handles without getting into the tub? Can you reach the water to check the temperature? Do you have to climb over the faucet to get into the tub? (huge trip hazard!).
Also check the faucet's flow rate. This is very true of many freestanding tub fillers. They can be beautiful but, the flow rate isn't worth the bother. If a faucet fills at 6 gpm (gallons per minute) and your bath holds 120 gallons - expect 20-minutes of fill time. Change it to 15 gpm and the fill time is cut to 8 minutes.
Ready to Start Shopping for Your Perfect Stand-Alone Tub?
All Freestanding Tubs by Style or Size →
Helpful Bathtub Links
:
Tubz.com
- Contact us, we are here to help