Alcove Bathtub | Tub with Skirt & Tile Flange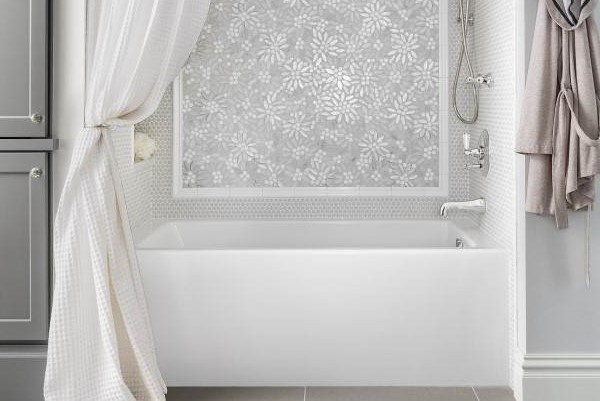 Alcove Soaking Tubs & Jetted Bathtubs
Features of an Alcove Bath:
• No Tile Deck
• Tile Flange
• Front Skirt (apron)
An alcove tub slides between three walls with the edge of the tub touching all three walls. It also has a front skirt and a tile flange. Since alcove tubs are often used as both a tub and a shower, shower spray or splashing in the tub can be concerning. This is where the tile flange comes in. It will keep water from getting in between the tub and tile walls, helping prevent water damage. The front skirt fits under the rim of the tub creating a compact, space-saving bathtub, especially when used as a tub & shower. The tubs we have listed have an acrylic skirt, but an alcove tub can have a
tiled skirt
as well.
Deep alcove tub?
Since these tubs are designed to be used as a tub and a shower, the tub rim is kept low. That way stepping into the shower on a daily basis won't be cumbersome. Low tub height means lower water level. For an alcove tub with a deep water depth (tub only) you will need a custom or add on skirt: see "
For Add-on Acrylic & Tile Skirt Alcove Tubs
" below for more information. You can look at our
deep soaking tub
page for a rectangle tub.
These tubs are available as soaking tubs or jetted. More on Skirted Tubs →
Shop by Alcove Tubs by Bathtub Size:
Alcove Front Tub Skirts
•
Integral Skirt
The alcove tubs we have listed in this section have an integral skirt: the skirt & bathtub are molded together as one piece. Some have a smooth flat panel skirt that doesn't allow access. Others offer system access through the skirt with a removable panel.
•
Add on Acrylic Skirt
A drop-in tub can be ordered with a skirt and a tile flange option to create an alcove bathtub. There will be a joining line where the bottom of the tub rim meets the top of the skirt. Some manufacturer's skirts are removable, others not (please check with us or the manufacturer).
• Custom Tile Skirt
When creating a custom wood or tile front skirt; a drop-in tub is ordered with a tile flange option (no skirt) to create the alcove bathtub. This is easier to do with a wide rim soaking tub. Some tub systems have piping going around the tub, making the area for framing narrower, more difficult.
For Add-on Acrylic & Tile Skirt Alcove Tubs:
You will find rectangle tubs with the option of a tile flange (custom skirt) or front skirt & flange (alcove tub) by shopping rectangle tubs by size. You will find the tub styles listed in the description. Look for "
Alcove Options
".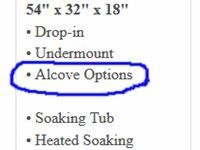 Shop Rectangle Tubs by Size →
Tile Flange
The two common installations of an alcove tub with tile flange: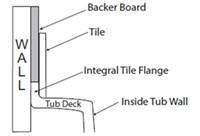 (see tub installation for more information)
• No Flange
Do not use a flange if there is a flat area between the tub and the wall. This tub is installed within an alcove, but since it is not directly touching the walls, it is considered a drop-in bathtub.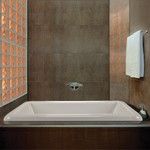 Alcove Tub without the Alcove
All the pictures and descriptions we have shown so far are of an alcove with floor to ceiling walls. We wanted to show another example. 1 wall & 2 knee-walls surround this bathtub, an open concept but, it is still considered an alcove installation.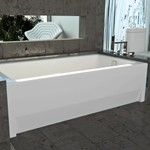 Alcove Soaking Tub or Jetted for Whirlpool or Air?
There are a lot of bath systems offered. With a soaking tub there isn't a system or jets. You can add a recirculating pump and heater to a soaking tub for a tub that will not lose water temperature for as long as it is on. You can have air jets for a light skin caress or water jets that provide a deep tissue massage. Or have a combination tub that uses both. We have included in the descriptions above if the tub is offered in any of these systems: Soaking Tub, Heated Soaking, Air Bathtub & Whirlpool Combination. But there are more possibilities. There are massage systems that can be used with or without water. And micro bubble tubs that provide skin conditioning. Find out more about all the possibilities see:
Spa Tubs →
• Access - What is the big deal?
Access is needed for any repairs to the bathtub's system. Repairs with the companies we carry are very rare. But, Murphy's Law suggests build access, and it won't be needed, don't and there will be trouble. Most motors are located behind the backrest, but position does depend on the manufacturer. A 16" x 16" access panel is common among manufacturers. See technical sheets for more information.
• Tub & Shower Combo
- Look for a bath that is straight up and down by the drain. This will allow the most room for showering. Some of our customers have used a center drain tub as a shower. Take note where the shower head and tub spout are located. You don't want the spout behind a bather's head or the shower head over a back slant.
- Avoid seats or uneven bottoms to avoid trip hazards
- Look for lower rim height: over 22" is difficult to step over on a daily basis to take a shower.
• Comfortable Tub?
There are many factors to consider when selecting a bath: bathing room, back slant and water depth. We have more information on tub size here:
Bathtub →
Large Tub Selection Backed with Customer Service
We have a large selection of quality tubs listed on our site which can feel overwhelming as you shop through them. Just call us: we have been doing this for so long we have become tub experts. We work closely with our manufacturers and pride ourselves on our product knowledge. Our experts are here to answer all questions and guide you through your tub selection.
We also know that buying such a large item online can be scary. Rest assured we only carry tubs that we would feel comfortable putting in our own mother's house. And we have done just that! Our bathtubs are the best in the industry, and we have years of experience with the manufacturers. Issues are very rare, and if they do arise, they are quickly resolved. We are here to answer questions and keep you informed on the creation and delivery of your bathtub. We will still be here for questions even after your new bathroom is finished.
Helpful Bathtub Links
•
How To Choose A Bathtub
- Features to Consider when Purchasing a Bathtub
•
Tubz.com
- Contact us, we are here to help