Barclay Bartlett Bathtub
Bartlett 61" Cast Iron Roll Top with Ball & Claw Feet
Bartlett bathtub features classic ball & claw feet, end drain and a traditional rolled rim. Choose a bath with faucet holes drilled on the bathtub wall, or no faucet holes at all. Find easy to order tub kits for both styles. These kits come complete with everything needed: Clawfoot bathtub, water supplies, faucet and drain.
Now On Sale with Free Shipping
You don't have to wait for specials, search for a coupon, or cross your fingers and hope for a good deal. Our freestanding tubs are always on sale. We go to our best sale price and offer that to you right at the start. We will ship our bathtubs anywhere in the Contiguous US free of charge (Some Exclusions May Apply).
Authorized Barclay Dealer
CTR60-WH
Faucet holes
CTRN60-WH
No faucet holes
60 3/4" x 30 1/2" x 24"
Traditional ball and claw feet
From bottom of bath to top: 19 1/4"
Gallon Capacity: 40
Shipping Weight: 500#
Filled Weight: 621# | Empty Weight: 287#
Cast Iron
End Drain Bathtub
Inside Finish: White Enamel
Bathtub Exterior: White Epoxy
Non-skid strips on tub bottom
Shipped with feet attached and leveled
Recommended Tub Drain #5599
Bartlett CTR60 | 3 3/8" Holes in Tub Wall | Cast Iron Tub Only

No Holes in Tub Wall
White Tub | Choose Claw Foot Color:
Unfinished Feet
CTR60-WH-UF

List Price:

$2430.00




Sale Price $1580.00

Painted Black Feet
CTR60-WH-BL

List Price:

$2556.00




Sale Price $1661.00

Painted Bisque Feet
CTR60-WH-BQ

List Price:

$2556.00




Sale Price $1661.00

Painted White Feet
CTR60-WH-WH

List Price:

$2556.00




Sale Price $1661.00

Polished Brass Feet
CTR60-WH-PB

List Price:

$2556.00




Sale Price $1661.00

Polished Chrome Feet
CTR60-WH-CP

List Price:

$2556.00




Sale Price $1661.00

Polished Nickel Feet
CTR60-WH-PN

List Price:

$2690.00




Sale Price $1749.00

Brushed Nickel Feet
CTR60-WH-BN

List Price:

$2690.00




Sale Price $1749.00

Oil Rubbed Bronze Feet
CTR60-WH-ORB

List Price:

$3055.00




Sale Price $1986.00
Call Now to Place Your Order! | 866-380-0303
Recommended Bathtub Faucets for CTR60:
Double Offset Supplies #5576 →
Faucets:
Bartlett CTRN60 | No Faucet Holes | Cast Iron Tub Only

No Holes in Tub Wall
White Tub | Choose Claw Foot Color:
Unfinished Feet
CTRN60-WH-UF

List Price:

$2430.00




Sale Price $1580.00

Painted Black Feet
CTRN60-WH-BL

List Price:

$2556.00




Sale Price $1661.00

Painted Bisque Feet
CTRN60-WH-BQ

List Price:

$2556.00




Sale Price $1661.00

Painted White Feet
CTRN60-WH-WH

List Price:

$2556.00




Sale Price $1661.00

Polished Brass Feet
CTRN60-WH-PB

List Price:

$2556.00




Sale Price $1661.00

Polished Chrome Feet
CTRN60-WH-CP

List Price:

$2556.00




Sale Price $1661.00

Polished Nickel Feet
CTRN60-WH-PN

List Price:

$2690.00




Sale Price $1749.00

Brushed Nickel Feet
CTRN60-WH-BN

List Price:

$2690.00




Sale Price $1749.00

Oil Rubbed Bronze Feet
CTRN60-WH-ORB

List Price:

$3055.00




Sale Price $1986.00
Call Now to Place Your Order! | 866-380-0303
Recommended for bathtub CTRN60:
Also See Bartlett Tub Kits ↓
Bartlett Cast Iron Tub Kits
Bathtub, Drain & Faucets
Barclay Bartlett Tub Kit | TKCTR60 | Tub Mount Faucet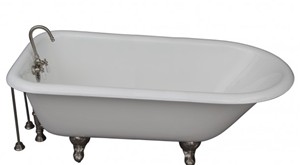 Tub Kit Includes:
• CTR60-WH
• 5576 Water Supplies
• 5599 Drain
• Faucet (See Below For Color and Style Options)
More Information
- Water supplies, drain and feet will match faucet finish
***Oil Rubbed Bronze Feet will not match with Fillers, Supplies and Drain
- Pictured Kit: TKCTRN60-SN4
Call Now to Place Your Order! | 866-380-0303
Bartlett Tub Kit | TKCTR60 | Tub Mount Faucet & Shower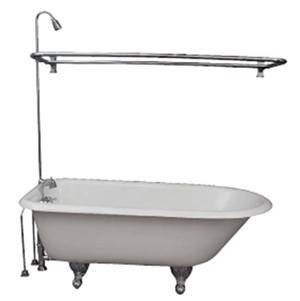 Tub Kit Includes:
• CTR60-WH
• 5576 Water Supplies
• 5599 Drain
• Riser
• Wall & Ceiling Supports
• Shower Rod
• Faucet (See Below For Color and Style Options)
More Information
- Water supplies, drain and feet will match faucet finish
***Oil Rubbed Bronze Feet will not match with Fillers, Supplies and Drain
- Pictured Kit: TKCTRH54-CP7
- Faucet Picture may not be in correct finish
Call Now to Place Your Order! | 866-380-0303
Barclay Bartlett Bathtub Kit | TKCTRN60 | Freestanding Tub Faucet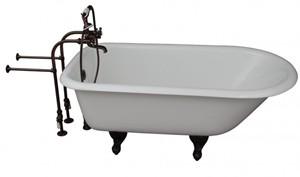 Tub Kit Includes:
• CTRN60-WH White Tub
• 4502-PL Water Supplies
• 5599 Drain
• Faucet (See Below For Color and Style Options)
More Information
- Water supplies, drain and feet will match faucet finish
(Oil Rubbed Bronze Feet may not match perfectly with Fillers, Supplies and Drain)
- Pictured Kit: TKCTRN60-ORB2
Porcelain Lever Handles


Polished Chrome
TKCTRN60-CP1
List Price:

$3477.00




Sale Price: $2086.00



Satin Nickel
TKCTRN60-SN1
List Price:

$3642.00




Sale Price: $2185.00



Oil Rubbed Bronze
TKCTRN60-ORB1
List Price:

$4401.00




Sale Price: $2641.00



Technical Sheet
Metal Cross Handles


Polished Chrome
TKCTRN60-CP2
List Price:

$3477.00




Sale Price: $2086.00



Satin Nickel
TKCTRN60-SN2
List Price:

$3642.00




Sale Price: $2185.00



Oil Rubbed Bronze
TKCTRN60-ORB2
List Price:

$4401.00




Sale Price: $2641.00



Technical Sheet
Call Now to Place Your Order! | 866-380-0303
Bartlett Bathtub Kit | TKCTRN60 | Freestanding Faucet & Shower Rod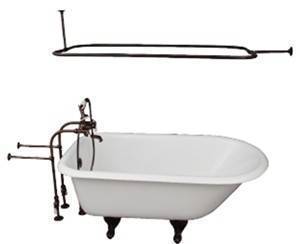 Tub Kit Includes:
• CTRN60-WH White Tub
• 4502-PL Water Supplies
• 5599 Drain
• 54" Shower Rod
• 60" Riser
• Faucet (See Below For Color and Style Options)
More Information
- Water supplies, drain and feet will match faucet finish
(Oil Rubbed Bronze Feet may not match perfectly with Fillers, Supplies and Drain)
- Pictured Kit: TKCTRN60-ORB2
Call Now to Place Your Order! | 866-380-0303
Barclay Links
•
barclayproducts.com
•
Barclay Tubs
•
Barclay Tub Faucets
•
Barclay Products
(All Products)
Helpful Bathtub Links
•
Bathtubs
- Features to Consider when Purchasing a Bathtub
•
How to Choose a Freestanding Bathtub
•
Freestanding Tub
- Shop Freestanding Tubs by Size or Style
•
Tubz.com
- Contact us, we are here to help