Atlantis Suisse Freestanding Bathtub
Find your Atlantis Suisse on sale with free shipping at Tubz.com, the bathtub experts!
The Suisse features a contemporary oval design. If you appreciate purist simplicity and streamlined elegance, you will feel at home in the Suisse. The increased interior depth allows bathers to enjoy the true deep soak, turning each bathing session into an unforgettable experience. It's also the right bath for two to enjoy comfortably. Strikingly elegant while capturing originality at its finest. The lavish Suisse bathtub lets you unwind in utter carefree comfort.
Atlantis | Made in America
Authorized Atlantis Dealer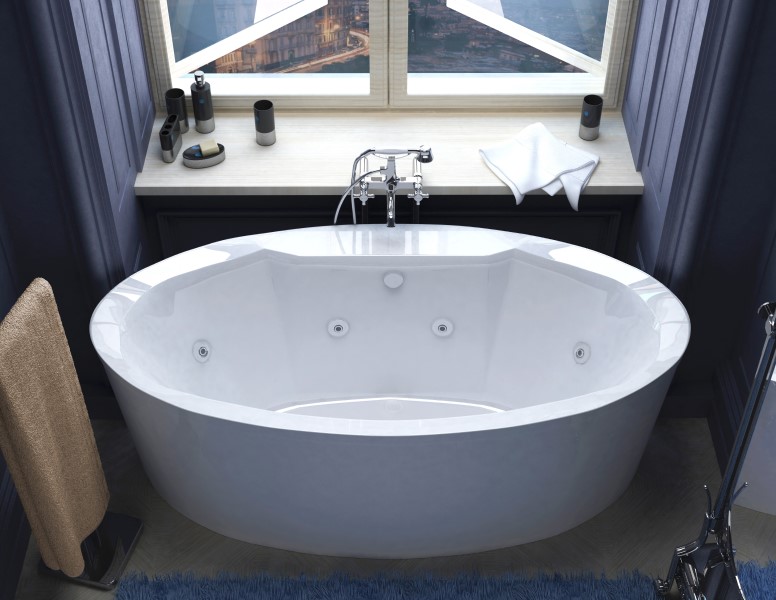 Suisse Soaking, Whirlpool or Air Tub
67 3/16" L x 33 7/16" W x 24" H
Tub Installation: Freestanding (2-Piece)
Average fill capacity: 50 gallons
Interior Length (Bottom): 39.25"
Interior Width (Bottom): 20"
White Acrylic
Textured Bottom
Deck Mounted Faucet Possible
Faucet pictured is not included


Buy Your Atlantis Suisse on Sale from Bathtub Experts!
At Tubz.com we are not just order takers in a call center. We are a small team that takes pride in our personal customer service and the expert knowledge we have accumulated in our 20+ years of experience. Give us a call, we are here to help & offer great sale prices!
Suisse Freestanding Bathtub
Welcome to Tubz.com Virtual Showroom
Sale prices are listed for the bath. Give us a call
866-380-0303
to place an order. Free shipping (48 contiguous states | some exclusions apply)
Suisse Soaking Tub
3468SS



Sale Price: $1984.00


- Tub Only | No Jets
- Tub Weight: 87#
Suisse Whirlpool
3468SW



Sale Price: $2850.00


- 8 Whirlpool Jets
- Jet Trim White or Chrome
- Tub Weight: 124#
Suisse Air Bath
3468SA



Sale Price: $2997.00


- 27 Air Jets
- Jet Trim White or Chrome
- Tub Weight: 105#
Suisse Dual
3468SD



Sale Price: $3198.00


- 8 Whirlpool | 24 Air Jets
- Jet Trim White or Chrome
- Tub Weight: 135#
Suisse Options
Cable Drain Kit | Chrome, Brushed Nickel or White
Sale Price: $147.00
Inline Heater with Pump | Whirlpool or Whirlpool and Air Bath
Sale Price: $405.00
Aromatherapy | Air or Whirlpool and Air Bath
Sale Price: $285.00
Electronic Touch Control
Whirlpool (Atlantis Touch)
Sale Price: $210.00
Combination (Atlantis Touch Plus)
Sale Price: $495.00
Atlantis Options →
Suisse Features
Spacious comfort
Acrylic bath shells are thermoformed in high-gloss Lucite®
Freestanding - no leveling necessary
Non-porous surface for easy cleaning and sanitizing
Contemporary design coordinated with latest trends in home decor collections
Handcrafted in the USA
The shell can be removed by flipping the tub over, locating and removing the 4 plastic nubs and loosening the securing screws underneath.
Whirlpool
- Directional and adjustable water jets
- 1HP pump
- Pneumatic button control
- Water jetted for a vibrant massaging experience
- White or Chrome jet trim
Air Bath
- Air bubble massage injectors
- 1 HP Air Blower
- Pneumatic button control
- White (with chrome trim ring) or Chrome jet trim
Atlantis Links
www.atlantiswhirlpools.com
Atlantis Whirlpools (Main Page)
Helpful Bathtub Links
•
How To Choose A Bathtub
- Features to Consider when Purchasing a Bathtub
•
Freestanding Tub Buying Guide
•
Tubz.com
- Contact us, we are here to help