Atlantis Whirlpools
Beautiful Range of Fashion-forward Designs Offering Superior Form and Function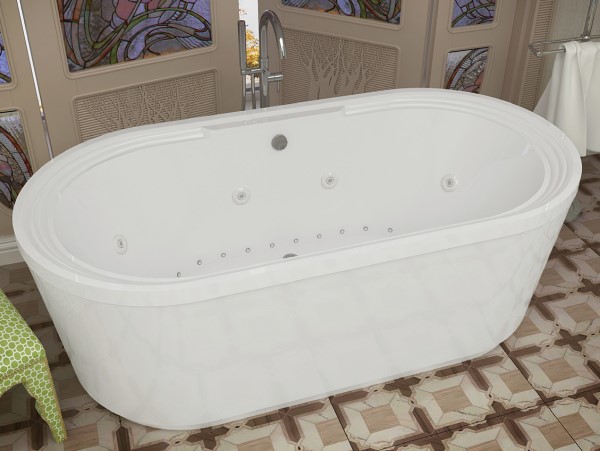 Freestanding Soaking, Whirlpool & Air Baths
They have earned a flawless reputation for unique design and pristine quality; therefore rest assured that you are receiving a superior product at an affordable cost. They have been perfecting the bathtub experience for over 30 years and have created a line of luxury bathtubs.
Authorized Atlantis Dealer
Atlantis Freestanding Bathtubs
Atlantis - Modern Spa Hydrotherapy

Hydrotherapy is aquatic therapy with three basic factors: heat, buoyancy and massage. Immersion in hot water raises your body temperature, which results in increased blood circulation. Buoyancy in the water reduces pressure on the joints and muscles, and creates a sense of relaxation. The Atlantis Whirlpools jet massaging action is created by combining hot water with air bubbles and moving the mixture at high speeds through jet nozzles. These streams of water loosen tight muscles and stimulate the release of endorphins, the body's natural painkillers, helping to melt away any aches and pains. The overall effect leaves you feeling physically, mentally and emotionally relaxed and refreshed. For generations, hot water has been used therapeutically by hospitals, physical therapists and health practitioners around the world.
Soaking Bathtub
Soaking bathtubs are a more traditional style bath tub without water or air systems. Soaking in warm water will soothe the body, boost cardiac output, lower blood pressure and improve circulation. Water also hydrates the skin and helps your pores eliminate toxins.
Air Bathtub
An air bathtub creates thousands of warm air bubbles that stimulate the skin's light touch receptors, producing an overall calming effect. An air blower works like a giant hair dryer, taking the room temperature air, increasing it by approximately 30° and blowing it through the bath. Air baths differ from a whirlpool in that the massage is much softer.
Whirlpool Bathtub
Whirlpool tubs feature jets and recirculating pumps to supply a hydro-therapeutic experience. Whirlpool tubs are designed to provide a more vigorous and comforting massage with jets positioned to direct warm water to areas like the lower and upper back, shoulders, and legs. Whirlpool water jetted tubs calm and massage your body. Each point massage jet can be opened or closed individually. Simply rotate the jet nozzle counterclockwise to open.
Dual Bathtub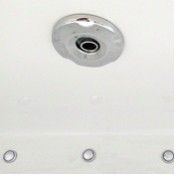 Dual tubs feature a combination system of air and whirlpool systems, providing the most versatile bathing experience possible.
Why Choose an Atlantis Bath?
• Beautiful Design
• Industry Credentials
• Modern Hydrotherapy
• Customization
• Handcrafted
• Dedicated Support
• Privately Owned
• Environmentally Responsible
Atlantis Whirlpools integrates premium elements in their product line, and they are proud to state that their whirlpool baths are manufactured domestically.
Made in the USA
Atlantis Whirlpools is an American-owned and operated company located in Miami, Florida.
Atlantis Warranty

10-Years Structural & Surface
Bath Shell: Atlantis Whirlpool Baths warrants its bath shell against loss of water through the fiberglass laminate of the tub body as a result of a defect in materials and workmanship, for a period of 10 years from the purchase date. The acrylic surface is warranted against blistering, cracking and chipping resulting from a defect in the acrylic surface material for a period of 10 years from the purchase date.
1 Year Electrical & Plumbing Equipment
Warrants factory installed plumbing parts and fittings and electrical components to be free from defect in materials and workmanship for a period of one year from the date of purchase of the bathtub.
More Information →
Atlantis Tub Options
Drain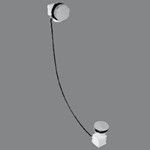 Available for most Atlantis Whirlpool tubs is a cable operated overflow and waste drain kit. Cap finish is determined by Trim Finish.
Sale Price: $147.00
Lighting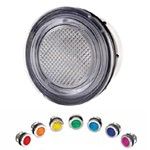 Colored lights have been known to promote wellness and good health. Chromotherapy fills the tub with relaxing colored light.
Sale Price: $447.00
Jet Trim Option
(All Jetted Tubs)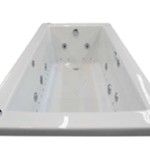 Accentuate your jetted bathtub by upgrading the hardware to a polished metallic finish. Color matching finish is the standard option. Offered in Polished Chrome, Nickel or Polished Brass
Sale Price: $255.00
Whirlpool Options
(Whirlpool & Dual Systems)
Inline Electric Heater Option
Inline Heaters are not sold separately.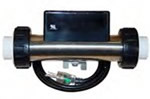 Powered water warmer. Designed to work with most whirlpool tubs for ease of installation. The heater helps maintain a consistent temperature in the tub, allowing for a long, relaxing soak. An intelligent high-limit feature will turn the heater off if the thermostat fails. Available for whirlpool and dual bath options.
Sale Price: $405.00
Atlantis Touch Control Option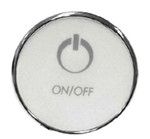 Electric push button activation switch designed to operate the tub's whirlpool pump.
Whirlpool (Atlantis Touch)
Sale Price: $210.00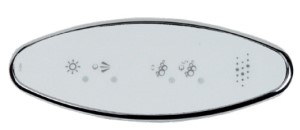 Combination (Atlantis Touch Plus)
Sale Price: $495.00
Ozonator Option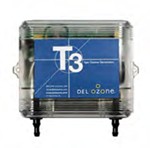 Releases small amounts of O3 into the whirlpool system sanitizing the plumbing.
Sale Price: $261.00
Air Options
Aromatherapy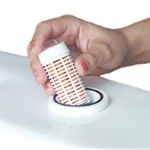 All tubs with air blower include the Aromatherapy system. It utilizes aroma-beads to release the soothing scent of your favorite aroma through the tubs' bubble massage air jets.
Sale Price: $285.00
Atlantis Whirlpool Features
Air Button Switch

On/off Whirlpool Control
Star Jet

Adjust direction and jet pressure. Turn jet ring clockwise to increase jet flow, counterclockwise to decrease the flow. Tub color matching finish is the standard option.
Air Control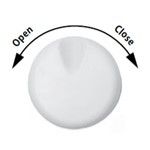 Increase (or decrease) the amount of air added to the water stream of the jet. The more air added, the more jet pressure.
Atlantis Air Bath Features
Air Jet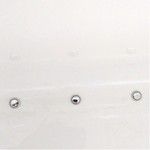 Air jets are located on the floor of the tub, next to the side walls.
Air Button Switch

On/off Air System Control
Atlantis Links
www.atlantiswhirlpools.com
Helpful Bathtub Links
•
How To Choose A Bathtub
- Features to Consider when Purchasing a Bathtub
•
Spa Tubs
- Bring the Spa Treatment Home | Which System is Best?
•
Tubz.com
- Contact us, we are here to help