MTI Basics - Whirlpool, Air Bath & Soaking Tub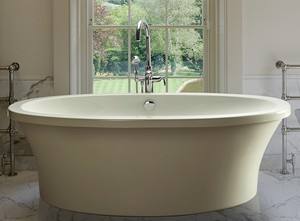 Today more than ever people are looking for value: the right combination of price, quality and convenience. MTI has responded to customer needs by developing MTI BASICS®. Manufactured in high-quality cross-linked cast acrylic, these bathtubs are attractive, scratch- and stain-resistant and easy to clean.
Authorized MTI Internet Dealer
MTI BASICS: Affordable quality & made in the USA
MTI BASICS tubs are ideal for situations when needs are more simple, the budget is thin or the delivery needs to be quick. This selection includes a variety of tubs in the most popular shapes and sizes, and at a very affordable price. Available as soakers, air baths and whirlpools, MTI BASICS tubs are handcrafted, water-tested and quality-inspected. These tubs are the perfect choice for secondary baths and simple replacement remodeling projects. In fact, any situation in which you want to skimp on cost, but not on quality. MTI's goal is to provide customers with handcrafted, quality products that will last.
Shop Basic Series by Number →
Shop MTI Basics Tubs by Shape:
Choose a tub style below to see all tubs in that style, by size.
MTI Basics Bathtubs
• Constructed in durable Lucite® cross-linked cast acrylic, with a multi-layered backing of fiberglass / resin / titanium. Lucite is extremely scratch- and stain-resistant, yet renewable because the color goes all the way through the material. The surface is non-porous, which makes cleaning and sanitizing easier.
• Rectangular and corner tubs also receive reinforcement of ½" round metal tubing in all sides.
• Standard in white or available in biscuit for an up charge.
• Integrated front skirt and tile flange for alcove installation comes standard on several tub models, and most drop-in tub models may be transformed to accommodate alcove installation when specified with factory-installed installation aids at the time of order.
• Textured bottom is standard on all drop-in tub models and compliant with ASTM C 1025-07 coefficient of friction test.
Basic Whirlpool & Air Bath Features →
MTI Basics Systems
• Whirlpools
Enjoy the power of a deep, penetrating massage. This type of hydrotherapy comes from strategically placed jets that may be targeted to specific areas of the body.
• Fully-adjustable point-massage jets
• 1-bhp whisper-quiet pump with silent air volume control.
• Air Baths
The blissful combination of water, heat and air movement creates an incomparable effect that is as therapeutic as it is relaxing. The movement of millions of tiny air bubbles activates the lymphatic systems, increases blood flow, stimulates endorphins and relieves sore muscles and other painful ailments.
• 12 low-profile air jets are installed on the tub floor with color-matching air caps.
• Check valves in jets prevent water from entering air lines for the cleanest air bath experience.
• A 3/4 bhp heated blower with automatic purge system activates 20-minutes after use.
• Pre-leveled foam base for easy installation.
MTI Links
www.mtibaths.com
Basics Warranty
Basics Installation Manual
MTI Baths
(Main Page)
Helpful Bathtub Links
•
How To Choose A Bathtub
- Features to Consider when Purchasing a Bathtub
•
Spa Tubs
- Bring the Spa Treatment Home | Which System is Best?
•
What is an Air Tub?
•
Whirlpool Tubs
- Explore Whirlpool Tub Features
•
Bathtubs
- Shop all Bathtubs by Size & Style
•
Tubz.com
- Contact us, we are here to help