MTI Basics Fayette OX6636
MBOFSX6636 Basics Oval Freestanding Soaking Tub
Graceful oval freestanding tub with a textured bottom. MBOFS6636 has a rim that widens out on drain side to accommodate deck mounted faucet. Center drain design provides the option of two bathers. Back slant starts at 115° provides comfortable lounging. Choose the Virtual Spout option and the tub spout is integral to the tub. Only the hot and cold controls are needed. Two model styles are available: a standard bath and one for above-floor rough-in.
MTI Basics Bathtubs: Affordable quality & made in the USA
MTI Basics Sale
Save on all Soaking, Whirlpool or Air Tubs
Free Shipping - 48 Contiguous States
Authorized MTI Dealer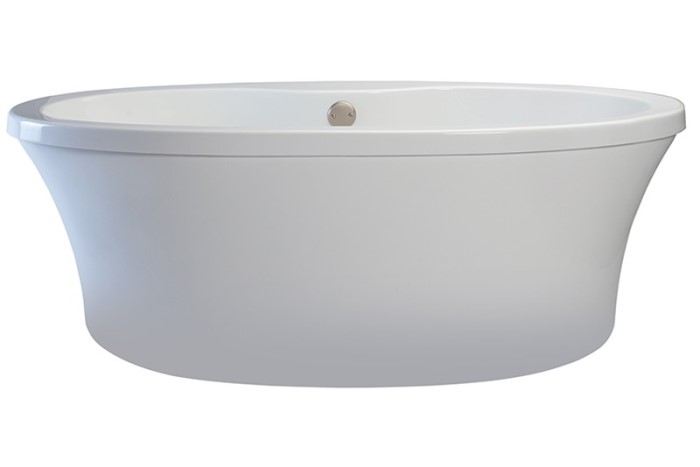 Tub Size: 66" x 36.75" x 21.75"
Water Depth: 11.25"
Maximum Fill: 60 gal to overflow
Installation: Freestanding
Access Panel
Deck Mount Faucet Possible

Soaker Weight: 130 lbs
Tub Colors: White
Bottom Interior: 40" x 22"
Back Rest Angle: 115°
Drain Type: Center
Persons: 2
Material: Acrylic
Fayette OX6636 Soaking Tub
Call Now to Place Your Order! | 866-380-0303
Fayette OX6636 Options
*Virtual Spout
The Virtual Spout is installed below the water level of the tub. MTI supplies a Wilkins dual check valve and an Acme in-wall atmospheric vent to prevent backflow into the potable water supply. However, some areas of the country require additional backflow prevention when water is introduced to the bath below the water level (check local codes).
Access Panel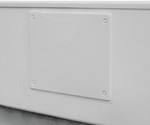 NOTE: Tub includes an access panel (standard) for drain or Virtual Spout installation, and protrudes 1/2" from the drain end of the tub. Depending on how the tub is positioned, the panel may be visible. Access panel can be eliminated by request, which will increase installation difficulty. Must specify on order.
Color Upgrade
Basics Sale Price:
$60.00 Biscuit (MBFSCOL)
Quick Ship
Basics Sale Price:
$200.00 Air Bath (QSHIPMTISA)
Lift & Turn Drain Kit
Basics Sale Price:
$80.00 Chrome (MBWOC)
$180.00 Brushed Nickel (MBWOBN)
$140.00 White (MBWOW)
Quick Drain Connect
Not available separately, must be ordered with the tub.
Facilitates a fast and easy installation to tub drain tailpiece. The tub tailpiece is dropped into a water-tight connection. Easier than traditional drain connections. The top plate assembly is removable for servicing and includes a removable cap for pressure testing if needed.
$240.00 MBQUICK - Standard
$310.00 MBQUICKCI - Cast Iron
MTI BASICS Tubs
Are ideal for situations when needs are more simple, the budget is thin or the delivery needs to be quick. This selection includes a variety of tubs in the most popular shapes and sizes, and at a very affordable price. Available as soakers, air baths and whirlpools, MTI BASICS tubs are handcrafted, water-tested and quality-inspected. These tubs are the perfect choice for secondary baths and simple replacement remodeling projects. In fact, any situation in which you want to skimp on cost, but not on quality. MTI's goal is to provide customers with handcrafted, quality products that will last.
MTI Baths
MADE IN AMERICA
Since 1988, MTI Baths has earned a reputation for impeccable quality, innovation and unique customizations for its expansive line of bath products. MTI offers fine products in acrylic, engineered solid stone and wood, all manufactured with care in the USA.
MTI Links
www.mtibaths.com
MTI Basics
(Main Page)
MTI Baths
(Main Page)
Helpful Bathtub Links
•
How to Choose a Freestanding Tub
•
Tubz.com
- Contact us, we are here to help