MTI Basics MBOC6060
Basics Corner Soaker, Heated, Whirlpool or Air Bathtub
59" Corner bathtub designed for 2 bathers. Center drain, two sets of armrests and comfortable neck rests provide comfort for 2 or lots of room for 1. .Drop-in tub with a textured bottom. Tile flange and skirting options are available. Choose a soaking tub without the fuss of jets. Enjoy the power of a deep, penetrating massage with the whirlpool. Relax in a therapeutic air bath. Enjoy the luxury of a bath that stays warm! A maintenance heater is available to maintain the water temperature on soaking, whirlpool and air tubs!
MTI Basics Bathtubs: Affordable quality & made in the USA
MTI Basics Sale
Save on all Soaking, Whirlpool or Air Tubs

Technical Sheet
Tub Size: 59.25" x 59.25" x 21.25"
Water Depth: 14.75"
Maximum Fill: 85 gal to overflow
Soaker Weight: 100 lbs
Installation: Drop-in

Plumbed Weight: 125 lbs
Tub Colors: White
Bottom Interior: 48" x 34"
Back Rest Angle: 107°
Drain Type: Center
Material: Acrylic

Required Electrical Service (110 Volt)
Air Bath or Whirlpool | 1-15 amp GFCI
Whirlpool with Inline Heater | 1-15 amp GFCI
Soaker with Inline Heater | 1-15 amp GFCI
Air Bath with Inline Heater | 2-15 amp GFC


Installation & Operation Manual
Call Now to Place Your Order! | 866-380-0303
MBSOC6060 Soaking & Heated Soaker Tub
Soaker Tub
MBSOC6060
Basics Sale Price: $1168.00

Soaking bath (no jets) with textured bottom
Heated Soaking Tub
MBSOC6060 + MBHTISOAK
Basics Sale Price: $1678.00

Soaking bath (no jets) with MBHTISOAK recirculating pump & heater, textured bottom
MBWOC6060 Whirlpool
Whirlpool
MBWOC6060
Basics Sale Price: $1684.00
6 point-massage jets, 1-bhp pump, textured bottom
Whirlpool with In-line Heater
MBWOC6060 + HTRMTIS
Basics Sale Price: $1994.00

6 point-massage jets, 1-bhp pump, textured bottom, Inline Heater
MBAOC6060 Air Bath
Air Bath
MBAOC6060
Basics Sale Price: $2156.00

12 air jets, heated air blower, textured bottom, pre-leveled foam base (increases overall height 2-3")
Air Bath with In-line Heater
MBAOC6060 + MBHTISOAK
Basics Sale Price: $2666.00

12 air jets, heated air blower, MBHTISOAK recirculating pump & heater, textured bottom, pre-leveled foam base (increases overall height 2-3")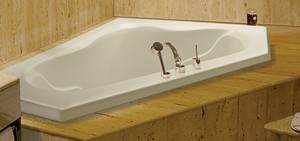 MBOC6060 Options
Color Upgrade
Basics Sale Price:
$60.00 Biscuit (MBFSCOL)

Lift & Turn Drain Kit
Basics Sale Price:
$80.00 Chrome (MBWOC)
$180.00 Brushed Nickel (MBWOBN)
$140.00 White (MBWOW)

Tile Flange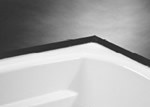 Chemically bonded to the tub, which ensures a water-tight seal between the top tub surface & surrounding wall area. Factory installed.
Basics Sale Price:
$130.00 2 sides (MBTFKC)

Pre-Leveled Foam Base


High density foam support is standard with air baths and pre-leveled frame systems. Adds 2"-3" to overall tub height, except for integral skirted models. Standard with Air Baths
Basics Sale Price:
$90.00 (MBPLFOAM)

Pre-Leveled Frame & Foam Base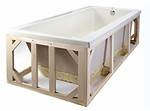 Hardwood constructed frame simplifies the installation process. Includes high-density foam that supports the bottom of the pre-leveled bath.
Basics Sale Price:
$380.00 MBPLFC

Pre-Leveled Frame, Foam Base & Skirting



For cost-effective finished appearance. Constructed of cross-linked cast acrylic, with access panels.
Basics Sale Price:
$760.00 Acrylic Euro-Style Skirt with Removable Panels (MBFSKAC5)

MTI BASICS tubs are ideal for situations when needs are more simple, the budget is thin or the delivery needs to be quick. This selection includes a variety of tubs in the most popular shapes and sizes, and at a very affordable price. Available as soakers, air baths and whirlpools, MTI BASICS tubs are handcrafted, water-tested and quality-inspected. These tubs are the perfect choice for secondary baths and simple replacement remodeling projects. In fact, any situation in which you want to skimp on cost, but not on quality. MTI's goal is to provide customers with handcrafted, quality products that will last.

MTI Baths
MADE IN AMERICA
Since 1988, MTI Baths has earned a reputation for impeccable quality, innovation and unique customizations for its expansive line of bath products. MTI offers fine products in acrylic, engineered solid stone and wood, all manufactured with care in the USA.
MTI Links
www.mtibaths.com

MTI Basics (Main Page)

Basics Warranty

MTI Baths (Main Page)

Helpful Bathtub Links

• How to Choose a Freestanding Tub

• Tubz.com - Contact us, we are here to help