Amba Traditional Towel Warmers
Towel warmer collection featuring round bars with finial accents
The Amba Traditional Towel Rack Series isn't just for the traditionally styled bathroom. They will add a retro (or industrial) touch to the modern bathroom too. Expertly crafted with round bars with beautiful finial accents. Made of mild steel, these models are nickel plated in polished or brushed finish. Using replaceable heating elements, these liquid filled electric towel warmers meet stringent pressure testing. These towel racks are efficient and reliable. The easily replaceable, UL approved, heating element means you can get years of use out of this towel warmer.
Traditional T-2536 & T-240 Heated Towel Rack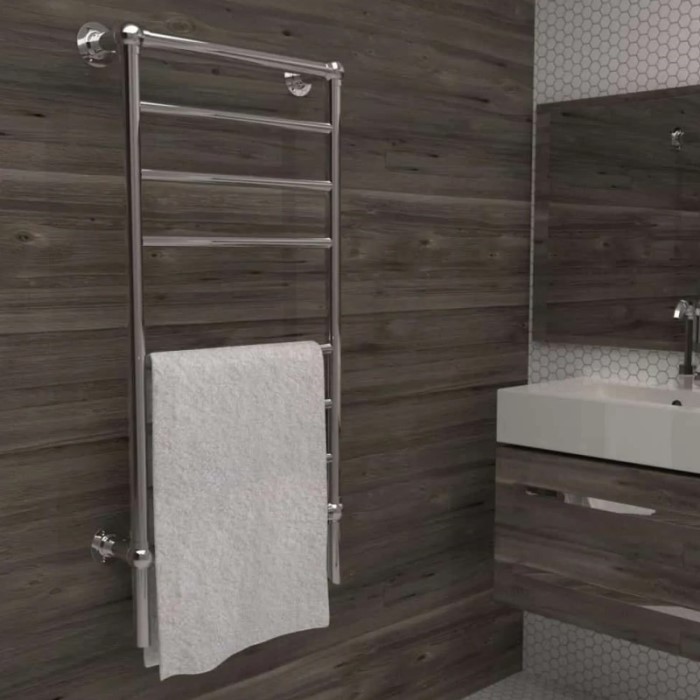 Traditional Towel Warmers Feature:
Liquid-Filled Warming System
No Integrated Switch
High Quality Mild Steel
Suitable for 1-2 full-size towels (folded)
Ave. Temp Range: 130° F-150° F
Warm-up Time 30- 40 minutes
Must be wired to a switch
UL-certified for use in the USA
3-Year Warranty Amba Products Now On Sale!
Free Shipping - 48 Contiguous States
Authorized Amba Dealer
Traditional
T-2536


T-2536PN Polished Nickel
T-2536BN Brushed Nickel

List Price: $1210.00

Technical Sheet
25 1/4" W x 36 3/8" H
Depth: 5 3/8"
Watts: 150
BTUs: 512
Amps: 1.36

Traditional
T-2040


T-2040PN | Polished Nickel
T-2040BN | Brushed Nickel

List Price: $1440.00

Technical Sheet
21" W x 43 1/8" H
Depth: 5 3/8"
Watts: 150
BTUs: 512
Amps: 1.36
Traditional Towel Rack Features
Helps bathrooms stay warm, mold and mildew free.
Suitable for draping large towels and bathrobes.
Expert brass crafted finials and pipes.
Italian heating system.
Unit has a built-in thermostat for optimal energy consumption and safety.
Heating Element Certified by UL made in Italy
Amba Switches & Timers
Why is the switch not on the unit?
Firstly, from a design standpoint, we feel that a bulky switch attached to the rail is not aesthetically pleasing. Secondly, having a separate switch allows one to place the switch in the most convenient position, for example, in another room. One is also free to choose the switch that matches the other fittings and decor of the room. Thirdly, because it is not part of the unit, damage to the switch does not impair the functioning of the towel rail. An independent switch is simple to repair; damage to a switch integrated in a unit creates problems with returns and repairs.
Amba Traditional Towel Warmer Options
Bathroom Heated Towel Racks
Towel Warmers not only warm and dry damp bath towels but, add a sense of comfort and luxury to your bathroom experience. It can reduce laundry loads by keeping your towels mold and mildew free.
Best way to place your towels on a towel warmer:
Amba recommends folding your towel in half or thirds, depending on how large your towel is, and drape it over the top bar, so that the towel hangs down evenly on either side. This allows you to maximize the surface area contact between the towel and bars. They do not recommend weaving the towel through the bars because this only utilizes half of the surface area of the bars.
Amba Links
ambaproducts.com
Amba Towel Warmers
(Main Page)