MTI Andrea 2 Bathtub
Andrea 2 Whirlpool, Air Tub & Soaking Tub
Rectangle 72" x 32" Drop-in, Undermount or Alcove Bathtub
Long and narrow, the Andrea 2 offers a roomy rectangle tub with a simplistic and straightforward design. The lower height makes this bath the perfect tub and shower with the options of a skirt and tile flange. Or use as a drop-in or undermount bathtub. This product is ADA-Compliant when installed according to "ADA Standards for Accessible Design". Choose your perfect bath: Soaking Tub, Heated Soaking, Stream Bath, Microbubbles, Air Bath, Whirlpool or Combo Whirlpool-Airbath. 2013 Gold ADEX Award Winner. (Design Excellence)
MTI Andrea 2 Sale
Save on all Soaking, Whirlpool or Air Tubs
Free Shipping - 48 Contiguous States
Authorized MTI Dealer

Water Depth: 13.5"
Maximum Fill: 76 gal to overflow
Bottom Interior: 56" x 21.75"
Back Rest Angle: 115°

Bathtub Material: Acrylic
Standard MTI Colors: White, Biscuit & Bone
Installation: Undermount or Drop-in Tub
(must be noted at time of order Aromatherapy is eliminated for undermount applications)

Andrea 2 Soaking Tub
MTI Tub Options →
Soaker
S92

List Price:

$2110.00




Sale Price $1583.00



Tub Only | No Jets
Heated Soaking Tub
S92 + HTISOAK

List Price:

$2860.00


MSRP:

$2145.00




Re-circulating Pump/Heater
Stream Bath
SM92

List Price:

$3960.00


MSRP:

$2970.00




Gentle Current of Water
*White or Biscuit Tubs Only
Micro Bubble
S92 + Micro

List Price:

$3855.00


MSRP:

$2891.25




Microbubble Skin Therapy
Andrea 2 Whirlpool
Whirlpool Features and Options →
Whirlpool Standard Therapy
P92

List Price:

$4145.00


MSRP:

$3108.75




6 Point-massage Jets
2-BHP Pump
Whirlpool Ultra Therapy
P92U

List Price:

$5245.00


MSRP:

$3933.75




8 Point-massage Jets
2-BHP Pump
Inline Heater
Ozone
Andrea 2 Air Tub
Air Features and Options →
Air Massage Bath
AST92

List Price:

$4925.00


MSRP:

$3693.75




20 Air Jets
Heated Air Blower
Aromatherapy
Pre-leveled Foam Base
Air Massage Elite
AE92

List Price:

$6655.00


MSRP:

$4991.25




30 Air Jets
Heated Air Blower
Aromatherapy
Chromotherapy LED Lighting
Spa Mode
Pre-leveled Foam Base
Andrea 2 Combination Bathtub
MTI Tub Options →
Air & Stream Bath
Air Massage
& Stream Bath
ASTSM92

List Price:

$6775.00


MSRP:

$5081.25




6 Side Vents, 2 End Vents
1-BHP Pump
20 Air Jets
Heated Air Blower
Aromatherapy
Pre-leveled Foam Base
Air Massage Elite
& Stream Bath
AESM92

List Price:

$8505.00


MSRP:

$6378.75




6 Side Vents, 2 End Vents
1-BHP Pump
30 Air Jets
Heated Air Blower
Aromatherapy
Chromotherapy LED Lighting
Spa Mode
Pre-leveled Foam Base
Air & Whirlpool
Air Massage Air
& Standard Whirlpool
AW92

List Price:

$7095.00


MSRP:

$5321.25




6 Point-massage Jets
2-BHP Pump
20 Air Jets
Heated Air Blower
Aromatherapy
Pre-leveled Foam Base
Air Massage
& Ultra Whirlpool
AU92

List Price:

$8210.00


MSRP:

$6157.50




8 Point-massage Jets
2-BHP Pump
Inline Heater
20 Air Jets
Heated Air Blower
Aromatherapy
Pre-leveled Foam Base
Air Massage Elite
& Standard Whirlpool
AEAP92

List Price:

$9160.00


MSRP:

$6870.00




6 Point-massage Jets
2-BHP Pump
30 Air Jets
Heated Air Blower
Aromatherapy
Chromotherapy LED Lighting
Spa Mode
Pre-leveled Foam Base
Air Massage Elite
& Ultra Whirlpool
AEAP92U

List Price:

$10180.00


MSRP:

$7635.00




8 Point-massage Jets
2-BHP Pump
Inline Heater
30 Air Jets
Heated Air Blower
Aromatherapy
Chromotherapy LED Lighting
Spa Mode
Pre-leveled Foam Base
Andrea 2 Options
MTI creates custom tubs with lots of options | We are here to help 866-380-0303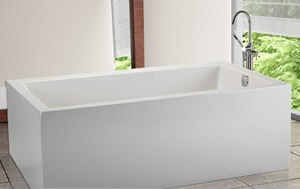 Andrea 92 Sculpted Finish MTI-92A
White Freestanding Tub (or a with 1, 2 or 3 sided skirt)

Technical Sheet
Please See technical for more information & contact us for sale prices
MTI Baths

MADE IN AMERICA
Since 1988, MTI Baths has earned a reputation for impeccable quality, innovation and unique customizations for its expansive line of bath products. MTI offers fine products in acrylic, engineered solid stone and wood, all manufactured with care in the USA.

MTI is distinguished from its competitors by the incredible degree of customization that is offered. While preconfigured packages are readily available for ease of ordering, at MTI these are not a limitation but only the beginning. Because each product is built to order, additions, deletions and modifications to equipment levels and placement can be made, providing the customer with unparalleled customization and a truly personalized product.
MTI Links
www.mtibaths.com
MTI Baths
(Main Page)
Helpful Bathtub Links
•
How To Choose A Bathtub
- Features to Consider when Purchasing a Bathtub
•
Spa Tubs
- Bring the Spa Treatment Home | Which System is Best?
•
Tubz.com
- Contact us, we are here to help