MTI Whirlpools | Water Jet Features & Options
MTI Direction & Flow Adjustable Jets. All jets on MTI Designer Collection whirlpools are designed to operate individually. Open or close jets by either pushing and pulling the nozzle or twisting the jet nozzle, depending on jet style. Hydrotherapy jets can also be adjusted directionally. Adjust the amount of air mixed with the water using the master air volume control located on the deck or side-wall of the tub. Rotate the control counter-clockwise to increase the amount of air and pressure in the system.
Feel the relief of a powerful, deep, penetrating whirlpool massage
Whirlpool massage relaxes the muscles thoroughly and helps eliminate accumulated toxins. This type of massage will also have a repairing effect after intensive training, workout or after a muscular injury. The water jet massage of an MTI whirlpool bath allows you to obtain a powerful, deep, therapeutic massage to specific areas of your body.
MTI Whirlpool Bathtubs | An Exceptional Spa Experience
MTI whirlpool systems provide a mixture of air and water generated by a whisper-quiet pump and delivered through strategically placed point-massage jets. The flow intensity is controlled by a dial that adjusts the amount of air mixed with the water to provide effects that range from a gentle, relaxing swirl to a more vigorous deep-tissue massage. The direction of each high-performance jet is adjustable to target specific body areas, and any jet may be closed to enhance the pressure of the remaining jets. Ideal for a body area that requires a deeper, more penetrating massage.
MTI offers 2 levels of whirlpool packages for the Designer Series models. These pre-engineered whirlpool configurations contain the most popular features requested by customers over the years. With MTI, however, this is only a starting point because the possibilities for customization are endless. For instance, you can substitute a rotary-therapy jet for a standard point-massage jet for a softer, pulsating massage. Or add extra jets to target special areas of the body that need deeper massage. You can even specify the exact location of jets.
Shop for MTI Whirlpools
Whirlpool Features:
• Rigid PVC piping
• Whisper-quiet pump
• Fully adjustable high-flow point-massage jets
• On / off control
• Silent air volume control
MTI Whirlpool Jets
Point-Massage Jet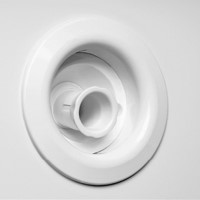 These high performance jets provide a straight and comfortable flow of water and are strategically placed to provide a targeted flow of water to the stress points on the body. The jet is opened by rotating the jet nozzle, and closed by turning it in the opposite direction. Additionally, the flow rate is adjustable between full open and full closed. Further adjustment of the pressure can be made by using the air volume control. By opening the air volume control, more air is introduced into the jetted water for a "deeper" massage. Turn the air volume control down, and feel only jetted water for a softer massage. Extra point-massage jets may be added to many tubs.
Rotary Jet
The rotary jet offers a softer, pulsating hydrotherapy massage. The jet features two openings and uses a spinning action while operating. To adjust the flow of water, simply turn the face of the jet in either direction.
Micro-Jet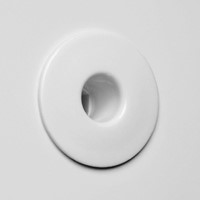 Micro-jets provide pinpointed hydrotherapy, typically to the back or neck. To adjust or shut off the micro-jets" water flow, turn the volume control diverter valve.
Additional micro-jet packages
Available as a set of 2 or 4 micro-jets, with or without a pump upgrade. A set of 6 micro-jets with a separate 1 bhp pump may be added to most MTI whirlpools.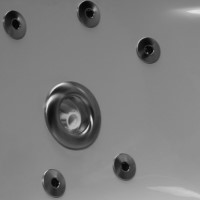 Tsubo-massage
Tsubo-massage uses a group of micro-jets to massage in a pulsating fashion. The jets will pulsate between fast and slow, you control the speed. Offered on many Ultra Whirlpool Packages.
1st Press: The Tsubo pump starts. LED light on.
2nd Press: The Tsubo pump stops. LED light off.
Press & hold 3 seconds: The Tsubo sequential pulse mode starts. LED will flash. The sequential pulse
mode automatically advances the system through the seven operational Tsubo modes every 10 seconds.
More Jet Information →
MTI Whirlpool Controls
MTI offers different controls to run the various whirlpool systems. Instruction manual will give more information
Whirlpool Control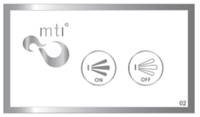 On & Off Control
Ultra Whirlpool


On & Off Control (1 for Massage Jets, 1 for Micro Jets), Tsubo Speed Control
Ultra Whirlpool (6 or less Micro Jets)


On & Off Control (1 for Massage Jets, 1 for Micro Jets)
Standard Whirlpool & Air

On & Off Control (1 for Air, 1 For Whirlpool), Increase or Decrease Air Speed, Pulsation Modes (air)
Standard Whirlpool & Air with Light

On & Off Control (1 for Air, 1 For Whirlpool), Increase or Decrease Air Speed, Pulsation Modes (air), On & Off LED Light, Spa Mode
Ultra Whirlpool & Air

On & Off Control (1 for Air, 1 For Whirlpool, 1 for Tsubo Massage), Increase or Decrease Air Speed
Ultra Whirlpool & Air with Light

On & Off Control (1 for Air, 1 For Whirlpool, 1 for Tsubo Massage), Increase or Decrease Air Speed, On & Off LED Light, Spa Mode
MTI Whirlpool Options
Inline Heater
NOTE: Inline Heaters are not sold separately.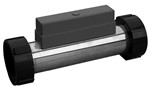 Inline water heating systems are available for soaking tubs, whirlpools and air baths manufactured by MTI Whirlpools. These systems use electricity to maintain bath water heat, not to heat cold water. The thermostat for these systems is pre-set by the manufacturer to maintain bath water temperature at 102° Fahrenheit, so the bather can enjoy his / her bath longer.
More Information →
Whirlpool Trim

When whirlpool packages are ordered, the trim typically matches the tub color. The trim in whirlpool packages includes:
On / off control or Keypad Trim* (if so equipped)
Air-volume control
Suction cover
Jet escutcheons
Fill-Flush® / Simple Touch® filler cap (if so equipped)
Optional trim kits for the various whirlpool packages are available in Chrome, Brass, Brushed Nickel, Oil Rubbed Bronze and Polished Nickel.
Low-Water Sensor
The automatic water level control prevents the whirlpool pump from operating when there is insufficient water in the tub. A sensor is mounted on the tub approximately 1" above the highest jet. If the tub is not filled up to this level, the pump will not operate. Likewise, if the water drops below this level, the pump will automatically shut off.
More Information →
Cleaning Systems
The Fill-Flush system allows water to fill the bath through the whirlpool jets. So there is no need for the traditional filling spout; only hot and cold valves. Simple Touch, on the other hand, requires the use of a filler spout of choice and provides the added benefit of automatic operation.
More Cleaning System Information →
Ozone System

MTI offers a means of improving the quality of the whirlpool bath while bathing. It is 200 times stronger than house-hold bleach, yet not a traditional chemical. It is safe and gentle enough to be used while bathing. In fact, it comes from the environment. It is Ozone, the purest form of Oxygen. And it is available in MTI"s Ozonator bath sanitation system.
More Information →
More Options
Click Here For General Bath Options - Colors & Tile Flanges, Skirts and More →
MTI Links
www.mtibaths.com
MTI Tubs
(Main Page)
MTI Shower Base