MTI Air Tub | MTI Air Jet Features and Options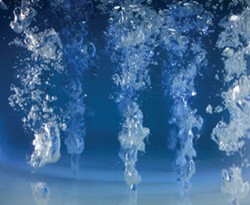 Explore the Features & Options that make MTI Air Systems Unique
Every MTI product is individually handcrafted to the unique specifications of the customer. Multiple quality control checks are employed, and all products are individually water-tested before shipping to assure product quality and customer satisfaction. As testimony to their quality, all MTI baths are accompanied by a Lifetime Warranty
Shop for MTI Air Tubs
Air Bath Features:
Multiple air jets with built-in, anti-return check valves
Whisper-quiet heated blower
Ceramic heating element
Electronic control keypad for various control settings
20-minute timer
Aromatherapy diffusion system*
Pre-leveled foam base for easy installation
Automatic purge cycle activates after use
* Aromatherapy diffusion system not available on all tubs
MTI Air Jets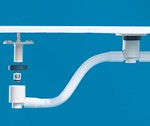 MTI's thermo-air massage system is inherently hygienic. Specially designed plastic protective jet housings, unique to MTI, isolate components to prevent residue buildup in the fiberglass backing of the bath. Sealed in each housing is a built-in backflow prevention check valve that's designed to keep bath water from entering the air lines. Finally, 7 minutes after the water has drained from the tub, an automatic purge cycle engages for one minute to remove any water that might be remaining in the air jets. This ensures that the next bath will be sanitary and fresh, even after a soaking bath or shower.
Enjoy air bath therapy with the air jets on the floor of the tub
• This installation method allows optimum positioning of the air jets for complete body coverage by the air bubbles.
• The forced air provided by the blower is delivered through jets positioned on the floor of the tub, producing bubbles which naturally rise vertically, contacting and enveloping all submerged body parts.
• Discreet air lines from the blower manifold to the air jets provide uniform distribution of air through all the jets.
• Check valves in the air jet housings allow the air to rise out of the jets and upward, but prevent water from returning into the air lines.
• The check valves maintain the hygienic integrity of the system.
• Check valves have proven themselves in real-life use to be reliable and problem-free.
• A system designed, engineered and installed in this fashion provides optimum air bath therapy with optimum hygiene, quieter operation and less bath water heat loss.
• This is the MTI way
Air Massage & Air Massage Elite Air Systems
MTI offers two unique air systems: Air Massage and Air Massage Elite. Both systems provide a light full-body massage through air jets on the bottom of the bathing well. An unobtrusive electronic keypad allows adjustment of the speed and intensity of the air massage from soft and caressing to more vigorous. Or you can select the wave effect, which alternates the speed between strong and soft to create a very efficient lymphatic massage.
Air Massage Elite increases the luxury level by adding 10 air jets for a total of 30 jets. Air Massage Elite also adds the benefits of Chromotherapy provided by digitally controlled and adjustable underwater LED lighting. Many of the Air Massage Elite tubs offer Spa Mode. See
controls
below for more information.
MTI Aromatherapy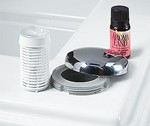 MTI's aromatherapy diffusion system is easy to use, flexible and effective. A small deck-mounted well houses a removable canister which contains the user's fragrance of choice. When the thermo-air massage system is activated, the warm air produced by the blower passes through the canister. The scent is then carried by millions of air bubbles through the water to the surface of the bath water, where the bubbles pop and release the aroma. The scent fills the air, not the bath. Of course, if preferred, bath salts and oils may be added directly to MTI air bath water.
Aromatherapy not available on freestanding tubs, undermounted tubs and tubs with rounded flange
.
MTI Air Controls
Air Massage Control Pad


Air System On & Off Control

Increase or Decrease Air Speed

Pulsation Modes
Air Massage Elite Control Pad


Spa Mode

Lighting
Adds Chromotherapy (option for Air Massage) & Spa Mode*
There are three different pre-set Spa Modes. Energetic, Relaxing and Deep Tissue. Use the up and down arrows to choose from the different selections. Each Spa Mode will operate the tub functions automatically for 20-minutes. Simply sit back and enjoy!
*Spa Mode not available on all tubs
MTI Air Bath Options
Radiance Bath Surface Heating System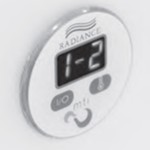 Radiance is a bathing innovation from MTI that applies radiant heat technology to tubs. It warms the interior surface of the bath for neck, shoulders, back and bottom. It provides an even distribution of warmth to eliminate the shock of a cold tub and increases relaxation during the bath. Radiance will also help keep the bath water from losing its warmth as quickly. You can experience warmth above the waterline, as well as below. Or, even without the water. Note Spa Mode is not available on tubs equipped tubs Radiance.
More Information →
Stream Bath
Stream Bath creates a directional, gentle current of water, just as if you were sitting in a stream. No turbulence. No bubbles. Only the touch and sound of a steady stream of slowly moving water to soothe the senses and relax the body. Stream Bath is an entirely new form of hydrotherapy, exclusively with MTI.
More Information →
HTISOAK In-line Heater & Pump
Inline water heating systems use electricity to maintain bath water heat, not to heat cold water. The thermostat for these systems is pre-set by the manufacturer to maintain bath water temperature at 104° F, so the bather can enjoy his / her bath longer. The inline heating system is manually activated by an On / Off switch. This system gently recirculates the bath water through the inline heater, with negligible disturbance to the water. This system uses the 1500-watt inline heater and a 1/2 h.p. recirculating pump.
More Information →
More Options:
Click Here For General Bath Options - Colors & Tile Flanges, Skirts and More →

MTI Links
www.mtibaths.com
MTI Shower Base
Warranty
MTI Baths
(Main Page)
Helpful Bathtub Links
•
How To Choose A Bathtub
- Features to Consider when Purchasing a Bathtub
•
Spa Tubs
- Bring the Spa Treatment Home | Which System is Best?
•
What is an Air Tub?
•
Whirlpool Tubs
- Explore Whirlpool Tub Features
•
Bathtubs
- Shop all Bathtubs by Size & Style
•
Tubz.com
- Contact us, we are here to help