MTI Boutique | Solid Surface Bathtubs
Freestanding Air & Soaking Baths
Warm & inviting, these freestanding tubs are like no others. Inspired, award-winning designs formed and handcrafted by artisans using SculptureStone™. This creates bathtubs that are 100% solid, mostly organic, beautiful and easy to maintain. Award-winning, inspired designs formed and handcrafted by artisans, one at a time in the USA.
MTI SculptureStone
It is easy to see and even feel the difference between SculptureStone and some competitors' solid-surface products.
• MTI Boutique Collection products are manufactured using a proprietary, luxurious SculptureStone material
• Approximately 70% of the material is organic: natural stone that is comprised of various minerals.
• This is refined into a fine powder and combined with high-performance resins that are binding agents.
• The material is liquefied, poured into a mold, cured and then hand-finished.
• The result is a solid work of art: molded stone. Smooth, 100% solid, luxurious.
• No top coating, layers or hollow areas.
• This material is non-porous, stain-, mold- and mildew-resistant, making cleaning and maintenance easy.
MTI Boutique Bathtubs by Size
Tubs are listed by size: first by length, then by width, then by height - smallest to largest
Boutique Collection Tub Features:
Boutique Collection tubs are available as soakers or with air bath, in white or biscuit with a matte or high-gloss finish. Their seamless elegance bespeaks the master craftsmanship and care that goes into each unique piece.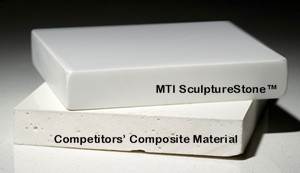 • This material is non-porous, stain-, mold- and mildew-resistant, making cleaning and maintenance easy.
• All Boutique Collection tubs are tubs are handcrafted with pride in the USA.
There are a number of products on the market that may appear to be the same, but in reality they are quite different. Products referred to as "solid-surface" or "composite" may be constructed using cultured marble, limestone or something similar. There may also be hollow areas in the product, and frequently a surface coating is applied. Some of these products may even be less expensive, but they are not the same as the SculptureStone products in the Boutique Collection.
Boutique Air Bath Tub Features:
• Multiple air jets are strategically placed for comfort and maximum therapeutic benefit.
• Air jets include built-in, anti-return check valves for hygienic operation.
• Whisper-quiet heated blower fosters comfort.
• Ceramic heating element provides efficient operation.
Boutique Collection Options:
MTI Baths
Since 1988, MTI Baths has earned a reputation for impeccable quality, innovation and unique customizations for its expansive line of bath products. MTI offers fine products in acrylic, engineered solid stone and wood, all manufactured with care in the USA.

MTI is distinguished from its competitors by the incredible degree of customization that is offered. While preconfigured packages are readily available for ease of ordering, at MTI these are not a limitation but only the beginning. Because each product is built to order, additions, deletions and modifications to equipment levels and placement can be made, providing the customer with unparalleled customization and a truly personalized product.
Boutique Care and Cleaning Instructions
The ESS surface of all MTI Boutique tubs is among the highest quality surfaces available. Its hard, non-porous surface prevents dirt from accumulating and resists stains better than other materials. This tub is made of resin and natural minerals and may have minor variations in color and surface texture throughout the tub. This is normal and part of the unique, hand-crafted beauty for products made from natural minerals such as MTI's Engineered Solid Stone. With normal use, the ESS will retain its beauty with only a minimal amount of care. To maintain the elegant look of the ESS surface, follow these simple steps:
1) MTI recommended cleaning products:
Matte Finish: mild dish soap and water.
Gloss Finish: mild dish soap and water or products specifically made for cleaning granite or other high-gloss counter surfaces (e.g. Countertop Magic). Do not apply to the floor of the tub, as some products may make the tub slippery.
2) Remove dust or dry dirt with a soft, damp cloth.
3) Clean grease, oil, paint or ink stains with isopropyl (rubbing) alcohol. Dry with a soft, dry cloth.
4) Never use any abrasive cleaners. If any product feels gritty when rubbed between your fingers, it is NOT safe to use on your gloss or high-gloss ESS product.
5) Avoid using razor blades or other sharp objects that might scratch the surface.
6) Do not use harsh chemicals, such as hydrochloric acid, sodium hydroxide, paint thinner, chloride solvents or any strong acid or base, as this will permanently damage the finish. Also avoid any cleaners that include lime removal agents such as CLR or Lime-A-Way, as these can also damage the finish.
7) Avoid any bath products that contain natural or artificial dyes. Test product first on an inconspicuous area before using.
The MTI tub has been designed and engineered to resist scratches and stains when used properly. The durable finish will resist food acids and should not stain under normal bathroom conditions. If you do damage the tub, minor cuts and scratches can usually be buffed or polished out of the finish by a qualified professional.
MTI Links
www.mtibaths.com
Boutique Warranty
MTI Baths
(Main Page)
Helpful Bathtub Links
•
How to Choose a Freestanding Tub
•
Freestanding Bathtub
- Shop all Freestanding Tubs
•
What is an Air Tub?
•
Tubz.com
- Contact us, we are here to help