Metro Solid Surface Freestanding Bathtubs
The Metro Collection is about more than just offering the best designs in both form and function. It is about utilizing the finest materials to achieve our ultimate goal: exceeding your expectations. It's creating the best design elements in the bath while utilizing the best materials available to achieve this goal. The culmination of this goal required us to create a material that could give us unlimited design creativity with superior strength, durability, stain resistance and a non-porous finish.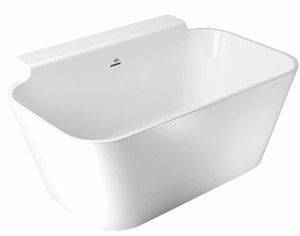 The Modern Metro Collection from Hydro Systems
The Metro Collection Tubs are manufactured from High-Quality HydroLuxe™ a blend of both organic minerals and the best in engineered composites. This blend combines a cast acrylic polymer for it's benefits in durability and bonding strength, and ATH which is derived from Bauxite Ore. Bauxite is an aluminum ore, found mostly in tropical regions, and is the main source of aluminum. ATH is also a natural fire-retardant.
Lastly, they didn't want to outsource jobs or sacrifice the quality the American worker provides. All Metro Collection products are proudly made in the USA. They feel it is important to continue to make the investment in the future of North America.
Authorized Hydro Systems Metro Dealer
Metro Bathtubs by Name
Metro Bathtubs by Size
Metro Bath Features
Warranty
10 Year Limited Warranty
This limited warranty is extended to the first user or the original retail purchaser for a period of Ten (10) Years on the Bathtub, 5 Years on Electronics and 2 years labor to replace electronics from date of purchase, and is not enforceable by any other party. HYDRO SYSTEMS, INC. warrants that the system and/or bathtub is free from defects in the workmanship and/or materials. (
Metro Installation Instructions
shows the full warranty starting at the bottom of page 7)
Drains
Integral Slotted Overflow with Toe-Tap Drain
- Included with all models (except Auburn).
- No overflow trim
- Toe Tap drain is color matched to tub unless specified otherwise
Metallic Finish Options:
- Matte Black
- Polished Chrome, Satin Chrome, Polished Nickel, Satin Nickel, Pewter
- Polished Brass, Satin Brass, Brushed Brass
- Oil Rubbed Bronze
Metro Bathtub Options
Colors & Finishes
• Finish: Matte or Polished
• Standard Colors: White Biscuit & Almond
• Premium Colors
Black, Carbon, Grey, Olive, Espresso, Sky Blue, Blue, Royal Blue, Violet, Pink, Yellow, Lime Green & Red
METRO-UP.COLOR (MSRP $2167.00)

• Dual Color

METRO-DUAL-COLOR (MSRP $2167.00)
• Finish: Matte & Polished Combination
METRO.TWO-TONE (MSRP $352.00)
Island Drain

ABS, PVC or Cast Iron Drain Body
Simplifies connecting freestanding tub drain
(MSRP)
ABS | ITD.ABS
($363.00)
PVC | ITD.PVC
($363.00)
Cast Iron | ITD.CST
($441.00)
Air Bath System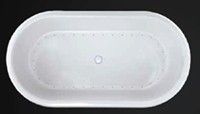 When adding the air injector system you will be engulfed in thousands of tiny heated bubbles that surround your body in a therapeutic massage. These tactically placed injectors not only help relax the mind, but also improve circulation and respiration in the body.
• Blower and Control Panel must be remotely located
In addition to the air pipe there are two electrical connections between the tub and the blower. Both connections and the air pipe exit through the bottom end of the bath. It is always desirable to remote mount the air blower as close to the tub as possible to minimize loss of heat.
• Electrical Requirements. 1 20 AMP dedicated GFI
(
Metro Installation Instructions
gives more information starting at the middle of page 5)
Remote Control
(Air bath control can not be mounted on the bathtub)
Metro Links
hydrosystem.com
Metro Installation Instructions
Helpful Bathtub Links
•
How to Choose a Free Standing Tub
•
Freestanding Bathtub
- Shop all Freestanding Tubs
•
What is an Air Tub?
•
Tubz.com
- Contact us, we are here to help