Metro Auburn Solid Surface Tub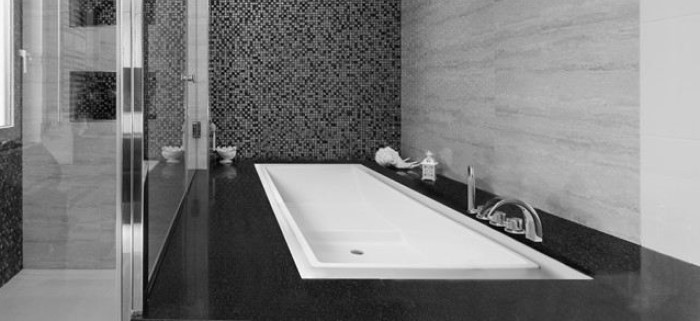 Auburn 8043 & 8066 Drop-in Soaking or Air Bathtub
Rectangle Solid Surface Soaking or Air Bathtub with Infinity Edge & Velvety Finish
The ingenious drop-in design of the Auburn bathtub reflects the architectural marvel of an infinity pool. Striking and memorable, Hydro Systems aimed to echo similar qualities and functionalities for a bathroom locale. Whether you opt for the rectangular guest tub or the extra-generous master model, the Auburn invites you to indulge in a state of pure relaxation. This is a seamless, solid-surface bathtub from the Metro Series. It is constructed from a blend of ground natural minerals and the best in man-made composites, resulting in a bath with a velvety finish. If matte is not what you're looking for, Hydro Systems will polish your tub to a fine gloss at no extra charge.

Metro Auburn Features
The METRO COLLECTION is about more than just offering the best designs in both form and function. It is about utilizing the finest materials to achieve our ultimate goal: exceeding your expectations. It's creating the best design elements in the bath while utilizing the best materials available to achieve this goal. The culmination of this goal required us to create a material that could give us unlimited design creativity with superior strength, durability, stain resistance and a non-porous finish.
• Hydroluxe Solid Surface
Hydro Systems' relentless pursuit of perfection has led them to hone and test their processes to proudly introduce HydroLuxe SS™, the evolution of Solid Surface bathtubs. Representing the latest in eco-friendly technology, brings even more durability to the Hydro Systems standard. The prolite system is uniquely packed with particles, making it a standout in the marketplace when it comes to efficiency and bonding strength. This hybrid material undergoes the transformation from liquid to solid, resulting in a bathtub that is 100% solid surface all the way through, with zero hollow or unfilled areas.
• Slotted overflow & toe tap drain
• Standard Metro Colors: White, Biscuit or Almond
• Made in the USA
Find Your Auburn Bath Here
At Tubz.com we are not just order takers in a call center. We are a small team that takes pride in our customer service and the product knowledge we have accumulated in our 20+ years of experience. Give us a call, we are here to help!
Hydro Systems Links
hydrosystem.com
Metro Bathtub
(main page)
Helpful Bathtub Links
•
How To Choose A Bathtub
- Features to Consider when Purchasing a Bathtub
•
Spa Tubs
- Bring the Spa Treatment Home | Which System is Best?
•
What is an Air Tub?
•
Tubz.com
- Contact us, we are here to help