California Faucets San Clemente Faucet Series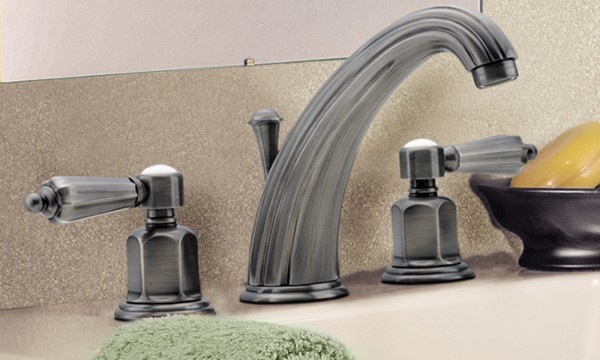 San Clemente 68 Bathroom Sink, Tub & Shower Faucets
Bathroom Faucets with Art Deco Style, Fluted Design
California Faucets' San Clemente bathroom series offers sink, tub & shower faucets with Art Deco styling. Tubz.com offers great sale prices and helpful assistance on all California Faucets products. Inspired by the Art Deco movement of the 1920s, California Faucets presents the San Clemente, a sophisticated faucet featuring finely etched detailing. The design of the San Clemente Series features a gracefully etched high spout and ornamental lever handles with faceted escutcheons. White porcelain index buttons marked the hot and cold handles on the metal lever handles. You can also choose to have metal index buttons (no markings).
Authorized California Faucets Dealer
San Clemente Faucet Handles

68 Standard Handle
Ceramic Index Button

Optional Metal Index
(MIDX)
San Clemente Faucet Styles:
Find California Faucets Sale Prices & Helpful Experts @ Tubz.com
Tubz.com and California Faucets has been a team for 25+ years. They produce beautiful, reliable bathroom faucets and, we are here to help you choose the right ones for you home, answer questions and offer great sale prices. Drop us an email or give us a call 866-380-0303. We would be glad to help!
California Faucets San Clemente Tub Faucet
California Faucets San Clemente Shower (Tub & Shower)
Consistent with their goal to give you what you want, California Faucets offers a large selection of shower controls. This includes both pressure balance and thermostatic. The thermostatic is offered as a 3/4" control which requires separate stop controls (volume controls). With their StyleTherm thermostatic the connections are 1/2" with choice of integral diverter or volume controls. Look for CALGreen for water conservation selections.
Learn more about:
California Faucets Shower Systems →
California Faucets Bathroom Faucets
Unlike much of the mass-produced fare that floods the market today, each California Faucet fitting is custom-made. Starting with good old-fashioned craftsmanship featuring solid brass construction, they add state-of-the-art ¼ turn ceramic disc valves with lifetime warranties, the world's largest offering of decorative PVD finishes and quality controls that meet or exceed government codes, including national and local lead-free and water conservation standards.
• Finest Quality
• Superior Customer Service
• Great Selection
California Faucets Links
www.calfaucets.com
California Faucets
(Main Page)
Styledrain