Walk-in Bathtub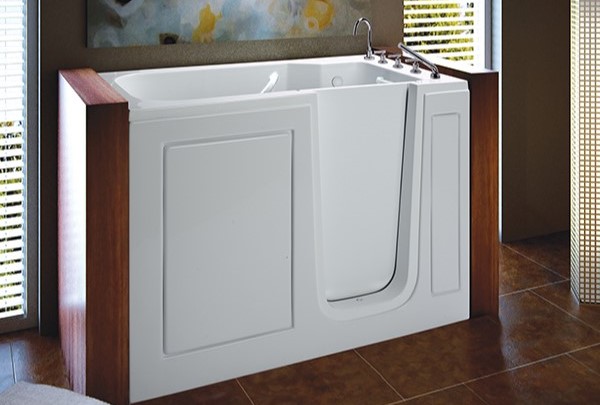 Walk-in Soaking, Whirlpool & Air Tubs
Safe Access Bathing Solutions
Walk In bathtubs provide accessibility, comfort & hydrotherapy for those with mobility limits. Lower step-in height, grab bars and a seat allow for easy access and safety. The first step in Hydrotherapy is soaking in warm water. All these tubs have that option. But you don's have to give up spa therapy in a walk-in tub. Enjoy the deep tissue massage of whirlpool water jets. Or the skin massage of air jets. There are even tubs that will condition your skin with millions of micro bubbles.
Our Selection of Walk-in Bathtubs are Made in the USA
They are custom-made for you, from tub shell to system, from companies right here in the United States.
Find Great Tubs with Factory Direct Sale Prices
We carry quality bathtubs with thick acrylic and strong warranties. Our tubs come to you factory direct, and we pass those savings on to you, giving you high quality at reasonable prices. Each tub is created at time of order and carries the manufacturer's full warranty. Many times the manufacturer's list price is given. If this is the case, drop us an email or give us a call so, we can discuss fantastic sale prices. We offer free shipping (48 Contiguous States) on all our tubs (some exclusions apply).
Tubs are listed by size: first by length, then by width, then by height - smallest to largest
Most tubs listed come with the possibility of a variety of systems from tub only to whirlpool & air combination. The description will list all the possibilities.

MTI
MBSWI5030
52" x 30" x 38"*
• Soaking Bathtub
• Heated Soaking
• Micro Bubble
• Air Bathtub
• Whirlpool
• Combination
* Extension for 60" Option

Hydro Systems
Life Style
52" x 30" x 40"
• Soaking Bathtub
• Heated Soaking
• Air Bathtub
• Whirlpool
• Combination
System Tub:
• Soaking or Massage?
There are a lot of bath systems offered. With a soaking tub there isn't a system or jets. You can add a recirculating pump and heater to a soaking tub for a tub that will not lose water temperature for as long as it is on. You can have air jets for a light skin caress or water jets that provide a deep tissue massage. Or have a combination tub that uses both. We have included in the descriptions above if the tub is offered in any of these systems: Soaking Tub, Heated Soaking, Micro Bubble, Air Bathtub, Whirlpool or a Combination. Find out more about all the possibilities see:
Spa Tubs →