California Faucets StyleDrain Shower Drain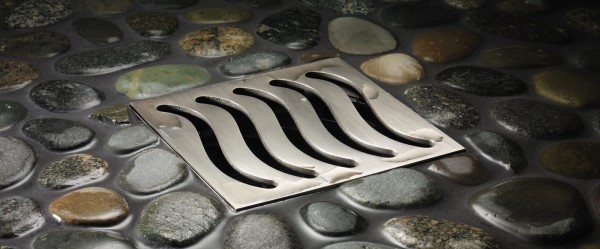 Decorative Shower Drain
Style Drain | Style, Down to the Finest Detail
The award wining StyleDrain is the only decorative shower drain system of its kind. Showers drains need not be industrial looking, round metal plates with visible sheet metal screws. StyleDrains are as easy on the installer as they are the eyes and the soles of the feet. Installers in the know prefer StyleDrain to conventional round shaped drains, because cutting and fitting tile around the square-shaped design makes installation a much easier task. Consumers choose StyleDrain for its decorative characteristics and flush grill, featuring smoothened edges and no visible screws for noticeable foot comfort. In addition, the functional benefit of StyleDrain is its extraordinarily fast draining capacity that handles water flow at the highest level of efficiency, even when tasked with simultaneous body sprays, rain bars, multiple shower heads, and more. Because StyleDrain can accommodate high-volume water flow, it's also ideal for patios, atriums or any other wet floor application. Choose from 28 decorative California Faucet finishes, including 12 PVD finishes, the most durable finish available. It's the ideal finishing touch to any design. More information on
Style Drains →
Shop StyleDrain By Drain Style:
StyleDrain™ - Heavy Duty, High Volume, Decorative Shower Drain
- All brass decorative grid drain - choice of contemporary or traditional designs
- No visible surface trim screws
- Square design for easy floor design and installation
- Surface is foot friendly - will not dish or bend
- Adjustable grid height from 9/16" to 2-5/8"
- Reversible membrane collar with weep holes to accommodate a variety of tile installations
- Heavy-duty cast iron body treated with corrosion resistant epoxy. Available in PVC or ABS Plastic too.
- Compatible with Zurn Z415 Series drain bodies for additional installation flexibility
Save with California Faucets Everyday Low Sale Prices
Tubz.com has been a team with California Faucets for many years, and we have the product knowledge to help you. We are dedicated to helping you create a beautiful bathroom with luxurious sink, tub & shower faucets. Your faucets come to you directly from California Faucets with a full manufacturer warranty. Suggested list prices are shown, give us a call, and we will offer our everyday low sale prices, check lead time and help with any questions -
866-380-0303
or
email
.
Authorized California Faucets Dealer
California Faucets Bathroom Faucets
Finest Quality
Superior Customer Service
Great Selection
California Faucets Links
www.calfaucets.com
California Faucets
(Main Page)
Custom Shower