California Faucets Bathroom & Kitchen Faucets
For over 30 years California Faucets has produced bathroom faucets with sophisticated design & the best quality. The kitchen faucet collection (launched in fall of 2015) combines Italian design with their craftsmanship and offers a full range of matching accessories for a thoroughly coordinated look. California Faucets believes in artisan hands, not mass production. Their factory in Huntington Beach, California creates bath products that can be easily customized or purchased exactly as shown in their catalog. They proudly provide the latest in bath and shower technology with innovations, such as StyleDrain®, StyleTherm®, and ZeroDrain®. These groundbreaking innovations turn utilitarian products into beautiful design statements, and are the heart of our ever-evolving line of faucets, shower fittings, luxury drains, and accessories. Leveraging the expertise they have perfected in the bath, they applied the same concepts of handcrafted quality and customization to their first-ever line of kitchen faucets.
Shop California Faucets by Style
California Faucets Named "Best Value Luxury Faucets"
As the oldest and most respected reviewer of faucets, StarCraft Builders honors California Faucets "artisan hands, not mass-produced" philosophy. Why Is California Faucets the Best Value in Luxury? Per StarCraft Builders: "There are only a handful of the 250 or so faucet companies in our reviews that seem to do everything right. California Faucets … 
Read about Best Value...
---
California Faucets Bathroom Faucets
Faucet Series Includes Sink, Tub & Shower Faucets + Accessories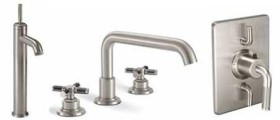 Each series includes sink & bathtub faucets, shower controls and matching bathroom accessories. Pictures below are a sample of each bathroom faucet series, showing the sink faucet. Click on the picture to see all the faucet styles offered. Each tub faucet series includes a freestanding, wall mount and deck mount tub filler. Handles options to match all of California Faucets bathroom faucet series.
Bathroom Faucets by Series Name
Shop by California Faucets Series Number →
Everyday low sale prices and helpful experts
Tubz.com has been a team with California Faucets for many years, and we have the product knowledge to help you. We are dedicated to helping you create a beautiful bathroom with luxurious sink, tub & shower faucets. Or create a stunning focal point in the kitchen with coordinating sink and bar faucets plus pot fillers and accessories that have sophisticated design & the best quality. Your faucets come to you directly from California Faucets with a full manufacturer warranty. List prices are shown, give us a call, and we will offer our everyday low sale prices, check lead time and help with any questions -
866-380-0303
or
Email
Authorized California Faucets Dealer
California Faucets
Proudly provides the latest in kitchen, bath and shower technology with groundbreaking innovations. These innovations turn utilitarian products into beautiful design statements.
Finest Quality
• Solid Brass Construction.
• ¼ Turn Ceramic Disc Valves with a lifetime warranty.
• The most technologically advanced PVD lifetime finishes.
• All components tested in their in-house testing facility and hand-packed to order and inspected for fit, finish and overall quality.
• California Faucets meets or exceeds federal, state and local codes including Federal lead-free standards.
International Awards
• They are proud to have received industry recognition for our innovative design and engineering of fine plumbing products
Superior Customer Service
• Expert in-house technical telephone support.
• No-hassle shipping of warranty replacement parts.
• No frustrating voice mail system! A real live human answers each and every call, and promptly connects you to the appropriate party.
• You speak to the same dedicated and caring employees each time you call.
Great Selection

• Complete line of coordinated kitchen & lavatory faucets, tub sets, shower sets, bidets and bathroom accessories.
• Wide selection of spout styles and handles
• Total flexibility-create your own unique combination by matching any component (i.e. handle, escutcheon, pop-up knob, etc., with any spout) in any finish combination.
• 28 decorative finishes, including 13 PVD finishes, the most durable finish available.
California Faucets for the Entire Bathroom
They offer every decorative fitting you need to outfit your entire bathroom, including:
FAUCETS & FITTINGS
Over 30 unique lavatory faucet series, available in over 30 finishes, each featuring the complete line of coordinated fittings, including lavatory faucets, shower sets, tub sets, bidets, and bathroom accessories.
SHOWER SYSTEMS
With the introduction of the StyleTherm® thermostatic shower systems, they've made an innovative technological leap which makes luxury thermostatic shower technology affordable for all. Now the convenience, safety and flexibility of thermostatic showering is available at the same price point as older technologies such as pressure balance. Like all California Faucets product, StyleTherm® is extremely flexible and design compatible with every faucet series in the line.
LUXURY DRAINS
Fine design is in the details. With their patent-pending StyleDrain®, the country's first truly decorative shower drain, and CeraLine™, the international award-winning channel drain, you no longer have to settle for cheap, flimsy drains that spoil the look of your shower with their generic design and unsightly visible screws.
ACCESSORIES & TRIM
In addition to matching towel bars, paper holders and soap dishes, they offer bathroom specialties. This includes decorative supply stops, p-traps, sink drains, tub drains, shower accessories, kitchen accessories and more. The detail offered by Cal Trim is the key to perfecting your design vision.
California Faucets Links
www.calfaucets.com
Finishes
Warranty
Helpful Faucet Links
Bathroom Faucet
(Main Page)