California Faucets Hermosa Tub Faucets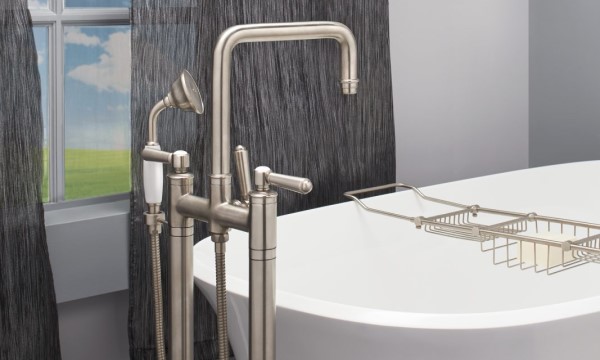 Hermosa 14 Wall, Deck or Floor Mount Tub Filler
Tub Faucet with Traditional, Squared Spout with Hand Shower
Hermosa features a squared spout, traditional style hand shower and your choice of 20 handles to coordinate with California Faucets traditional faucet sets. Tub & hand shower set is offered as a floor-mount or deck-mount tub faucet. Available in more than 28 faucet finishes, including an industry-leading 13 PVD finishes.
Authorized California Faucets Dealer
Find California Faucets Sale Prices & Helpful Experts @ Tubz.com
Tubz.com and California Faucets has been a team for 25+ years. They produce beautiful, reliable bathroom faucets and, we are here to help you choose the right ones for you home, answer questions and offer great sale prices. Drop us an email or give us a call 866-380-0303. We would be glad to help!
Hermosa Tub Filler | California Faucets
Replace XX in model # with desired handle series number
Replace (FR) with Flow Rate for Hand Shower:
- .20 for 2.0 gpm
- .18 for 1.8 gpm
Hermosa Matching Sink & Shower Faucets
California Faucets creates custom faucets, mixing spouts and handles throughout their entire line. Use the following links to see the faucet series with matching handles:
California Faucets Bathroom Faucets
Finest Quality
Superior Customer Service
Great Selection
California Faucets Links
www.calfaucets.com
California Faucets
(Main Page)
Styledrain