Custom Shower System | California Faucets
California Faucets offers all the shower components to create the custom shower of your dreams. Start with a Thermostatic or Pressure Balance Control then add shower heads, hand showers, body sprays or tub spouts. Use the links below to get to more information.
Authorized California Faucets Dealer

California Faucets Custom Shower Quick Links:
California Faucet Custom Shower System in 4 Steps
Step 1: Choose Shower Controls | Thermostatic or Pressure Balance
Pressure Balance Shower System:
Pressure Balancing valves balance incoming hot and cold water pressure to compensate for fluctuations in water flow. If the cold water pressure decreases, the valve senses this and reduces the hot water pressure. (It will protect the user from drastic temperature changes should a toilet be flushed while showering.) Pressure Balance will operate one function (tub or shower). Choose a tub spout with a diverter to have a tub & shower set.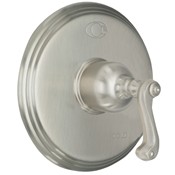 Controls 1 function - shower or tub filler
- Forged brass body construction
- 1/2" NPT female connections (2 inlets & 2 outlets)
- Pressure balance anti-scald protection
- Single-handle temperature mixing and flow with adjustable high-temp limit stop
- Flow rate @60 psi 4.2 gpm (15.9 L/m) - shower port
- 5.0 gpm (18.9 L/m) - tub port
- Handles to match any of the California Faucets series

Pressure Balance Control can be combined with a diverter tub spout for a Tub & Shower control
Thermostatic Shower System:
Thermostatic valves allow users to select a favorite temperature and keep it there regardless of changes in the temperature of the hot or cold water supply. It has a sensor that reacts to changes in temperature caused by either pressure or inlet temperature changes.  It allows for a higher water flow for multiple outlets: shower heads, body sprays, hand showers etc., as well as the ability to have multiple functions on at the same time.
California Faucets offers 2 Sizes of Thermostatic Controls
StyleTherm delivers superior technology, high flow rate, independent volume control, and ultimate safety. Each thermostatic control is offered with handles to match any of the California Faucets faucet series.
• 3/4" StyleTherm
Thermostatic Control with Individual Volume Controls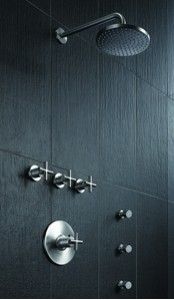 A Volume Control (Stop Valve) is added for each function. The picture illustrates a shower set up with 3 functions: Shower Head, Body Sprays & Hand Shower (not pictured). The larger round plate is the thermostatic control. It sets the temperature. The 3 handles above it turn the water on for each function. The more you turn the handle the more water pressure. We have shown a modern shower system above, but each California Faucet Series has a thermostatic control to give you a style that fits your bathroom.
- Forged brass construction
- Max flow rate: 18.2 gpm at 60 psi
- Integral service stops and check valves
- Thermoplastic polymer cartridge limits limescale buildup
- 3/4" FIP - 2 inlets, 2 outlets
• 1/2" StyleTherm with Integral Controls
Each style of 1/2" StyleTherm offers:
- Forged brass valve body construction
- Integral service stops and check valves
- Thermoplastic polymer cartridge limits limescale buildup
- Round or rectangular backplates (modern series also offer flat plates) with handles that match the faucet series

Integral Volume Control
Single Function
1 Volume Control (Stop)
- Flow rate: 10 gpm @ 60 psi
- 1/2" NPT connections (2 inlets & 1 outlet)

Integral Diverter
Two Functions
Each outlet is fully volume controllable:
• Full-off at 12 o'clock position
• Quarter-turn left or right to open each outlet
- Flow rate: 7.25 gpm @ 45 psi from each outlet
- 1/2" FIP, 2 Inlet and 1/2" MIP or 1/2"
Nominal Sweat - 2 Outlet

2 Integral Volume Controls
Two Functions
2 Volume Controls (Stops)
- Flow rate:
Single: 10 gpm @ 60 psi
Combined: 14 gpm @ 60 psi
- 1/2" NPT connections (2 inlets & 2 outlets)

Integral Volume Control & Diverter
Three Functions
Diverts between 2 functions &
Volume Control for a 3rd
- Flow rate:
7.2 gpm at 60 psi from each non-shared outlet
10.5 gpm at 60 psi at single volume control
- 1/2" FIP - 2 inlets
- 1/2" MIP or 1/2" nominal sweat - 3 outlets
Call 866-380-0303 or Email | We are Here to Help
Step 2: Choose California Faucet Series (Handle selection)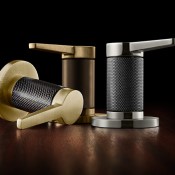 This might be the hardest part! California has many handle choices. From the traditional cross handle of the Del Mar series to the sleek modern levers of the Morro Bay. There is the transitional Miramar with cross or lever handles. And if industrial is your style, the Steam Punk Bay, D Street & Descanso series offers knurl and carbon fiber handles. Thank covers only a small section of the possibilities! Each California Faucet Series offers faucets for sinks, tub and of course showers. See all
California Faucet Series →
. Choose the series you like the handles of. Scroll down the page to find the shower controls.
Step 3: Choose Shower Components (shower head, body sprays, tub spout...)
Step 4: Don't Forget the Shower Drain!
Save with California Faucets Everyday Low Sale Prices
Tubz.com has been a team with California Faucets for many years, and we have the product knowledge to help you. We are dedicated to helping you create a beautiful bathroom with luxurious sink, tub & shower faucets. Your faucets come to you directly from California Faucets with a full manufacturer warranty. Suggested list prices are shown, give us a call, and we will offer our everyday low sale prices, check lead time and help with any questions -
866-380-0303
or
email
.
Authorized California Faucets Dealer
Body Sprays

Technical Sheet

Self Cleaning Body Spray
BS-60

List Price:
$215.00 Polished Chrome
$263.00 Standard Finish
$296.00 Special Finish
$349.00 Premium Finish

1/2" FIP inlet
Self Cleaning Spray
2-1/8" round base

Self Cleaning Body Spray
BS-65

List Price:
$215.00 Polished Chrome
$263.00 Standard Finish
$296.00 Special Finish
$349.00 Premium Finish

1/2" FIP inlet
Self Cleaning Spray
2-1/8" round base

Self Cleaning Body Spray
BS-77

List Price:
$279.00 Polished Chrome
$342.00 Standard Finish
$384.00 Special Finish
$453.00 Premium Finish

1/2" FIP inlet
Self Cleaning Spray
2-1/4" square base

Self Cleaning Body Spray
BS-70

List Price:
$245.00 Polished Chrome
$300.00 Standard Finish
$337.00 Special Finish
$398.00 Premium Finish

1/2" FIP inlet
Self Cleaning Spray
2-5/8" x 2-1/8" convex base

Self Cleaning Body Spray
BS-85

List Price:
$279.00 Polished Chrome
$342.00 Standard Finish
$384.00 Special Finish
$453.00 Premium Finish

1/2" FIP inlet
Self Cleaning Spray
2-5/16" x 2-2-5/16" base
California Faucets Links
www.calfaucets.com
California Faucets
(Main Page)
Styledrain