California Faucets Palomar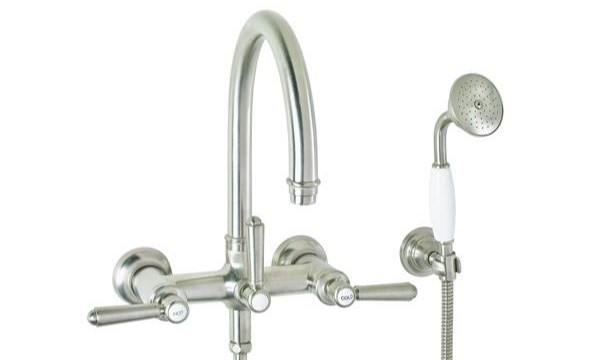 Palomar Tub Filler | Wall, Deck or Floor Mount
Tub Faucet with Traditional Rounded Spout & Hand Shower
Palomar features a curving spout, traditional style hand shower and your choice of 20 handles to coordinate with California Faucets traditional faucet sets. Tub & hand shower set is offered as a floor-mount or deck-mount tub faucet. Available in more than 28 faucet finishes, including an industry-leading 13 PVD finishes.
Save with California Faucets Everyday Low Sale Prices
Tubz.com has been a team with California Faucets for many years and we have the product knowledge to help you. We are dedicated to helping you create a beautiful bathroom with luxurious sink, tub & shower faucets. Your faucets come to you directly from California Faucets with a full manufacturer warranty. Suggested list prices are shown, give us a call and we will offer our everyday low sale prices, check lead time and help with any questions -
866-380-0303
or
email
.
Authorized California Faucets Dealer
Palomar Tub Filler | California Faucets
Optional Handles: 33, 34, 35, 36, 38, 42, 46, 47, 48, 48X, 55, 59, 60, 63, 64, 67, 68 or 69 (pictured below)
Replace XX in model # with desired handle series number
Crystal Handle Up Charge:
$147.40 Lever Handles

Replace (FR) with Flow Rate for Hand Shower:
- .20 for 2.0 gpm
- .18 for 1.8 gpm
Palomar Matching Sink & Shower Faucets
California Faucets creates custom faucets, mixing spouts and handles throughout their entire line. Use the following links to see the faucet series with matching handles:
California Faucets Bathroom Faucets
Finest Quality
Superior Customer Service
Great Selection
California Faucets Links
www.calfaucets.com
California Faucets
(Main Page)
Styledrain
|
Ceraline Drain