California Faucets Kitchen Faucets
Combining Italian design and American craftsmanship, California Faucets has created a series of kitchen faucets. They embody all you've come to expect from California Faucets - sophisticated design & the best quality. Each is handcrafted with their signature solid brass construction. Pull-down and pull-out spray spouts that toggle seamlessly back and forth between spray and stream. All spouts swivel 360 degrees for maximum reach & flexibility.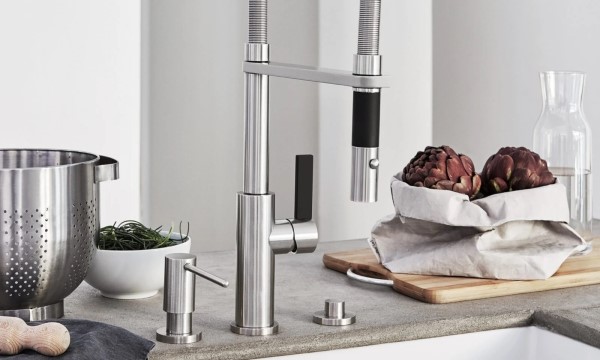 Designer Kitchen & Bar Faucets + Accessories
Customize your kitchen faucet with multiple handle option and more than 28 decorative finishes, including 13 PVD finishes that carry a lifetime warranty against tarnishing. That's important considering your kitchen faucet is used dozens of times a day, more than any other faucet in your home. Each California Faucet is hand-finished, and individually assembled in their factory in Huntington Beach, California.
Shop California Faucets Kitchen Faucets by Series Name
Find Low Sale Prices & Helpful California Faucet Experts @ Tubz.com
Tubz.com and California Faucets has been a team for 25+ years. They produce beautiful, reliable bathroom faucets and, we are here to help you choose the right ones for you home, answer questions and offer great sale prices. Drop us an email or give us a call 866-380-0303. We would be glad to help!
Authorized California Faucets Dealer
A Coordinated California Faucets Kitchen
All series are available with a full range of matching accessories, including prep/bar faucets, hot water dispensers, cold filtered water dispensers, soap dispensers, air gaps, and air activation switches for the garbage disposer.  Unlike most kitchen faucets, California Faucets' ensembles allow you to create a fully coordinated look.
The following shows the Davoli Kitchen Faucet Series:

Pull-Down Kitchen Faucet

Pull-Down Prep/Bar Faucet

Pot Filler

Hot & Cold Water Dispenser


Soap Dispenser

Air Gap

Activation Switch for Disposer
Designer Kitchen Faucet Features
- Solid brass construction including spray heads
- Toggle seamlessly back and forth between stream or spray
- Magnetic docking secures spray head into spout
- Ultra quiet, durable polymer-braided hose has rotating joint at spray head for smoother operation
- All spouts swivel 360 degrees
- Multiple handle options
- Ceramic disk cartridge with lifetime warranty
Introducing Kitchen Faucets by California Faucets→
(Video)
California Faucets
:
Unlike much of the mass-produced fare that floods the market today, each California Faucet fitting is custom-made. Starting with good old-fashioned craftsmanship featuring solid brass construction, we add state-of-the-art ¼ turn ceramic disc valves with lifetime warranties, the world's largest offering of decorative PVD finishes and quality controls that meet or exceed government codes, including national and local lead-free and water conservation standards.
Quality Construction
- Solid Brass Construction.
- ¼ Turn Ceramic Disc Valves with a lifetime warranty.
- The most technologically advanced PVD lifetime finishes.
- All components tested in their in-house testing facility and hand-packed to order and inspected for fit, finish and overall quality.
| California Faucets meets or exceeds federal, state and local codes including Federal lead-free standards.
Superior Customer Service
- Expert in-house technical telephone support.
- No-hassle shipping of warranty replacement parts.
- No frustrating voice mail system! A real live human answers each and every call, and promptly connects you to the appropriate party.
- You speak to the same dedicated and caring employees each time you call.
Great Selection
- Wide selection of spout styles and handles
- Over 30 decorative finishes
California Faucets Links
www.calfaucets.com
Finishes
Warranty
California Faucets
(All Faucets)