California Faucets Corsano K51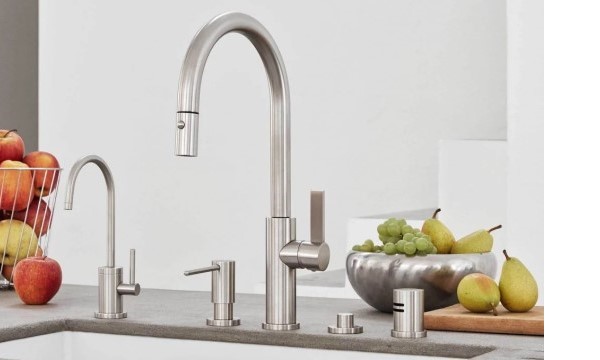 Corsano Contemporary Kitchen Faucet Series
Corsano is nestled in the heel of Italy's boot. A charming, diverse region. This kitchen faucet series of the same name is a contemporary take on its timeless character. Italian design & American craftsmanship combine to create a fully coordinated look for the kitchen. Find kitchen & prep/bar faucets, water dispensers, air gaps, soap dispensers and activation switch for the garbage disposer. Consistent with California Faucets' goal is to give you exactly what you want, they offer 4 handle options.
Find California Faucets Sale Prices & Helpful Experts @ Tubz.com
Tubz.com and California Faucets has been a team for 25+ years. They produce beautiful, reliable kitchen faucets, and we are here to help you choose the right ones for you home, answer questions and offer great sale prices. Drop us an
email
or give us a call 866-380-0303. We would be glad to help!
Authorized California Faucets Dealer
Corsano Faucet Styles:
Corsano Faucet Handles

ST
Stick

FB
Finished Blade

BST
Black Stick

BFB
Black Blade
California Faucets Kitchen Faucets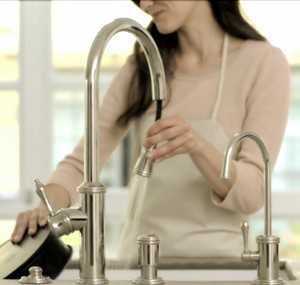 Kitchen Faucets by California Faucets →
(Video)
Italian design combined with American craftsmanship. These kitchen faucets embody the sophisticated design and craftsmanship you expect from California Faucets. Unlike much of the mass-produced fare that floods the market today, each California Faucet fitting is custom-made. Starting with good old-fashioned craftsmanship featuring solid brass construction, they add state-of-the-art ¼ turn ceramic disc valves with lifetime warranties, the world's largest offering of decorative PVD finishes and quality controls that meet or exceed government codes, including national and local lead-free and water conservation standards.
• Finest Quality
• Superior Customer Service
• Great Selection
The kitchen is a place where family and friends come together. Let California Faucets help you unleash your inner cook and make your moments memorable. Or, as they say in Italy: Buon Appetito!
Save with California Faucets Everyday Low Sale Prices
Tubz.com has been a team with California Faucets for many years, and we have the product knowledge to help you. We are dedicated to helping you create a stunning focal point in the kitchen with coordinating sink and bar faucets plus pot fillers and accessories that have sophisticated design & the best quality. Your faucets come to you directly from California Faucets with a full manufacturer warranty. Suggested list prices are shown, give us a call, and we will offer our everyday low sale prices, check lead time and help with any questions -
866-380-0303
or
email
.
More California Kitchen Faucets
California Faucets Links
www.calfaucets.com
California Faucets Kitchen Faucets
California Faucets (All Faucets Main Page)