Hydro Massage Bathtub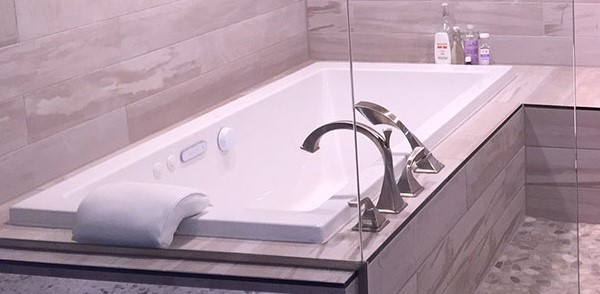 Heated Soaking Bathtub, Whirlpool & Air Jet Tub
Hydro Massage creates Luxury Jetted Tubs.
While some companies offer one back jet, Hydro Massage offers up to 7 back jets with a 2 jet neck pillow on most of their whirlpools. Their Air Jet tubs also create a wonderful experience, chose from air jets on the bottom of the tub, around the sides, or air jets in both places.
Save with Hydro Massage Factory Direct Sale & Free Shipping
Once your tub is ordered, it is created especially for you in Colorado. It is shipped directly to you. No refurbished, reconditioned tubs are allowed. Fully warrantied by Hydro Massage. And your tub only makes one trip - from the manufacturer to you. Hydro Massage Promise: The craftsman that create each bath stand behind their work. Each tub is built to exacting standards and goes through a 30 point quality control checklist. All products are fully covered by their warranty and your satisfaction is guaranteed.

Tubz.com is an Authorized Hydro Massage Dealer
Shop Hydro Massage Tubs by Size: Hydro Massage Features and Options
Hydro Massage Tubs by Name

Hydro Massage | Clean Bath Systems
Their ultra-clean plumbing on the jetted whirlpool baths is the newest in technology. Hydro Massage primarily uses a 'FDA NON-TOXIC' recipe tubing. Unlike flexible PVC or porous PVC pipe, their plumbing harness system provides one of the best drain down systems available. They accomplish this by arching their lines 3 to 5 inches above the jets and using approximately 40 percent less active plumbing than their competition. Their air massage also uses smooth wall 'non-toxic' recipe tubing. Combined with air jet check valve system and Hydro Cleanse, you can be assured that your bath will be sanitary. With features to keep your bath at it's cleanest level, you can be sure their ultra clean will keep your bath mold and mildew free with only a wipe down – no more deep scrubbing. You want to relax in your bath, not spend hours cleaning it.
Hydro Massage | Massage Systems
Most Hydro Massage baths are available in 11 different styles so you can choose the soaking, whirlpool, air bath or combination bath. Let the powerful water jets soothe your back, while the effervescent air bubble gently relax your entire body. Their baths comes in a variety of shapes, sizes, and options, so you are sure to find the bath of your dreams. You can even find freestanding bathtubs with water jets!
Sooth Soak | Heated Soaking Bath
Whisper Flo Heat Pump will gently circulate warm water to increase circulation, soothe tired muscles and joints, and enhance relaxation. This system will insure that your bath is always hot and enjoyable. Lean your head back on the cushion pillow and escape in the simplicity of a soothing soak. Learn more about
Sooth Soak Bathtubs→
Whirlpool | Water Jets
Hydrotherapy rejuvenates. Relaxed and be at ease in a Hydro Massage whirlpool bath. Sink into bliss as powerful water jets soothe your tired body, whisking away the worries and cares of the day. Whirlpools are offered in three series: Silver, Gold & Platinum. Each of these series offer powerful jets, a trademark of Hydro Massage. Silver Series offers 9 massaging jets with 3 targeting the back. The Gold Series has 12 total jets with 6 of those on the back and adds an in-line heater amongst other features. For the ultimate back massage: the Platinum Series offers 15 - 24 water jets, 7 for the back plus a jetted neck pillow. Learn more about
Hydro Massage Whirlpools →
Air Massage | Air Jets
The first time you feel the air bubbles hitting your tired, weary body, you'll get it. Air massage creates a full body massage that will erase fatigue, stress, aches and pains. Air tubs are know for cooling the bath water quickly. Hydro Massage offers many ways to keep your air bath warm: Warmed Backrest, Whisper Flo Heat Pump, Stay Hot Eco Bond Thermal Insulation and Cozy Heated Backrest. Air baths are also offered in 3 series: Silver, Gold & Platinum. perimeter air jets or choose air on the tub bottom, back and perimeter. Learn more about
Hydro Massage Air Tubs→
Combination Series | Water & Air Jets
The sensation of air and water working together to remove tension and stress from your body is a most wonderful experience. Powerful air jets target your stress zones, causing your worries to bubble away. Meanwhile, soothing water jets pulse over your body, erasing any memory of aches, pain or anxiety that you're feeling. The modern lifestyle is one of constant sensory overload; it's time you unburdened yourself with one of our Combination Massage Series baths. Learn more about
Combo Whirlpool & Air Tubs →
Helpful Bathtub Links
•
How To Choose A Bathtub
- Features to Consider when Purchasing a Bathtub
•
Spa Tubs
- Bring the Spa Treatment Home | Which System is Best?
•
Tubz.com
- Contact us, we are here to help