Hydro Massage Oasis
Oasis Series of Freestanding Heated, Air or Soaking Tub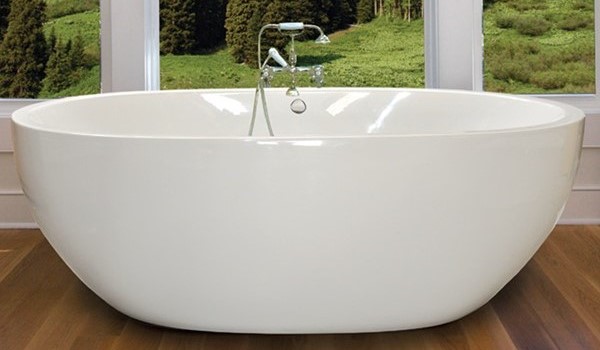 Hydro Massage Oasis - Series of Oval Freestanding Tubs. All Oasis tubs are freestanding, offered as Soaking, Heated or Air Baths. Available in 72 x 40, 72 x 32, 66 x 40 or 66 x 32, they feature a center (side) drains and two back slants to allow for 2 bathers. Manufactured in Denver, Colorado - Hydro Massage is a family owned business which has been making bathtubs for over 30 years. Each Oasis tub can be jetted for air, heated soaking tub or a tub without a system - soaking tub.
Factory Direct Savings on all Escape Tubs & Free Shipping
Click on the tub picture below for more information.
Let us help you find the Oasis in the size, system and features that best fit your needs - 866-380-0303
Hydro Massage Products
Hydro Massage Promise: The craftsman that create each bath stand behind their work. Each tub is built to exacting standards and goes through a 30 point quality control checklist. All products are fully covered by their warranty and your satisfaction is guaranteed. Back that with their Limited Lifetime warranty on the shell, surface, pumps and blower, you have a bathing experience that will last! All without leaving the comfort of your home.
All Hydro Massage Tubs →
Helpful Bathtub Links
•
Freestanding Tub Buying Guide
•
Freestanding Bathtub
- Shop all Freestanding Tubs
•
What is an Air Tub?
•
Tubz.com
- Contact us, we are here to help