Hydro Massage Oasis 7232
Oasis 72" x 32" Freestanding Air or Soaking Tub
72" x 32" x 24" Oval Tub for 2
Oasis Freestanding - 7232 - Oval Air or Soaking Tub. This bathtub has a center / side drain, two slopping backrest to accommodate two bathers. Simple lines that would be at home in a traditional or modern bathroom.
Factory Direct Savings on all Hydro Massage Tubs
Free Shipping - 48 Contiguous States
Authorized Hydro Massage Dealer
Tub Size: 72" x 32" x 24"
Gallons to Operate: 67 - 85
Depth to Overflow (center): 17"
Back Slant: 125°
Bathtub Weight (without motors): 175#

Bathtub Material: Acrylic
Installation: Freestanding
Center Drain - 2 Person Bath
Integral Flush Pop-up Drain: Polished Chrome, Brushed Nickel or Oil Rubbed Bronze
Faucet: Floor Mount only (Not included)
Hydro Massage Standard Colors: White & Biscuit


Installation Instructions

Optional Access Panel allows the blower to be installed right on the bath.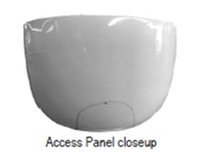 The other option available is to remote the air pump up to 15' away from your bath. The Air Pipe will run under the floor to the desired blower location.
Oasis Soaking Bathtub
Tub only (no jets) or heated soaker bathtub that maintains water temperature.
Soaking Tub Features and Options →
Sale Price Not Listed? Contact Us 866-380-0303 or (email) for Sale Prices
Soaking Bath
OATO7232CDFS

List Price: $6017.00


MSRP: $4512.75




Sale Price: Contact Us



Technical Sheet
Tub Only
Price Includes:
Integral Flush Pop-up Drain

Oasis Air Bathtub
Air jets provide a soft, bubbly massage
Air Jet Tub Features and Options →
Sale Price Not Listed? Contact Us 866-380-0303 or (email) for Sale Prices
Silver Series Air Bath
OAAS7232CDFS (-A for Access)

List Price: $8344.00


MSRP: $6258.00




Sale Price: Contact Us



Technical Sheet
Features:
12 Classic Air Jets
1.0 Air Power 3-speed Air Pump
Quiet Time Anti-Vibration Pump Pad
Air Switch On/Off
Hydro Cleanse Liquid Cleaner
Automatic Purge & Dry Cycle
Price Includes:
Integral Flush Pop-up Drain

Gold Series Air Bath
OAAGS7232CDFS (-A for Access)

List Price: $9402.00


MSRP: $7051.50




Sale Price: Contact Us



Technical Sheet
Features:
18 EZ Clean Air Jets
1.25 Variable Speed Heated Air Pump
Quiet Time Anti-Vibration Pump Pad
Warm Back Rest Tubing Zone
Variable Speed Massage Control
Air Switch On/Off (Light)
Hydro Cleanse Liquid Cleaner
Integral Flush Pop-up Drain (Must Buy Option)
Mood Light
Deluxe Cushion Pillow
Automatic Purge & Dry Cycle
Price Includes:
Integral Flush Pop-up Drain

Platinum Series Air Bath
OAAP7232CDFS (-A for Access)

List Price: $11350.00


MSRP: $8512.50




Sale Price: Contact Us



Technical Sheet
Features:
34 EZ Clean Air Jets
HTT Leg Therapy Air Massage Jets
1.25 Variable Speed Heated Air Pump
Quiet Time Anti-Vibration Pump Pad
Warm Back Rest Tubing Zone
Variable Speed Air Massage Control
Hydro Cleanse Liquid Cleaner
HydroClean
Deluxe Cushion Pillow
Automatic Purge & Dry Cycle
Price Includes:
Integral Flush Pop-up Drain

Hydro Massage Links
www.hydromassageproducts.com

Warranty

Hydro Massage (main page)

Helpful Bathtub Links

• How to Choose a Freestanding Tub

• Air Tub - Find out how Air Systems Vary

• Tubz.com - Contact us, we are here to help