Hydro Massage Options
•
Bathtub Colors
Fashion Colors: Bone & Almond
(Standard Colors: White & Biscuit)
• Cozy Heated Backrest
• Stay Hot Eco Bond Thermal Insulation

- Reduces pump noise substantially compared to a traditional bath
- Helps keep the water hot for up to 30 minutes. Provides a Insulating R Factor of 12-18 on most of the bath surfaces
- Renewable resource. Produced from plant based natural oil polyols.
• Deep Soaker Drain
Adds up to 2 1/2" extra water depth
- Pop-up drain (bottom of the bathtub)
- Available in White, Biscuit, Chrome, Brushed Nickel & Oil Rubbed Bronze

*Tub controls will be moved to the top deck from the side wall when this drain is chosen*
1 = Standard Depth, 2 = 1" Extra Water, 3 = Overflow Closed
• Remote Air Blower Control Extension
Up to 15'
• Factory Installed Tile Flange
• Hydro Sound

Hydro Sounds is a speaker system (2) that mounts to the back of the bath and it transforms the tub into a large speaker so the sound comes from the tub and water and the bass actual vibrates the water if powered correctly and proper music. The music source must be provided from a home stereo along with a amplifier.
• Deluxe Pillow
Available in White or Biscuit, this pillow is removable and adjustable for your comfort.
• Eco Pure Bath & Water Conditioner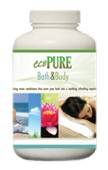 • Re-hydrates and nourishes your body with natural vitamins and minerals.
• Moisturizes your skin and leaves it silky smooth.
• Helps eliminate Bio Residual contaminants on jets and internal plumbing system.
• Works with Hydro Therapy to reduce stress, relieve pain, detoxify and stimulate both your digestive and immune systems.
• Naturally purifies water for a healthier home bath experience.
• Reduces cleaning and maintenance of the bath surface.
• HydroCleanse
Bathtub cleaner that will help maintain a clean and fresh whirlpool or air bath by removing body oils, fragrances and soap residue.
Also See Systems for System Related Options:
All Hydro Massage Tubs →
Helpful Bathtub Links
•
How To Choose A Bathtub
- Features to Consider when Purchasing a Bathtub
•
Spa Tubs
- Bring the Spa Treatment Home | Which System is Best?
•
Tubz.com
- Contact us, we are here to help