Hydro Massage Options
General Options:
Hydro Massage Tub Systems
(Features & System Options)
Bathtub Colors
Standard Colors: White & Biscuit
Fashion Colors: Bone & Almond
($315.00 List Price)
Drains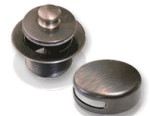 • Lift & Turn Drain
($120.00 List Price)
Reach down to the bottom of the tub and lift and turn it to open the drain. The overflow cover is a flat round disc. White, Polished Chrome or Brushed Nickel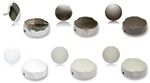 • Cable Drain
($315.00 List Price)
Reach just below the rim to the overflow, turn the overflow (dial) and a cable will open and close the drain at the bottom of the tub.
White, Polished Chrome or Brushed Nickel
6" Grab Bar
($157.00 List Price | Each)
Choose from White, Polished Chrome or Brushed Nickel
Chromotherapy Lighting
• LED
($498.00 List Price)

Underwater LED light. 7 basic colors, 21 blended colors. Cycle through the lights or pause on one.
• 3 Color Underwater Light
($245.00 List Price)

Underwater light with two snap on lens caps.
Pillows
• Deluxe Pillow
($100.00 List Price)
Available in White or Biscuit. Soft cushion pillow attaches with suction cups
• Sushi Gel Roll-up Pillow
($196.00 List Price)
Gel Pillow offers complete back rest comfort. For extra relaxation it can be rolled up and used as a support under your knees or ankles. Easy to clean, simply use liquid dish soap and warm water, rinse and let dry.
Factory Installed Tile Flange
($220.00 List Price)
Low Profile Rim
($198.00 List Price)
Reduces rim height to 3/4"
Hydro Sound
($1412.00 List Price)

The Hydro Sounds Music Therapy System saturates your bathing experiencing in the soothing sounds of your favorite music. Hook up to your MP3 player, I Pod or your home sound system and relax to your kind of musical therapy. The Hydro Sounds Audio Unit produces a tactile sound, much like you'd find in elaborate Home Theater systems, that can not only be heard, but also felt through the body below the water's surface. You'll feel sound and experience music like never before! Hydro Sounds offers flexibility of installation. The electronic Audio Unit may be wired to your dedicated amplifier of integrated into your zoned home audio system. Below are 2 examples of how Hydro Sounds can be connected. The Audio Unit is installed on the tub at our factory. Just connect the wiring to your amplifier. NOTE: The amplifier selected (not provided) to power the electronic Audio Unit should be rated between 150–250 Watts per channel at 4 ohms, or 75–125 Watts per channel at 8 ohms.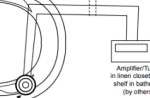 See page 15 of the
Owner's Manual
for more information
Eco Pure Bath & Water Conditioner
($46.00 List Price)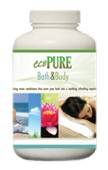 • Re-hydrates and nourishes your body with natural vitamins and minerals.
• Moisturizes your skin and leaves it silky smooth.
• Helps eliminate Bio Residual contaminants on jets and internal plumbing system.
• Works with Hydro Therapy to reduce stress, relieve pain, detoxify and stimulate both your digestive and immune systems.
• Naturally purifies water for a healthier home bath experience.
• Reduces cleaning and maintenance of the bath surface.
HydroCleanse
($31.00 List Price)

Bathtub cleaner that will help maintain a clean and fresh whirlpool or air bath by removing body oils, fragrances and soap residue.
All Hydro Massage Tubs →
Helpful Bathtub Links
•
How To Choose A Bathtub
- Features to Consider when Purchasing a Bathtub
•
Spa Tubs
- Bring the Spa Treatment Home | Which System is Best?
•
Tubz.com
- Contact us, we are here to help