Hydro Massage Whirlpool Tubs
Enjoy the age-old benefits of whirlpool hydrotherapy in your highly customized whirlpool tub of today. Feel the stress evaporate as you direct and adjust the warm water pressure on your sore muscles, creating a personal massage experience to target your needs. Whether temporarily relieving pain associated with over-activity or daily stress, or helping mitigate chronic effects of certain diseases such as arthritis or diabetes, you will feel better after a hydro massage bath.
Authorized Hydro Massage Dealer
Hydro Massage Ultra Clean Plumbing
Hydro Massage primarily uses a 'FDA NON-TOXIC' recipe tubing. Unlike flexible PVC or porous PVC pipe, our plumbing harness system provides one of the best drain down systems available. They accomplish this by arching our lines 3 to 5 inches above the jets and using approximately 40 percent less active plumbing than their competition. Their air massage also uses smooth wall 'non-toxic' recipe tubing. Combined with their air jet check valve system and Hydro Cleanse, you can be assured that your bath will be sanitary. Hydro Clean Water Purity System & Hydro Cleanse Liquid Cleaner included with every Hydro Massage combination tub.
More information →
Hydro Massage Options for All Series
:
•
Bathtub Colors
• Cozy Heated Backrest
• Stay Hot Eco Bond Thermal Insulation

- Reduces pump noise substantially compared to a traditional bath
- Helps keep the water hot for up to 30 minutes. Provides a Insulating R Factor of 12-18 on most of the bath surfaces
- Renewable resource. Produced from plant based natural oil polyols.
• Deep Soaker Drain
Adds up to 2 1/2" extra water depth
- Pop-up drain (bottom of the bathtub)
- Available in White, Biscuit, Chrome, Brushed Nickel & Oil Rubbed Bronze

*Tub controls will be moved to the top deck from the side wall when this drain is chosen*
1 = Standard Depth, 2 = 1" Extra Water, 3 = Overflow Closed
• Deep Soak Linear Drain

Adds 1 - 2" extra water depth
- Pop-up drain (bottom of the bathtub)
- Available in White, Biscuit, Chrome, Brushed Nickel & Oil Rubbed Bronze
*Available on select Zen & Contempra Models*
(Zen 6030SKTF, Zen 6032, Zen 6032SKTF, Contempra 6032SKTF, Zen 6034SKTF, Zen 6036, Zen 6632, Zen 6636 & Zen 7236)
• Hand-held Body Jet
• Whirlpool Metallic Trim
Choose from Polished Chrome, Satin Nickel or Oil Rubbed Bronze
• Factory Installed Tile Flange
• Hydro Sound

Hydro Sounds is a speaker system (2) that mounts to the back of the bath and it transforms the tub into a large speaker so the sound comes from the tub and water and the bass actual vibrates the water if powered correctly and proper music. The music source must be provided from a home stereo along with a amplifier.
• Deluxe Pillow
Available in White or Biscuit, this pillow is removable and adjustable for your comfort.
• Eco Pure Bath & Water Conditioner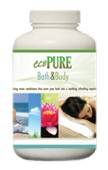 • Re-hydrates and nourishes your body with natural vitamins and minerals.
• Moisturizes your skin and leaves it silky smooth.
• Helps eliminate Bio Residual contaminants on jets and internal plumbing system.
• Works with Hydro Therapy to reduce stress, relieve pain, detoxify and stimulate both your digestive and immune systems.
• Naturally purifies water for a healthier home bath experience.
• Reduces cleaning and maintenance of the bath surface.
Hydro Massage Clean
Besides Ultra Clean Plumbing, Hydro Massage includes Hydro Clean Water Purity System & Hydro Cleanse Liquid Cleaner with each whirlpool combination tub.
• Hydro Clean
(Electronic Water Purity System | Ozone)

Fully automatic and all-natural whirlpool bath sanitation system which sanitizes the bath water anytime the pump is operating. It is more than 200 times stronger than household bleach. It is fully automatic, all natural and safe for the environment. Gentle enough to be used while bathing, the Hydro Clean unit helps kill bacteria and will reduce the amount of cleaning required.
• Hydro Cleanse
Bathtub cleaner that will help maintain a clean and fresh whirlpool or air bath by removing body oils, fragrances and soap residue.
Frequently Asked Whirlpool Questions
Whirlpool Operation
How many amps does the pump draw?
- 13 Amps.
Is the pump hard wired in?
- No, Plug in with ground.
Is the pump loud?
- A pump and blower will make some noise depending on the installation technique and room environment. It can be reduced with installation around bath.
What decibel level?
- 15-20 decibels installed
How far does the motor stick out?
- The bath extends normally within the perimeter but it could be up to 4" beyond on select models.
How long is the power cord?
- 24".
Access required – where do I put my access?
- Code requires an access door available to access the pump and motor. The access door must be large enough to enable the equipment to be removed from the bath. It is recommended to be a minimum of 18" x 18".
Jets
Can I put the jets where I want?
- Hydro Massage will try to accommodate request, if request is within the engineering standards of the model.
How do I turn off the Ultra flo & Micro flo jets?
- On the control panel. Most jets can be turn off at the jet up to 95% of the water pressure.
Can I flip the back systems on a side drain tub?
- Yes
Neck masseur pillow
How does it work?
- It has 2 jets that pulsate behind the pillow.
Where do I turn it on and off at?
At the diverter valve.
Do I have to use the Lycra cover?
- Yes or water will splash into the bath area.
Does it turn completely off ?
(people not wanting to get hair wet) - Diverter Valve will reduce the flow up to 95%.
Inline maintenance heater
Is the heater hard wired in?
- No, it is installed to a Wall plug.
Electrical requirements?
- 115 volt 20 amp GFCI outlet with a separate outlet.
Can the pump & Inline maintenance heater on same circuit?
- No, each needs to be on a separate electrical outlet.
How do you turn it on and off?
- Automatically activates when the whirlpool system is turned on.
How many amps does it draw?
- 20 amps.
What temperature does it heat to?
- It maintains the temperature of the water that is placed in the bath. Over an extended length of time it will heat to 104 degrees + or – 2 degrees.
Where is it installed at?
- In the plumbing system near the pump.
How long is the cord?
- 24"
Hydro Massage Products
Hydro Massage Promise: The craftsman that create each bath stand behind their work. Each tub is built to exacting standards and goes through a 30 point quality control checklist. All products are fully covered by their warranty and your satisfaction is guaranteed. Back that with their Limited Lifetime warranty on the shell, surface, pumps and blower, you have a bathing experience that will last! All without leaving the comfort of your home.
All Hydro Massage Tubs →
Helpful Bathtub Links
•
How To Choose A Bathtub
- Features to Consider when Purchasing a Bathtub
•
Spa Tubs
- Bring the Spa Treatment Home | Which System is Best?
•
Tubz.com
- Contact us, we are here to help