Hard to find freestanding whirlpool. The Rosabella offers an oval whirlpool, air or soaking tub. Its simple lines would be at home in a traditional or modern bathroom. A center side drain with 2 backrests allows for the option of two bathers for face-to-face lounging. Choose a soothe Soak heated soaking tub for a simple, tranquil pleasure. Or infuse your body with the oxygen in a Revive oxygen hydrotherapy bath. Go to the ultimate combination: powerful jets and soothing air bubbles.
At Tubz.com we are not just order takers in a call center. We are a small team that takes pride in our personal customer service and the expert knowledge we have accumulated in our 20+ years of experience. Give us a call, we are here to help & offer great sale prices!
We are not able to sell to Colorado residents. Sorry for any inconvenience!
Rosabella 7236 Freestanding Features & Options
Access Panel: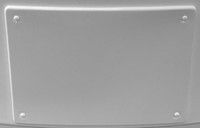 The Rosabella has an Access Panel so that the equipment can be installed right on the bath. This allows the homeowner the freedom to place their freestanding bath in the most advantageous spot in the bathroom.
7" - 18" space required to access equipment panel. Tub may also need to be shifted or disconnected in some situations. See the technical sheet for access options. Soaking tubs will not have an access panel.
Faucet Access
Access panel for deck mount faucet (MSRP: $409.00)
- Position needs to be indicated
- Same panel as pictured above (for equipment access)
Drain
• Overflow: Integral Slotted in Acrylic – no finishes available
• Bath Drain: Pop up: Included - Polished Chrome or Brushed Nickel
Optional: White, Biscuit, Black, Polished Nickel or Oil Rubbed Bronze (MSRP: $104.00)
- Deep Soak Drain not Available
EZ Fast Connect Drain (MSRP: $229.00)
- PVC or ABS
Tub Options
(MSRP) Fashion Colors: Biscuit ($400.00)
- Extra 3-6 week lead time
Grab Bar ($157.00)
Sushi Roll up Pillow ($196.00)
Deluxe Cushion Pillow ($100.00)
Chromotherapy Lighting ($498.00)
Mood Light ($245.00)
Cozy Heated Backrest ($1061.00)
Eco Bond Quiet Foam Insulation ($377.00)
Hydro Cleanse ($31.00)
Enhance Bath and Skin Conditioner ($46.00)
Hydro Sounds ($1412.00)
Custom Jet or Feature Location ($327.00)
Rush Order ($627.00)
Combination Series Option:
EZ Clean HTT 10 Leg Therapy Jets ($900.00)
Whirlpool Option:
Neck Massage Pillow ($567.00)
In-line Heater ($496.00)
Ultra Massage Jets ($120.00)
Air Option:
Remote Air Pump ($225.00)
Revive Micro Bubble
Can be added to any whirlpool, air bath or combination system
*As long as there is enough motor locations for all the systems*
($2500.00)
Hydro Massage Options →
Hydro Massage Promise: The craftsman that create each bath stand behind their work. Each tub is built to exacting standards and goes through a 30 point quality control checklist. All products are fully covered by their warranty and your satisfaction is guaranteed. Back that with their Limited Lifetime warranty on the shell, surface, pumps and blower, you have a bathing experience that will last! All without leaving the comfort of your home.