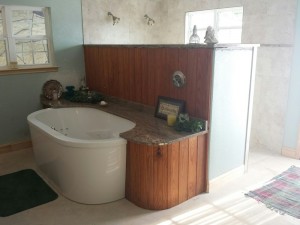 Tad's bathroom is still in the works, cement floor to stain and trim work is needed.  We didn't wait for him to finish because we think what he has done is so wonderful!
He chose the Hydro Massage Rosabella Freestanding Gold Series Whirlpool. This gave him 12 whirlpool massage jets. Freestanding whirlpool tubs are hard to find.  They need room for piping and motor access is needed if anything were to go wrong.  To provide this access the Rosabella has a removable panel on one end of the bath. Tad left room to the left side of the bath, so this panel can be easily removed.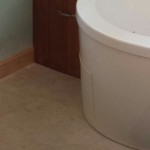 He partially under mounted the rim on the tub making a shelf to the side of the bath. Wonderful area for towels, candles or a martini!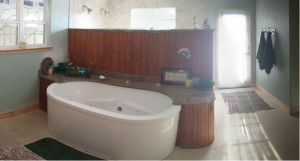 While studying the pictures he sent us, it occurred to me that there wasn't a tub spout. I could see a pressure balance control on the wall behind the tub, but where was the actual tub filler? Tad chose a fill by overflow drain (from Geberit), eliminating the need for a spout.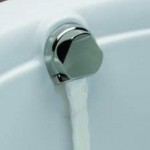 Thanks for sharing your bathroom with us Tad! We love the openness, the wonderful natural light and the materials you chose.