Barclay Doyle Bathtub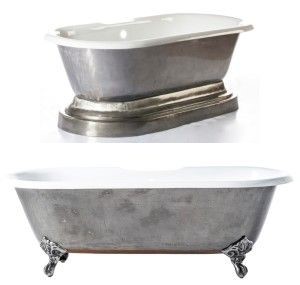 67" Cast Iron Double Roll Top | Clawfoot or Pedestal
Industrial looks in a classic form. The exterior of the Doyle tub is raw cast iron with a polished finish showing all the flaws of the natural metal. Find a claw foot tub or one with a pedestal base. Both styles offer slopping backrest on both sides and a faucet deck.
Now On Sale with Free Shipping
You don't have to wait for specials, search for a coupon, or cross your fingers and hope for a good deal. Our freestanding tubs are always on sale. We go to our best sale price and offer that to you right at the start.
* We will ship our soaking tubs anywhere in the Contiguous US free of charge.
Authorized Barclay Dealer
Doyle Freestanding Tub
Doyle | 68" Cast Iron Clawfoot | CTDRN67-PI-PI

Technical Sheet
67 3/4" x 31" x 23 1/4"
Gallon Capacity: 55
Shipping Weight: 570#
Filled Weight: 809# | Empty Weight: 350#
Cast Iron
Inside Finish: White Enamel
Polished Cast Iron Exterior
Cast Iron Feet
Center-Side Drain Bathtub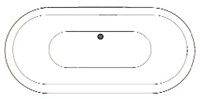 Installation
Recommended Tub Drain #5599 →


CTDRN67-PI-PI
List Price:
$3471.00
Sale Price: $2083.00
Call Now to Place Your Order! | 866-380-0303 | Free Shipping*
Recommended Faucets for CTDRN67-PI-PI:
Doyle | 68" Cast Iron Pedestal | CTDRN67BP-PI

Technical Sheet
67 3/4" x 31" x 25 1/4"
Gallon Capacity: 55
Shipping Weight: 570#
Filled Weight: 909# | Empty Weight: 450#
Cast Iron
Inside Finish: White Enamel
Polished Cast Iron Exterior
Cast Iron Feet
Center-Side Drain Bathtub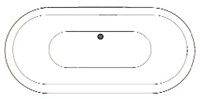 Installation
Recommended Tub Drain #5599 →


CTDRN67BP-PI
List Price:
$4604.00
Sale Price: $2762.00
Recommended Faucets for CTDRN67BP-PI:
Barclay Links
•
barclayproducts.com
•
Barclay Freestanding Tub
(Main Page)
•
Barclay
(All Products)
Helpful Bathtub Links
•
Choosing a Bathtub
- Features to Consider when Purchasing a Bathtub
•
Freestanding Tub:
Our Entire Selection of Freestanding Bathtubs
•
Tubz.com
- Contact us, we are here to help