Neptune Zen 3060 Tub
Zen 3060 Whirlpool, Air Tub or Soaking Bathtub
Rectangle Tub | 60" x 30" Whirlpool, Air or Soaking Tub | Modern Drop-in or Undermount with End Drain
A standard size rectangular bathtub with pure lines, straight angles and contemporary style. Perfect for the smaller bathroom. Choose from a soaking, whirlpool, air or combination tub.
Neptune Zen 3060 Sale
Save on all Soaking, Whirlpool or Air Tubs
Free Shipping - 48 Contiguous States
Authorized Neptune Dealer

Technical Sheet
Tub Size: 59 3/4 x 30 x 21 3/4
Water Capacity: 70 Gallons
Water Depth: 15 1/4

Bathtub Material: Acrylic
Standard Neptune Colors: White, Biscuit & Bone
Installation: Drop-in or Undermount
Tub fitted with back jets may cause the pump to protrude by approximately 3" from overall dimension
Specify 1", 2", 3" or 4" Lip Height


Produits Neptune Owner's Manual
Faucets not included with tub - no holes will be drilled by Neptune. Your installer can place faucets.
Zen 3060 Soaking Bathtub
Call Now to Place Your Order 866-380-0303
Soaking Tub
Tub Only | No Jets
ZEN3060

List Price: $1710.00


Sale Price: $1283.00
Zen 3060 Air & Whirlpool Bathtubs
Sale Price Not Listed? Contact Us 866-380-0303 or (email) for Sale Prices
Whirlpool Tub
Water Jets

ZEN3060T
List Price: $4420.00


MSRP: $3315.00




Sale Price: Contact Us



6 Square turbo jets
5 Square Micro-rotating back jets
13 A pump, diverter valve.
Electronic control

Mass-air Air Bath
Bottom Air Jets
ZEN3060M

List Price: $4930.00


MSRP: $3697.50




Sale Price: Contact Us



16 Mass-Air injectors
1 ½ h.p. Optima blower with
300W heating element
Electronic control

Activ-air Air Bath
Side Air Jets
ZEN3060A

List Price: $5170.00


MSRP: $3877.50




Sale Price: Contact Us



43 Activ-air micro-jets
1 ½ h.p. Optima blower with
300W heating element
Electronic control

Tonic Micro Bubbles
Oxygenated Air Jets
ZEN3060Q

List Price: $8515.00


MSRP: $6386.25




Sale Price: Contact Us



8 Oxygen Jets
1 ½ h.p. Optima blower with
300W heating element
Syllent pump with integrated in-line heater
4 Chromatherapy Lights
Electronic control
Chrome Drain

Zen 3060 Combination Tub
Sale Price Not Listed? Contact Us 866-380-0303 or (email) for Sale Prices
Mass-air & Whirlpool
Bottom Air Jets & Water Jets
ZEN3060C

$6710.00


MSRP: $5032.50




Sale Price: Contact Us



6 Square turbo jets
5 Square Micro-rotating back jets
13 A pump
11 Mass-air injectors
1 ½ h.p. Optima blower with
300W heating element
Electronic control

Active-air & Whirlpool
Side Air Jets & Water Jets
ZEN3060CA

List Price: $6965.00


MSRP: $5223.75




Sale Price: Contact Us



6 Square turbo jets
5 Square Micro-rotating back jets
13 A pump, diverter valve
37 Activ-air micro jets
1 ½ h.p. Optima blower with
300W heating element
Electronic control

Active-air & Mass-air
Bottom & Side Air Jets
ZEN3060CMA

List Price: $8240.00


MSRP: $6180.00




Sale Price: Contact Us



43 Activ-air micro-jets
11 Mass-air injectors
2 - 1 ½ h.p. Optima blowers with
300W heating element
Electronic control

Active-air, Mass-air & Whirlpool
ZEN3060TAM

List Price: $10770.00


MSRP: $8077.50




Sale Price: Contact Us



6 square turbo jets
5 Square Micro-rotating back jets
13 A pump, diverter valve
37 Activ-air micro jets
11 Mass-air injectors
2 - 1 ½ h.p. Optima blowers with
300W heating element
Electronic control

Square Whirlpool Jets



Zen 3060 Options:
• Model Specific Options
You must specify 1, 2, 3 or 4" Lip Height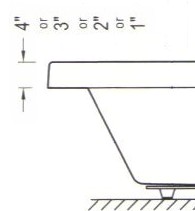 Armrests



Handle (Max.2) | White, Bone, Biscuit or Chrome
Tiling Flange
Zen 60 Removable Skirt
Rayola | Shell Heating System
• All Neptune Options and Features →


Neptune Zen Offered in More Sizes:
Neptune Links
www.produitsneptune.com

Neptune Tubs (Main Page)

Produits Neptune Warranty

Helpful Bathtub Links

• Choosing a Bathtub - Features to Consider when Purchasing a Bathtub

• Spa Tubs - Bring the Spa Treatment Home | Which System is Best?

• Air Tub - Find out how Air Systems Vary

• Whirlpool Tubs - Explore Whirlpool Tub Features

• Bathtubs - Shop all Bathtubs by Size & Style

• Tubz.com - Contact us, we are here to help